Writer Joseph J. Airdo
Photography Courtesy of Azy Scotten Photography
[dropcap]P[/dropcap]atti Graetz is a firm believer that arts organizations should support and utilize local talent whenever and wherever possible. She joyfully puts that belief into action throughout the year via ProMusica Arizona Chorale and Orchestra, for which she serves as artistic director and principal conductor.
However, this holiday season, Graetz will take that philosophy one step further with a concert featuring festive fare — some new and some traditional — all written by Arizona composers.
"I have wanted to do this for a while and this seemed like the perfect opportunity to do it," Gratez says. "So I started seeking out Arizona composers of choral and orchestral music and found some truly wonderful pieces."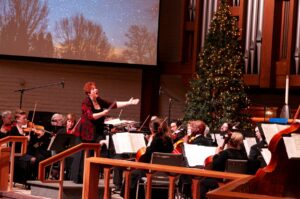 Dubbed An Arizona Holiday, ProMusica Arizona Chorale and Orchestra will perform the concert Dec. 4 and 5 at two different locations in the Valley in collaboration with the Arizona Christian University Firestorm Chorale.
"We will be featuring a piece called 'Winter Celebrations' by Craig Bohmler, who is the composer of 'Riders of the Purple Sage,'" Graetz says. "It is a multicultural piece that features different melodies from different cultures around the world. It is almost a small cantata at 14 minutes long because it is an extensive work and covers so many cultures — from Kwanza to a Vietnamese holiday called Tet and, of course, Hanukkah. There is even a Hindu melody."
An Arizona Holiday will also feature three pieces composed by Dana Graybeal, a retired music teacher from Thunderbird High School and Phoenix College, including "O Holy Night," "Adeste Fideles" and "Deck the Hall Fantasy."
"We also have two of our members who have composed pieces for us," Graetz says. "[Trombonist] Frank Darmiento has written an arrangement of carols that he calls 'An Arizona Christmas.' It incorporates a lot of different musical styles but definitely has a Southwestern flavor to it. And our tenor section leader Aaron Smith has written a beautiful piece for a choired orchestra based on 'In the Bleak Midwinter,' the very famous melody by Gustav Holst."
Three more Arizona composers round out ProMusica Arizona's program, including Linda Spevacek, J. Edmond Hughes and Tom Peterson — the last of whom has written a medley of "The Holly and the Ivy," "O Christmas Tree" and "Deck the Halls."
"It is wonderful that Arizona has such a rich pool of composers to choose from to do a concert like this," says Graetz, noting that An Arizona Holiday will also include the standard sing-a-long that has become an annual tradition for ProMusica Arizona Chorale and Orchestra. "It will feature holiday favorites with a little bit of a different flair."
Music
An Arizona Holiday // Saturday, Dec. 4 // 7 p.m. / Barry Goldwater Performing Arts Center // 2820 W. Rose Garden Lane, Phoenix // Sunday, Dec. 5 // 3:30 p.m. // American Lutheran Church // 17200 N. Del Webb Blvd., Sun City // $25; youth, student and senior discounts available // 623-326-5172 // pmaz.org