Writer Joseph J. Airdo // Photography by Chris Loomis
MusicaNova Orchestra music director Warren Cohen takes pride in discovering, performing and recording classical music that is a work of true genius but has — for one reason or another — been lost in the annals of history.
"Once a piece is neglected, it is hard to pull it out again because it is just sitting in some library," Cohen says. "You then have all of these new shiny objects that come along and you forget all about it."
Having unearthed over the course of his music career a surprising number of pieces that he never even knew existed but produce astonishing sounds unlike anything he had ever heard, Cohen in 2003 founded an orchestra devoted specifically to presenting such works. Under his leadership, MusicaNova Orchestra has developed an international reputation for its extraordinarily unique and eye-opening programs.
This season, the nonprofit professional ensemble is celebrating 20 years of not only engaging, enthusing and educating communities, artists and students through surprising works of classical music that have either been lost, unjustly neglected or rarely heard, as well as new works from young composers of today, but also bringing the joy of playing and hearing great music to many who might not otherwise have the opportunity.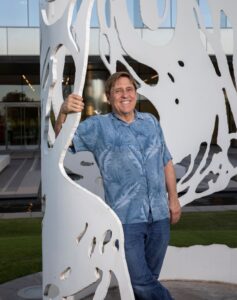 New, Neglected & Suppressed
Born in Montreal, Cohen was exposed to music from a young age.
"I came from a very musical family," he explains. "My mother was a singer and my father was a pianist and a piano teacher. At one point, I went to thaw out in Hawaii and landed in Honolulu, which is really where I started my musical career as a pianist and composer."
Cohen's early positions included a stint as an accompanist for Honolulu City Ballet and as music director of the Kumu Kahua Theatre in Honolulu. His work in theater and opera organically led to him becoming a conductor — a role that Cohen admits was not part of his initial ambition.
Cohen soon landed a job as the music director of the Southern Arizona Symphony Orchestra in Tucson, which led to additional opportunities in Phoenix and Scottsdale.
"I became the director of what was then the Fine Arts String Orchestra, which was then connected to Scottsdale Community College," says Cohen, whose local resume also includes Scottsdale Baroque Orchestra. "It was through these opportunities that the idea for MusicaNova Orchestra came about."
Inspired by a few individuals who shared with him compelling reasons to start his own orchestra in Scottsdale, Cohen considered the possibilities and landed on an idea that would allow him to avoid directly competing with other orchestras in the area while also aligning with his particular passion and interest. He says that over the course of his life and career, he had always had a great deal of curiosity about music that was relatively unknown.
"I enjoy sitting down with music in front of me and going through the score, imagining what it might sound like," Cohen explains. "I had done this with a lot of different music. And when I came across something that I had not heard, I would think to myself, 'Well, if I were to do it, then we will hear it.'
"In fact, one of the reasons that I had become a conductor in the first place was because I was willing to conduct things that other people did not want to. So I had the thought to make the identity of MusicaNova Orchestra as one that does new, neglected and suppressed music. Those three categories are the ones that have guided us for the last 20 years."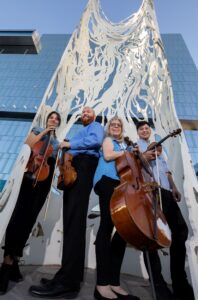 Education & Outreach
The formula immediately resonated with audiences, allowing MusicaNova Orchestra to make the necessary connections with donors and other supporters that it needed in order to grow and flourish as a premier performing arts organization in Arizona.
"We scrimped and did various things to survive in the early days," admits Cohen, who says the secret to success is flexibility. "We adjusted to our financial situation and developed a strong reputation as well as some phenomenal relationships. We used to travel a lot initially. Now, we mostly perform our concerts at the Musical Instrument Museum and Scottsdale Center for the Performing Arts — which are venues that are very well suited to us."
Two key elements of the orchestra's growth have been education and outreach.
"Before concerts, we will go to various schools and talk about them with students," Cohen says. "We often speak to or perform for underprivileged kids whose families may not be able to afford to go to our concerts. We inform them about the music that we are playing and try to get them to understand what we are doing with these unjustly neglected pieces and become excited about classical music."
Musicians from a school or partner organization may also join the full orchestra for a concert, sitting next to and learning from its professional musicians. Most recently, these collaborations have included Tempe High School and Harmony Project Phoenix.
"We also have a young artists concerts series in which we sponsor chamber music performances by exceptionally talented young musicians in formal recital settings," Cohen adds. "There is also our Composition Fellows Program, in which I choose music by a young composer, who does not have the advantages of money or connections, present it during one of our programs and give them a good recording of the piece so that they can then further their career as a musician."
MusicaNova's Composition Fellows Program has welcomed composers from a variety of backgrounds, ethnicities and countries, delivering works that tell stories and convey emotions from around the world.
"Some of those individuals have gone on to become fairly successful," Cohen says.
MusicaNova's musicians even created a series of study aid videos to help Tempe High School students continue their musical education when the school closed during the COVID-19 pandemic. Underwritten by the city of Tempe's arts grants program, the videos are now preserved on the orchestra's website, available free of charge to all aspiring musicians.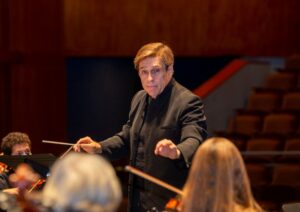 Surprised & Delighted
In celebration of its 20th anniversary, MusicaNova Orchestra's programs this season have included highlights from the 19 seasons that preceded it — including a piece played at its debut concert, which featured works that were banned by the Nazis. This past December, former concertmaster Christiano Rodrigues returned to play Robert Schumann's virtuosic Violin Concerto, which was hidden away for nearly a century after the composer's death.
In January, MusicaNova Orchestra teamed up with the ASU Center for Jewish Studies for a multimedia program that opened with the movie "Winter Journey," one man's story of love, music and resiliency in an all-Jewish orchestra amid the persecution of 1930s Germany. In the second half, the orchestra performed the last piece that the Jewish orchestra rehearsed — Carl Nielsen's "The Inextinguishable."
MusicaNova's March concert will feature a program that takes the audience on a journey of discovery, demonstrating the versatility of the string orchestra.
"We have a piece that was written completely for open strings," Cohen says. "The instruments are tuned in various ways, but nobody actually fingers the notes. It produces the most remarkable sound that you have ever heard. We also have a piece that imitates the sound of an Indonesian gamelan orchestra with only string instruments.
"We are also going to play the very first piece of music — an absolutely amazing thing — that was ever written for a string orchestra. It was written in 1630 and is just unbelievable. I mean, you would think that it was written yesterday. They were testing out the new instruments and have imitations of birdsong. At one point, there is even supposed to be something about hearing cows in the distance. It is just remarkable."
That piece of music is precisely why Cohen is so grateful to the audiences, collaborators, donors and other supporters who have helped MusicaNova Orchestra carry out its mission to enrich our community through new music, unjustly neglected pieces and fresh interpretations of the classics.
"I had never heard that piece — the very first piece ever written for string orchestra — until last year," the music director explains. "I mean, it is virtually unknown. When I heard it, my mind was blown. I listen to thousands of pieces every year. So the fact that my mind can still be blown by music that I have never heard is remarkable.
"Every now and then, I discover something that makes me go, 'Wow!' Just yesterday, I heard a piece by a folk music group that was absolutely phenomenal. They were playing a completely different style than anything I have ever heard. So always keep your mind open, because you will be surprised and delighted."
Contrasts for Strings
Sunday, March 5 // 2 p.m. // Musical Instrument Museum // 4725 E. Mayo Blvd., Phoenix // $33.50+ // musicanovaaz.org