By Rebecca L. Rhoades // Photography by Loralei Lazurek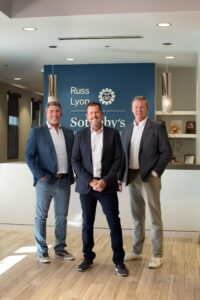 Buying and selling a home is a major financial — and emotional — undertaking. Selecting the right Realtor can make all the difference when it comes to getting the best deal with the least amount of stress.
But with so many agents vying for your commission — there are more than 50,000 Realtors in Arizona, according to the National Association of Realtors — how do you know who to choose?
For 75 years, one real estate firm has stood out as a leader in sales and customer satisfaction: Russ Lyon Sotheby's International Realty.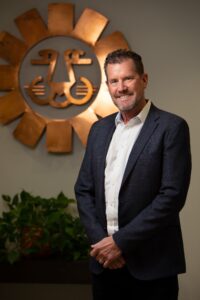 An Accidental Success
The story of how one man transformed Arizona's homebuying market and built an eponymous real estate empire begins in 1947.
Like many Americans following World War II, Russ Lyon Sr. decided to migrate to the West Coast to further his career. An accomplished saxophone player in New York City — he had formed Russ Lyon and His Orchestra in the 1930s — Russ wanted to relocate his family to Hollywood, California. They almost made it to their destination, when misfortune — or perhaps, in the end, fortune — struck.
While traveling through Arizona, Russ's son Rusty became ill with valley fever, so the family wintered in Mesa while Rusty recuperated.
"While they were hunkered down, they fell in love with the area," says Russ's grandson, Jim Lyon. "So they decided to stay."
The family moved into an authentic old adobe home on Cattletrack Drive in Scottsdale. The house still stands, tucked away behind an adobe wall, at the northeast corner of Macdonald Drive and Cattletrack; it is known as the Stable Galleria.
At the time, that area of the Valley was open fields and farmland. Ranchers drove their cattle up and down the dirt road that ran past the Lyon's home. The music scene was nonexistent.
"He was looking for something to do," Jim recalls. "Back then, you could just sign up and get a real estate license. So he just started sending letters to his friends back East, telling them to come out and buy Arizona real estate."
Russ started his own company, Russ Lyon Realty, with only three employees. The firm became known for treating its clients fairly, with dignity, respect and professionalism. One such client was William Wrigley Jr., founder of the Wrigley chewing gum company and owner of Wrigley Mansion in Phoenix.
Russ's sons Dennis and Rusty followed in their father's footsteps. Dennis continued to grow the firm, while Rusty went into the commercial side of the industry. He founded the development company Westcor, which built shopping malls throughout the Southwest — including 17 in Arizona, such as Scottsdale Fashion Square, Flagstaff Mall and Phoenix's Metrocenter Mall.
"My father stayed in the residential side of the business," Jim notes. "Then I came along in the late 1980s. I started in the commercial division and then branched off into the residential division. In 2004, I called my childhood friend, Todd Gillenwater, and we opened up operations in Sedona and Flagstaff."
Four years later, the duo purchased Russ Lyon Realty and merged it with the Sotheby's brand. They also were joined in 2012 by Tom Locati. Today, Jim serves as the company's chairman, Gillenwater is the CEO, and Locati is an owner/partner.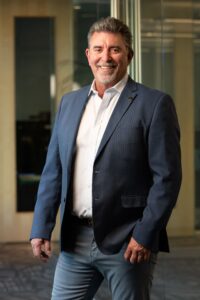 Building a Legacy of Trust
As the only Sotheby's affiliate in Arizona, Russ Lyon has 13 offices throughout the state.
"We're one of the few Sotheby's companies that has an entire state," Gillenwater points out. "And we're always one of the top five largest in production and sales numbers. In fact, Sotheby's International Realty just releases a list of the top 100 of all its global real estate salespeople. This includes Realtors in New York, Palm Beach, Paris, Zurich — everywhere in the world. Seven of the top 100 agents are ours in Arizona."
According to a press release, in 2021, Russ Lyon Sotheby's had its best year on record, closing more than 7,000 successful transactions that totaled more than $7 billion dollars in Arizona real estate.
While the firm receives more than its fair share of press for selling some of the most expensive real estate in the Grand Canyon State, it's also renowned for the white-glove service it provides to all its clients — no matter what the budget may be.
"Luxury is not a number," Gillenwater says. "It's a level of service. There's a tagline that Jim uses, and it's always stuck with me. It's 'building on a legacy of trust.' That's really what we're doing. We're carrying it on from his father and grandfather, and that's pretty cool."
"We're here to service everybody," Jim adds. "We serve a $200,000 home just as much as we serve a $10 million home."
Cionne McCarthy has been a real estate agent with Russ Lyon Sotheby's since the 1980s. She specializes in the Scottsdale and Paradise Valley markets.
"I was hired by Jim's father when Russ Lyon was still a family-owned boutique real estate company," she says. "Dennis was the ultimate in relationship building. He fostered a real family-like atmosphere. But it was because of his affiliations and development and entrepreneurial backgrounds that he built a luxury brand. It was natural and innate for him."
Although Russ Lyon Sotheby's has more than 900 agents in Arizona, the company maintains a family feel, with core values that include fairness, respect and a solid work ethic.
"At the end of the day, this is a people business," Jim says. "We're advisors on what is probably most people's biggest asset purchase in their life."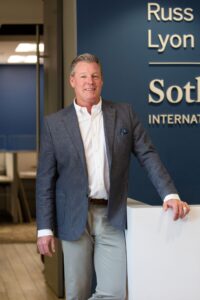 Gillenwater adds that buying a home is one of the most important financial decisions a person will make.
"They're going to do business with people they live and who they trust," he says. "Our agents are interested in taking care of their clients. This is a career, not a hobby."
For McCarthy, her relationships with her clients are first and foremost in her everyday acumen.
"That's how I am, and it's what I believe in," she notes. "And Russ Lyon has always fostered and supported that, because that's who they are, as well."
While the past few years have seen unprecedented growth in Arizona's residential real estate market, with record-demand and skyrocketing prices, the industry remains a challenging one. In fact, according to NAR, more than 80% of agents leave the business after only five years. So for a brokerage to survive — and thrive — for 75 years is a testament to the foundation on which it was built.
"When I bought the company, I was just trying to survive in 2008, so continuing its success means a lot," Jim concludes. "I mean, it's tough, tough shoes to follow. I have so much respect for my father and my grandfather, and I wanted to show them that I could carry this thing forward. And I think we've done a pretty darn good job with it."