Writer Shannon Severson // Photography Courtesy of Ballet Arizona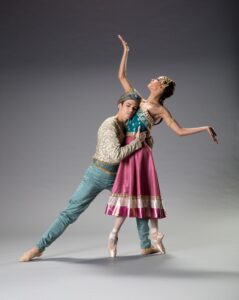 EDITOR'S NOTE: The event referenced in this story has been postponed to October 2023.
From the comfort of the theater's upholstered seats, audiences love the artistry, color and glamour of Ballet Arizona's productions.
If one were to be able to pull up a chair right on that stage — or have a really fantastic set of binoculars — a closer look would reveal the intricate beauty and artistry of the costumes the dancers wear. From sparkling and sequined to flowing and refined, every stitch has been painstakingly sewn to dazzle the audience.
On March 11, Ballet Arizona's junior board, the Contemporary Council, will host its first-ever Fashion & Fizz fundraiser. Attendees will sip sparkling wine while dancers serve as models to showcase an array of curated costumes. A question and answer session will follow, along with a display of additional costumes for closer inspection. A VIP lounge and private bar with light hors d'oeuvres and even front-row seating is available with premium ticket options.
Kristin Heggli, a Contemporary Council board member and chair of its marketing subcommittee, says that Fashion & Fizz has been in the works since 2020.
"This is our first large-scale event," says Heggli, whose involvement was inspired by her own participation in the classes that Ballet Arizona makes available to the public and through her work with a prominent Scottsdale hotel where she partnered with the performing arts organization as a way to benefit local charities.
"We raise awareness throughout the year with smaller events, including our free Ballet & Brews meetups, and we host fun ballet classes geared towards people who haven't danced before. We are putting a lot of effort into Fashion & Fizz. It's a fantastic opportunity to get up close and see the costumes, and also spread the word about the work of the Contemporary Council."
Heggli points out that even for those who may be less familiar with Ballet Arizona, Fashion & Fizz is a great event for those with an interest in fashion and design as well as a networking opportunity for like-minded professionals who support the arts.
"I think this will be an approachable event for anyone," Heggli says. "It's going to be a delightful party with wine, food and fashion; and every admission ticket includes a raffle ticket. We have great prizes like local hotel [vouchers], restaurant [gift cards] and other unique experiences."
Fundraiser attendees will also get the chance to see a bit of the facility — a peek at practice spaces and where the magic of every ballet gets its start.
Needle, Thread and Weaving a Tale
While the public may be most familiar with "The Nutcracker," which has a production budget of $1.8 million and utilizes 260 costumes created in shops all over America, the company stages a multitude of performances in traditional and contemporary style each season and has done so for the last 37 years.
At the core of the storytelling are the costumes. Costume director Leonor Texidor says that ballet costumes are more than just pretty fabric; they are an intrinsic part of every character.
"It's the difference between costume and fashion," Texidor explains. "In fashion, the dress is the [focus]. When you do costuming, the costume is part of the character. You help to communicate what the director wants to say."
Texidor has been sewing and designing costumes since she moved to Phoenix from her native Puerto Rico in 2001. Her previous work in television and her background in fashion design, sewing, textiles and costume design were much needed when she first answered the call for extra help with "The Nutcracker."
"I started to work from scratch," Texidor explains. "One day, there was a problem with the designer from New York. The designs came and [artistic director] Ib [Andersen] didn't like the design. I was asked to bring in some sketches. When they saw the sketches, they said, 'Hmmm… who is this?' Ib and I started to work together to find what he liked and I have worked with him ever since."
When the previous costume director, Carolyn Mitchell, retired in 2009, Andersen turned to Texidor to take her place. She works directly with Andersen and costume designers Fabio, Carla, and Symphony Classique Designer to bring the magic of every story to life and to fit every yard of fabric to the dancers' bodies so they can move with the effortless grace for which ballet is known.
"Working with [Ib Andersen] challenges me to continue to grow and develop," Texidor says. "It's exciting. He is so amazing. For 'The Four Seasons,' I made the pattern from his sketch and he painted the fabric. We work together and we make a good team."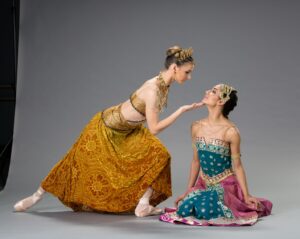 Unexpected Artisans
Along the way, Texidor has brought in many other young talents to contribute to the effort. Often, those talents are the dancers themselves. She says that many of the dancers are from countries — particularly in Latin America — where they have been taught traditional sewing and embroidery techniques by their mothers and grandmothers. These talents and traditions are treasured by each family.
"I had a dancer from the Dominican Republic who was taught to embroider by her grandmother," Texidor says. "She had an injury and couldn't dance so she showed me what she could do. My brother, who is a tailor in Puerto Rico, came to help us. She embroidered all the star tutus [seen in Cinderella] and he sat down and continued to teach her more. When you see those tutus, it is haute couture. She was wonderful. She stayed with us for two or three years and is now back in the Dominican Republic working as a professional nutritionist.
"This is something that I have always done. If a dancer has an injury and they have a skill, I will work with them until they feel better and the doctor says they can dance again. They are so valuable to me. I love to teach and to help people learn something. We need to help the new generation and not lose those artisan skills."
Texidor credits the generosity of donors, careful sourcing, preservation of costumes and impeccable accountability for every yard of beautiful, quality fabric purchased. Inside Ballet Arizona's costume shop, every measure is taken to repair and store costumes in dark, temperature-controlled spaces to prolong their lives and get maximum use out of them — which Texidor says is really a way to honor the donors.
The working areas where costumes are fitted and finished are abuzz with activity and conversations in multiple languages — English, Spanish and Portuguese — and everyone enjoys the spirit of collaboration and accomplishment.
The work of Texidor and her team will certainly awe fundraiser attendees. However, even with all of her years of experience, there are some costumes that still take her breath away. Among her favorites are the ballroom costumes for "Romeo and Juliet," the fantastical "Midsummer Night's Dream," "La Bayadère" and "Within the Golden Hour."
Every piece is a work of art.
"People think we need to do things fast for a production," Texidor says. "This is something you have to enjoy; this is art. When you build something in art, time is not important for you. You use the time that you need to use in order to create."
The costume director has long believed that a fashion show would be a wonderful idea and is excited to see the idea come to life. Supporters of Ballet Arizona and those who work tirelessly behind the scenes to keep fine arts culture alive in our state are enthusiastic about this new take on sharing artistry with the community.
Ballet Arizona's executive director Jami Kozemczak says that from elegantly-embroidered capes to intricately designed tutus, each costume seen on stage during a Ballet Arizona production has been designed and developed perfectly to fit each story being told.
"The costumes are as important to the storytelling process within our productions as the choreography, the props and the talented artistry of the dancers," Kozemczak says. "We are fortunate to have a dedicated costume department employing local artisans that create works of art that play a critical role of bringing the stories to life on stage. We are excited to showcase the breadth and talent of their artistry at our inaugural Fashion & Fizz fundraiser."
Fashion & Fizz
Saturday, March 11 // 2–5 p.m. // Ballet Arizona // 2835 E. Washington St., Phoenix // $50+ // balletaz.org