Writer Joseph J. Airdo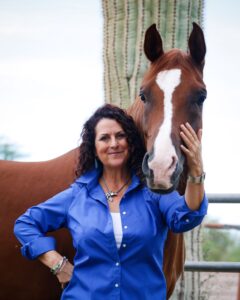 Fifteen years ago, Leeanne Gardner left a 25-year career in the corporate world to found Unbridle IT, a company through which she helps others create exciting, fulfilling lives for themselves. She specifically began assisting small businesses with marketing and business support.
During the COVID-19 pandemic, Gardner penned and published "Unbridle IT! Buck Up and Create Your Happy!" — a self-help workbook with steps for creating more happiness and fulfillment in life and business, applying some of the lessons that she has learned through her lifelong love affair with horses.
"Horses pick up on every vibration," Gardner says. "They are profound teachers of authenticity with no judgment. They demonstrate the power of energy and the importance of showing up as your true self, authentically every day for stronger relationships."
As the world began to open back up in 2021, Gardner saw the opportunity to create a safe space for people to experience how to connect more authentically through being around horses. Through events and programs such as her ladies' group, Women and Whinnies, she began teaching people how their energy affects their relationships and the world around them.
Last year, she founded Unbridled Pathways — a nonprofit organization through which she aspires to provide unique personal growth experiences for individuals and organizations through interacting with horses in their natural state of being.
From providing the loved ones of a young cancer patient a positive outlet through which they can connect with horses to facilitating more restorative supervised visitation for broken families, Gardner believes that equine energy is the key to healing hearts.
"Horses really can regulate our heartbeat within about five feet," she explains. "We need to learn how to show up as better people for one another every single day and I know from my own experience that horses are a huge conduit to helping that happen. And with horses, it is not just a talking head. You get to experience for your heart and soul what these horses can really do."
A firm believer in bringing people together, Gardner will host a pair of community events Saturday, April 8 at Frontier Town in Cave Creek. A free Heart of Cave Creek Vendor Fair highlighting the area's businesses, artisans and nonprofit organizations will lead into her second Boots, Bourbon and BBQ event — a fundraiser that will allow her to continue her charitable work through Unbridled Pathways.
"Boots, Bourbon and BBQ will help me continue to create my programs," says Gardner, noting that the event will feature bourbon and vodka tasting, food from Lil Town Butcher and live music from Pandy Raye and Michael Assad. "The proceeds will make it possible for me to go out to these different nonprofit organizations, create special partnerships and help them create programs working with horses at no cost to them. The vendor fair will reinforce the importance of supporting our local businesses.
"The goal of both events is to bring our community together. We have all heard that 'it takes a village.' In collaboration with other charity organizations and ranches, a village is what we are creating."
Heart of Cave Creek Vendor Fair & Boots, Bourbon and BBQ
Saturday, April 8 // 11 a.m.–8 p.m. // Frontier Town // 6245 E. Cave Creek Road, Cave Creek // unbridledpathways.org