Writer Joseph J. Airdo // Photography Courtesy of Phoenix Camera Club
For this month's photo essay, Images Arizona invited members of Phoenix Camera Club — a collective of photography enthusiasts that has been in existence since 1932 — to share some of their favorite photographs that unequivocally illustrate that there is no place like Arizona in winter.
Charles Ophardt, one of Phoenix Camera Club's members, says that the fluffy flurries that fall from the sky and blanket portions of our Arizona landscape in white each winter pose a very unique challenge for photographers.
"Snow is a hard subject to master," Ophardt says. "The camera wants to turn it gray unless you use a little bit of positive exposure compensation."
Nonetheless, with the proper adjustments, one reaps the rewards of a winter wonderland that is unlike any other in the world. Phoenix Camera Club president Mark Laverman says that there really is nothing quite as dramatic as a fresh blanket of snow on the red rock layers of the Grand Canyon.
"Arizona snows only seem to last for a fleeting moment," Laverman adds. "The best time to photograph a snowy landscape is the morning after it snows so you really have to be driving up in the snowstorm to get the best shots."
For those like Phoenix Camera Club member Tom Foley, who has always lived in warmer climates where snow is scarce, its miraculousness is quite obvious.
"Snow has always been special and fun for me — whether it involves a snowball fight, downhill skiing or photography," Foley says. "The purity of fresh snow contrasts with the red rocks of Arizona in a beautiful and magical manner, thus my favorite locations for capturing snow are Monument Valley, Grand Canyon and Sedona."
Without a doubt, Arizonans appreciate snow more than those who live in regions where it is more common. For example, Phoenix Camera Club member David Williams grew up in Utah and always saw snow as "just a part of life." But, as they say, absence makes the heart grow fonder — and even they change their opinion about snow upon seeing it against our gorgeous landscape.
"When I moved to Arizona six years ago, I missed the snow and instantly began frequenting the high mountain deserts," Williams says. "It was only then that I began to understand the true beauty of the desert. Whether it is a light dusting of snow or a heavy storm, the place to be when a snowstorm breaks is in the Arizona desert."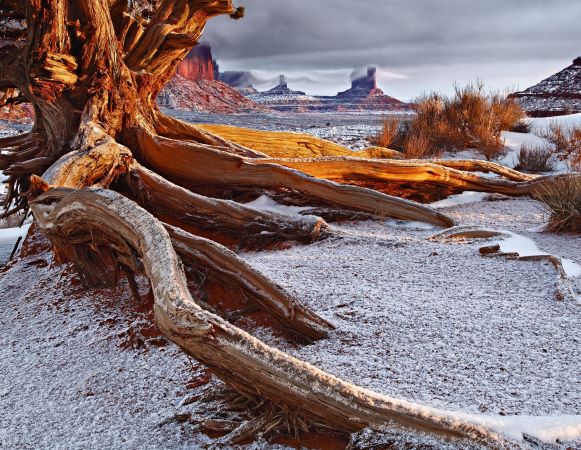 About the Photographers
Rusty Childress aspires for his work to celebrate and emphasize the aesthetic value of nature. He hopes that his images leave people touched, moved and inspired in a way that empowers them to take ownership and provide stewardship of the natural world.
Cliff Cross enjoys photographing nature and landscapes to share his passion with his family and friends. Participating in camera clubs provide him with another venue to learn and share his work. His wife Kay Cross enjoys the art of capturing fleeting moments of any and all subjects to create fond memories.
Tom Foley is a retired math and computer science professor whose research involved computer-aided 3D geometric modeling, which has a major impact on his photography. He views landscapes, cityscapes and astrophotography as 3D geometry problems that seek a balance of shapes, locations and light.
Mark Laverman photographs widely in the Southwest as well as in many international locations. He specializes in nature, travel and adventure photography and is the president of Phoenix Camera Club.
Charles Ophardt is a lifelong photographer with varied interests in subject matter and attempts to master developing techniques for realistic rendering. His philosophy is to take memorable photos mostly for his own enjoyment to remember the sights and his feelings of places visited as he reviews them at later dates.
Lou Romain simply enjoys capturing the many beautiful sights of the world in which we live through travel — especially of Northern Arizona. Sharing his images with others allows him to reap a double inner pleasure.
Jim Warthman enjoys photographing Arizona's diversity. Sharing his images, he aspires to enlighten others to the great variety that the state has to offer.
David Williams believes that life is a beautiful friction; we are surrounded with natural beauty surpassing the imagination, yet juxtaposed against our hectic and busy lives. Through his imagery, he hopes to inspire others to see the beauty that was meant to inspire, motivate and heal us.