Writer Joseph J. Airdo
Having lived in Arizona my entire life, some of my fondest memories are of the few times I have been fortunate enough to witness winter snow.
There are the vague recollections of my childhood swingset covered in a blanket of white; the year I was celebrating New Year's Eve at a Phoenix nightclub with friends and looked outside to see flurries at the exact moment the clock stuck Midnight; and the time when just enough snow fell overnight for me to build a small snowman friend for my pet duck — whose name, coincidentally, is Frozen.
I have traveled to the more snowy northern areas of our state many times over the years, first with family to sled down small hills and later with friends to snowboard down much larger ones. I will never forget my first time learning to snowboard at Arizona Snowbowl and how happy I was despite falling down an embarrassingly high number of times. Since then, I have tried to return each year with friends and am proud to say that I have even braved a few black-diamond runs.
Make no mistake, I still fall down — a lot. But playing in the snow is so much fun that I do not mind a few temporary aches and bruises. Nor did I mind when a blizzard knocked out power at Arizona Snowbowl and the majority of Flagstaff, for I was grateful to be experiencing the Southwestern winter wonderland that is Arizona covered in snow.
If you are simply looking for some snowy sightseeing opportunities, Kendrick Watchable Wildlife Trail, Peak View Winter Recreation Area and Walker Lake — all in Flagstaff — offer stunning views. If you are looking to have a snowball fight, build a snowman or go sledding, then the Oak Hill and Benham snow play areas in Williams will be the day-trip of your winter dreams.
There is certainly no shortage of snow-covered areas around Arizona at which you can get away from it all, take in absolutely breathtaking views and experience all of the amazing magic that this season has to offer.
Arizona Snowbowl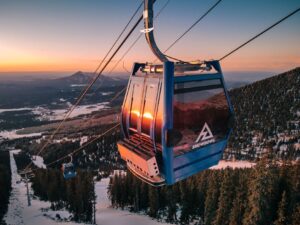 It is impossible to talk about winter destinations in Arizona without first mentioning Arizona Snowbowl — one of the oldest continually operating ski areas in the entire country.
Founded in 1938, Arizona Snowbowl is located 14 miles north of Flagstaff on the San Francisco Peaks and on the highest mountain in Arizona — Humphreys Peak at 12,367 feet. It offers 55 trails, 2,300 lift-served vertical feet and more than 3,000 hike-to vertical feet on 777 acres with eight lifts, four terrain parks, three mountain lodges and 260 inches of average annual snowfall.
Although Arizona Snowbowl may be best-known for offering the largest beginner terrain in the Southwest, it is also home to plenty of intermediate and advanced terrain, making it a favorite winter recreation spot for skiers and snowboarders of all ages and experience levels.
Arizona Snowbowl
9300 N. Snowbowl Road, Flagstaff
snowbowl.ski
Sunrise Park Resort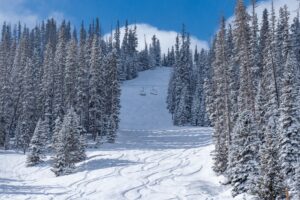 The other destination that often comes to mind when one thinks about winter recreation in Arizona is Sunrise Park Resort, which is located in Greer.
Consisting of three mountains — Sunrise Peak, Cyclone Circle and Apache Peak — Sunrise Park Resort's slopes spread across 1,200 acres, making it the state's largest ski resort. In addition to skiing and snowboarding, it offers opportunities for two other winter activities that make the four-hour drive from Phoenix well worth it.
Sunrise Park Resort offers a dedicated area for cross-country skiers to trek through the forest and across the hills. It is also home to a groomed tubing hill, which is accessed via a surface cable. The wide variety of ways that you can enjoy the snow in the area make it an obvious favorite of families this time of the year.
Sunrise Park Resort
200 Highway 273, Greer
sunrise.ski
Flagstaff Snow Park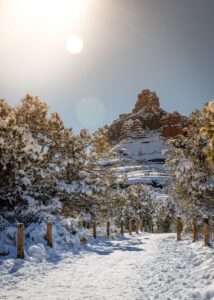 Back up north again, Flagstaff Snow Park offers a similarly family-friendly experience, featuring groomed tubing runs, a hill designated exclusively for children and even plenty of opportunities for passive snow play — like building a snowman, lying down and making a snow angel or simply sitting back and sipping hot chocolate.
Speaking of hot chocolate, Flagstaff Snow Park offers a variety of food and beverage offerings in an atmosphere that is everything you had ever dreamed that winter could be. You can even roast a marshmallow or two while cozying up with your friends and family around one of its fabulous outdoor fireplaces.
Located in the historic Fort Tuthill County Park at roughly 7,000 feet above sea level, the area sees an average of 100 feet of snow each season. Leave your sled at home because admission includes unlimited commercial snow tube use.
Flagstaff Snow Park
2446 Fort Tuthill Loop, Flagstaff
flagstaffsnowpark.com
Arizona Nordic Village
If you are a hiker at heart, then Arizona Nordic Village will most definitely be more up your alley. Billed as Northern Arizona's premier destination for outdoor recreation, rustic lodging and outdoor events, the area may very well be the best place in the state for Nordic skiing and snowshoeing in the winter.
Located 15 miles northwest of Flagstaff in Coconino National Forest, Arizona Nordic Village offers a new challenge for Arizonans who have already mastered Camelback Mountain. Strap on a pair of snowshoes and hike through the area's many snowy trails that promise a view of Arizona unlike any you have ever seen before.
Arizona Nordic Village also offers traditional cross-country skiing — an activity that is similar to that of walking or running, but with skis on — as well as skate-skiing — a more athletic style that may come more naturally to those who love to ice-skate. Lessons for both activities are available for inexperienced visitors.
Arizona Nordic Village
16848 U.S. 180, Flagstaff
arizonanordicvillage.com
Hannagan Meadow Recreation Area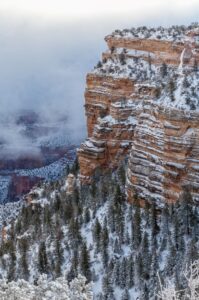 Hannagan Meadow Recreation Area may be one of Arizona's best-kept secrets, offering a winter escape away from the usual crowds of people who pack many of the other locations on this list — especially on weekends.
Although all skiers will find a few groomed trails suitable to their experience level, those who are more experienced will greatly benefit by hiking the area's back-country trails, which lead into upper elevations of Blue Range Primitive Area and provide some of the best remote skiing in the Southwest. You can even snow camp there. The solitude that Hannagan Meadow Recreation Area offers is unparalleled.
More than 9,000 feet above sea level, Hannagan Meadow Recreation Area is also home to the historic Hannagan Meadow Lodge, where you can enjoy a guided snowmobile or snowcat tour, snowshoeing, cross-country skiing, ice fishing, sledding and tubing before retiring to a lodge room or authentic log cabin and cast all of your cares away.
Hannagan Meadow Lodge
23150 U.S. 191, Alpine
hannaganmeadow.com
Ski Valley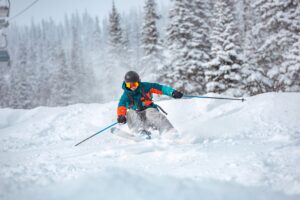 Did you know that you do not necessarily need to travel up north in order to experience a winter wonderland? A few weeks each year, Ski Valley in Mount Lemmon near Tucson opens to become the southernmost ski destination in the continental United States.
Located more than 9,000 feet above sea level, Ski Valley boasts 21 runs across 200 skiable acres, affording visitors a snowy and scenic experience that is very much different than the rest of Arizona's winter destinations.
As with all locations on this list, be sure to call ahead to check conditions and verify accessibility. Too much or too little snow can spoil your fun. Most importantly, please drive carefully and remember that driving in snow and on icy roads is drastically different from driving in more conventionally Arizona weather conditions.
Ski Valley
10300 Ski Run Road, Mt. Lemmon
skithelemmon.com