Writer Amanda Christmann // Photography Courtesy of Maura Allen
It has been said that time is an illusion created by our minds. Minutes, hours and days drop one by one like sands in an hourglass, piling one on top of another in our collective consciousness, forming memories, defining lifetimes and shaping versions of history real or imagined.
Time passes in layers, providing context for how we see the world. Each moment builds upon the last to categorize and organize what was, what is and what will be. We pick and choose the junctures that will define ourselves and our lives, as well as those that will not.
For artist Maura Allen, time is also a muse. Looking at her bold silhouettes, its role may not be obvious, but look a little deeper and time forms the backdrop of amaranthine scenes of the iconic American West.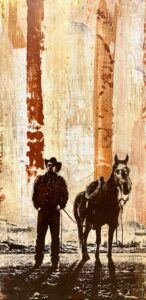 From layers of acrylic on wood panels to glass and metal, she has become adventurous with her materials. No matter the medium, Allen tells time-filled, yet timeless stories that dance between categories of pop art, neo-Dadaist or postmodernist art.
Working forward from the back, she subtly but beautifully portrays the continuing arc of time by incorporating textures and elements of the past into striking perennial silhouettes of the people, livestock, horses and landscapes of working ranches, wide-open spaces and one-stoplight towns.
Century-old postcards, old wallpaper patterns and historic records make cameo appearances in Allen's storylines, fading into patinas as time marches forward. Like opening a forgotten trunk full of memories in an old attic, each of Allen's works is full of intimate surprises.
At times, these elements are obscured by newer layers. Still they remain. Just as a whiff of a childhood scent can bring our minds back to a feeling or a memory, their presence can be sensed.
"I do different things to bring back time," she explains. "I might bring in the original patent for the cowboy hat or make my own wallpaper pattern to remind you of when you went to your grandmother's house. It's like peeling off wallpaper or painting over layers in an old house. There's living history there, and they shift the story.
"I want each piece to have staying power. I want it to endure. Every time you pass it in your home, I want you to see something different. I like to put little treasures in there to show people that you can bring history forward."
Allen beautifully engages in poetic license to document the American West, drawing upon the continuum of its past and present. Her work has been featured internationally in collections and galleries.
Carefree art curator Shelly Spence, owner of Grace Renee Gallery, discovered her work at Desert Caballeros Western Museum's "Cowgirl Up" exhibition and recognized its appeal.
"Lots of the artists were traditional cowboy or Old West artists," Allen says. "I see the West in a different way, and my work reflects that. It has a different conversation.
"The images I paint are from both the past and the present. This is the West. It's about neighbors helping neighbors and working sun up until sundown. It's about being a steward of animals and doing the right thing, even if it's the hard thing.
"This is what the West is now, and what it has always been."
Art Imitates Life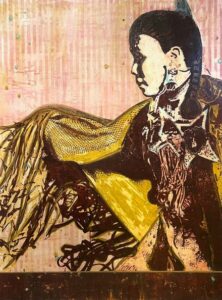 Allen's own journey to discover that conversation has its own interesting layers, and like her work, some are obscured but still part of her fabric. She grew up in northern California and had fallen in love with capturing life from behind the lens of a camera by the time she was 15. A trip to Jackson Hole, Wyoming in the early 90s left an indelible mark — a desire to know more about the culture, history and people of the American West.
She studied Latin classics at Stanford which, at first glance, would seem to be a wild tangent from the dusty path of cowboys and cattle drives. However, her education gave her perspective; she recognized that romanticized stories, songs, politics, religion, literature and our ever-evolving media are symbiotic and perpetual layers that define — and are defined by — Western culture.
She realized that, while society sometimes insists upon categorizing the West into "Old West" and "present-day American West," they are one and the same, bound by the arc of time.
And so came a desire to portray that message through art. It seemed only natural to focus on creating intertwined layers.
"I developed my technique over time," she explains. "I've done a lot of reading about what other artists have done. I adapt parts I like and discard others.
"I start on location at ranches, rodeos and small towns of the West and always begin by looking directly into the sun. I'm really looking for a strong silhouette. I want energy. I want that iconic feeling, whether it's the hat or a rope or some other element that anchors us to that place and says, 'Yes, we're in the West.'"
Snapping hundreds of photos on her camera, Allen aims to capture images that tell stories. Sometimes she's got a song in her head or a line from a poem to inspire a narrative, but other times the subject has its own tale to tell. With ideas galloping through her mind, she makes the trek back to her home studio and gets to work.
"When I'm home in Prescott, I take those images and decide what stories I want to tell," she explains. "Once I find what I want, I reduce the photo to black and white, it's most elemental form — positive and negative space."
Her next step is deciding how large she wants her story to become. She's currently working on a piece that measures 96 inches wide, but much of her work is more compact.
Once the foundation is established, the fun begins. Allen's work isn't bound by the color palette of life; sometimes she delves into pop art-inspired oranges, pinks and turquoises. Other stories may be told in warmer shades. In either case, it's often the unexpected complexity that leaves the most vivid impression.
Inspired by Andy Warhol and Robert Rauschenberg, Allen uses screens instead of paintbrushes.
"I work from the back forward, from history to the present," she says. "As I go, I reveal as much as I want and make some things disappear.
Elemental Differences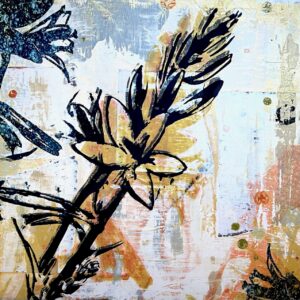 Just as Allen's work is not confined by time, she also enjoys exploring new ways to tell her stories.
"Though I'm a photographer, a printmaker and a painter, I also work in glass," she says. "I don't see silos in art disciplines. Glass informs photography and photography informs glass."
Though it still reflects her signature style, glass brings an additional element of light into Allen's work that dances through the compressed images. Her glass pieces, reminiscent of Edward Curtis' famed glass plate negatives, evoke the feeling of watching the shadow of a cloud pass through a vibrantly sunny field on a summer day.
"Working with glass is a similar process," Allen says. "I take images and layer them on different pieces of glass, then fuse them together and watch the surprise happen. Sometimes there is a chemical reaction, or maybe the distance between layers in the glass creates an illusion of space. I never know what it's going to decide to do. That's part of the fun."
From wall-mounted stories to 1-inch dioramas, Allen loves the challenge of working with glass.
"My interest is, 'Can I portray how I see the world in a different medium?'" she says.
No matter the medium, through Allen's layers of time, the stories of the enduring spirit of the West will continue to be told and cherished. It is these stories that form a thread between who we were, who we are and who we want to be and that connect us to history in the most beautiful of ways.
Maura Allen
Thursday, Jan. 20 // 4–7 p.m. // Grace Renee Gallery // Historic Spanish Village // 7212 E. Ho Hum Road, #7, Carefree // Free // 480-575-8080 // gracereneegallery.com