Writer Shannon Severson // Photography Courtesy of Detour Company Theatre
Every stage production is the revelation of story — a new interpretation brought forth by the unique talents of a particular assemblage of performers.
At Detour Company Theatre, the performers just happen to be adults with intellectual, developmental and physical disabilities who are dedicated to their craft and to sharing the joy of theater with the community.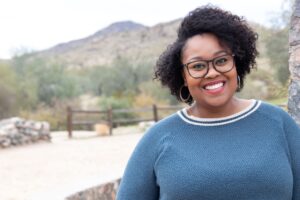 Artistic director LaRiche Lamar, who is classically trained in opera performance and also directs the children's Gospel Troupe at Paradise Valley United Methodist Church, first began her time at Detour Company Theatre as an audience member but was immediately compelled to become more involved. She saw how the organization meets a real need for adult programming that respects and develops the whole person.
Lamar says that it all comes down to representation and opportunity, not a focus on diagnosis.
"I've been in performance my entire life," Lamar says. "I've never seen accessibility in this way — where the artist is at the center of the production. It's an authentic, true theatrical production with the same impact the arts in general have on typically-abled persons. Those same benefits are there for people with disabilities.
"I didn't have a lot of experience with the disability community and so I came in with few preconceived notions about the artists' limitations. As a result, I'm able to allow the artists to discover any limitations for themselves, and then can simply work to accommodate those limitations."
Lamar oversees the four major programs at Detour Company Theatre, as well as the business side of this nonprofit that has been a community staple for over 20 years. There are 35–40 actors and 20 coaches who currently participate.
The Mainstage program produces at least two major family-friendly Broadway shows each season. Mainstage After Dark produces shows with more mature subject matter and themes. Boots Camp is a beginning workshop for new participants that covers acting, dancing and singing and each session ends with a showcase of excerpts from a particular musical.
"Our current Boots Camp will feature excerpts from Beauty and the Beast," Lamar explains. "We have very long rehearsal processes to make sure everyone has time to learn the music, lines, the blocking, the movements. Some artists start off timid, shy — they're uncomfortable in conversations, but then they get a script in front of them and find their voice."
Lastly, there is The Academy — a series of workshops and classes with a goal to build skills through vocal, creative drama workshops in acting, singing and movement.
"One of the really cool things we also have is a 'Big Discussions Club,'" Lamar says. "One of the challenges this population faces is that it's assumed they can't talk about big topics. We have discussions about the themes in our shows, what it means to be an actor and how to portray a character. One of our prominent artists was just discussing 'inheriting a character' versus 'inhabiting a character.' We have people at varying levels, but through examples, I find that most can grasp these concepts."
Lamar emphasizes that a guiding principle of Detour Company Theatre is a focus on the fact that the participants are adults and the goal is to create a space where they can feel respected in that way.
"A big issue in the community is the idea of 'infantilization' — the assumption that someone will stay at a low grade level," Lamar says. "That's simply not true. Even if someone isn't developing from an academic standpoint, we all continue to grow and mature socially, psychologically and physically."
The actors themselves have found friendships, romance and creative collaboration, as well as developing their own talents and establishing their own independent perspectives on the arts, themselves and their place in the world — things that everyone, regardless of ability, needs in order to thrive and grow in life. For some, participation has helped them expand their own careers and advocacy.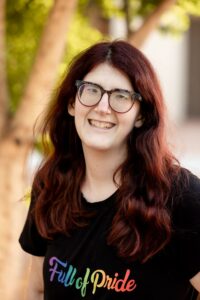 Leah Mapstead has been with Detour Company Theatre for 13 years, but she began acting when she was about 6 years old. She says that the program has given her more self-confidence and she's used that to advocate for herself and for her friends. She is an active contributor to the Big Ideas Club.
"Being part of Detour Company Theatre has given me the chance to show the world that people with disabilities are normal like anyone else," Mapstead says. "We don't want pity or for people to feel sorry for us. We want to be treated equally. With the right approach and done in the right way, people with disabilities can do equally as much as people without disabilities."
Mapstead says that stepping out of her comfort zone meant sharing who she is and what means the most to her. She's a volunteer at the Phoenix Herpetological Society, where she works with crocodiles and snakes, has adopted a red tail boa constrictor of her own and is a voracious reader of books about theater to learn a range of perspectives on acting, directing and composing.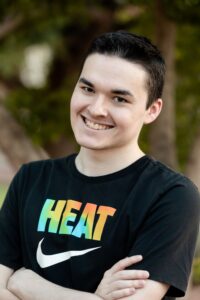 LJ La Vancil is a musician who came to Detour Company Theatre in 2018 without acting experience, but went on to starring roles, playing the title character in "Roald Dahl's Willy Wonka" this past January. He was discovered by a production crew who cast him in police training videos that teach officers how to interact with people who have Autism.
"It was my first acting break and I wasn't nervous," La Vancil reveals. "I did a lot of plays after that and I started writing and recording music. The first song I released is 'Autism Music,' a dance pop-synth song. My first solo album is called 'Autism Star' and I produced it all on my own. I want to bring this opportunity and open it up to people in the Autism spectrum community to thrive and express themselves with music. I'm always looking forward to a brighter future."
La Vancil does voiceover work, sketch comedy and his own live productions. He says that being part of Detour Company Theatre ignited a spark within him.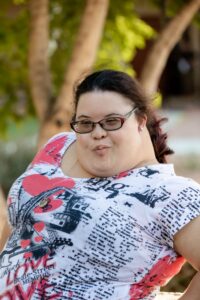 Davina Watson has been acting since she was five years old. She comes from a family of actors and singers and is starring as Princess Winifred in Detour Company Theatre's production of "Once Upon a Mattress" June 11 and 12 at Scottsdale Center for the Performing Arts. She says that she's met so many friends — including her longtime boyfriend — through her participation with the company.
"For disabled people [at Detour Company Theatre], everyone can be a star," Watson says. "Every single one of us can be a star, as well as being one together. It's about being accepted."
Mapstead and La Vancil concur. They note that the friends they've met in acting have become a family where everyone can bring out their best. They credit their fellow participants and the coaches and leaders who guide them with fostering a spirit of collaboration that helps everyone feel like they don't have to go it alone.
"I think everyone should be welcomed and not feel ashamed of who they are," La Vancil says. "Sometimes you have to learn how to survive from where you're at and that it's OK to fail. Failing is not a person, it's an event that can happen. This is why the most important thing is to let people have this opportunity.
"They have to start and practice until the right track comes to mind. They don't want to feel lost in the world. I think that [those who] haven't experienced [disability] need to have some compassion and accept who we are as human beings existing in our human populations."
Lamar says that she is building connections with other theaters in the area. She doesn't want Detour Company Theatre to operate in a silo; instead it should be something people see all the time.
The growing team making this happen alongside her and these talented actors is a community of support accessibility consultants, disability consultants and coaches. They are there to run lines, review blocking and give reminder prompts. A few of the actors are moving into leadership roles including teaching. Lamar works to eliminate barriers for anyone who wants to be involved.
"Detour Company Theatre is about eliminating obstacles that systemically prevent marginalized people from participating and purposely creating a space to perform in," Lamar says. "It allows our actors to have a place to be completely themselves. What is within our doors is wholly and totally theirs."
Experience
The 25th Annual Putnam County Spelling Bee // June 10 and 11 // 7 p.m.
Once Upon a Mattress // June 11 and 12 // 3 p.m.
Scottsdale Center for the Performing Arts // 7380 E. Second St., Scottsdale // Free // detourcompanytheatre.org