Writer Amanda Christmann
Photography Courtesy of Optima
Every generation leaves its mark on our collective culture. Technology, world events and education mold our views of the world and our place within it, shaping our values and defining what is — and what is not — important in life.
Those values are undergoing a monumental shift. We are perhaps the first generation to honestly ask ourselves if we are really living the lives we want to live, and to trade convention for happiness.
Experiences have become a top priority. From how we work to how we vacation and where we choose to live, we no longer want to live to work; we want to work to live — and where we live matters.
Because of this, the Valley has become one of the fastest-growing cities in the United States.
It only takes a short drive through the North Valley to realize that a Pandora's box of development has been opened wide. The estimated 2,000 jobs being created by Taiwan Semiconductor Manufacturing Co., and 3,000 jobs being created by Intel expansion are leading many to believe that the Valley of the Sun is the next Silicon Valley.
Other industries are hopping aboard too, bringing tax dollars, jobs and an influx of people — all of whom need things to do, places to eat and somewhere desirable to live.
Development is not going to stop. The question is, "How do we control it?"
Innovators like award-winning architects David C. Hovey and his son, David Hovey, Jr., are answering that call, and they're doing it with the kind of thought and foresight needed to preserve the lifestyles and beauty that bring people here in the first place.
Even if you don't know the Hovey name, you likely know their work. Optima Biltmore Towers, Optima Camelview Village, Optima Sonoran Village and Optima Kierland are all beautiful examples that there is a viable intersection between sustainability, lifestyle-based communities and visually attractive spaces. Arguably, there is not a neighborhood where Optima has built that has not been enhanced by their projects.
Their latest proposal, Optima McDowell Mountain Village, is a stunning residential and commercial development they hope to build on what is now a dusty vacant lot on the south side of Loop 101 near Mayo Avenue and Scottsdale Road on the cusp of Scottsdale Airpark.
"Optima has developed award-winning Arizona projects," Hovey says. "We believe our proposal for Optima McDowell Mountain Village will enhance Scottsdale and stimulate healthy sustainable growth."
The site is currently zoned for commercial use, but rather than building another car dealership or strip mall, Optima's team envisions a dynamic and thriving community interconnected to the greater Scottsdale community by bicycle trails, public and open spaces and a community amphitheater for concerts, performing arts and other fun events.
The proposed development will eventually consist of six 11-story buildings with 1,500 apartments and condominiums, as well as 31,000 square feet of commercial space that can be used for amenities such as a high-end restaurant, a café and/or coffee bar, office suites, a bicycle shop, a boutique spa or wellness center, schools or perhaps a bank.
All parking will be below-ground, reducing the environmental footprint on the 21.88-acre parcel and leaving room for a 10-acre public park and 80% total open space — a significant feat, but not unusual for Optima, whose team has won multiple awards for sustainable design.
What Will Optima Offer?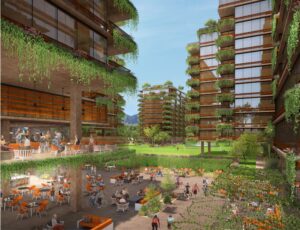 Any good architect knows that buildings are meaningless if they don't enhance the lives of the people who live and work in them, and Optima intends to add value in spades.
"Optima McDowell Mountain Village provides a live, work, play environment that will appeal to a wide range of buyers and renters drawn to the architecture, open space, active lifestyle, sustainable design, health-based, amenity-rich community and service offerings, as well as its premier Scottsdale location," Hovey says.
Outdoor plans for the encompassing land include a comfortable balance of indigenous plants and trees, and also children's play areas, health and wellness features, a sculptural fountain, a putting green and seating and lounge areas complete with fire pits where people can congregate and relax. A 14-foot-wide bike and pedestrian path will wind through the property and connect to the City of Scottsdale Bicycle Master Plan of trails and routes.
As bucolic as the outdoor areas will be, it's the structures themselves that will be the stars of the show.
The buildings are designed in Optima's signature contemporary, eco-conscious style, with complex elevations that step in and out to emulate the shape of the McDowell Mountains that it overlooks. Private terraces with stunning waterfalls of greenery, also an Optima signature, blur the line between indoors and out.
From the bottom up, glass-enclosed 15-foot ground-floor levels greet residents, and cascading plants and open spaces provide a relaxing respite from the summer sun. Ground floors will also hold management offices and business centers with conference rooms.
Upstairs, fitness centers that look out over the courtyard will include basketball courts, strength and aerobic training equipment, a yoga studio and locker rooms.
At the top, rooftop decks feature 50-meter Olympic-sized swimming pools surrounded by chaise lounges, running tracks that will follow the perimeter of the roofs, locker rooms, outdoor fireplaces, barbecues, seating areas, perimeter plantings and sheltering arbors covered with vines. These will provide spectacular views of the McDowell Mountains to the east, beautiful sunsets to the west, Pinnacle Peak to the north and Camelback Mountain to the south.
Homes will range in size from 675 square feet for a studio to 2,221 square feet for a three-bedroom option — and like the rest of the plan, they will be comfortable and aesthetically attractive. Also, because of Optima's vertical integration, buyers may combine homes and fully customize. At Optima Kierland, there were several buyers who combined upwards of three homes.
"We have designed the buildings to emulate the colors of the desert with bronze glass, railings, planters and privacy screens made of Cor-ten steel which weathers over time to warm brown and desert tones," Hovey adds.
Who Will Live at Optima McDowell Mountain Village?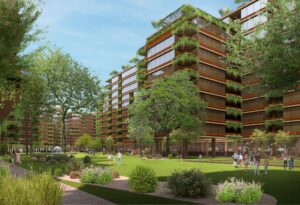 Though time will tell, Optima planners expect the demographics of Optima McDowell Mountain Village to resemble those of its big sister, Optima Kierland. Located just 2.5 miles to the south of the proposed McDowell Mountain site, residents there range in age from 25 years to 75 years and older. They are singles, couples, empty nesters, families and retirees.
Some have relocated because remote work options that opened up in recent years have provided workers the option to live anywhere they want — and Optima Kierland is a place people want to live. Others have come in with the corporation boom that's bursting in the Valley. Still, others have traded home ownership for the lower maintenance and greater convenience that Optima offers.
"Optima McDowell Mountain Village will draw the interest of residents interested in simplifying their lives without sacrificing quality," explains Hovey, adding that residents have the option of opting into concierge services to bring convenience literally to their doors.
What's Next?
Optima has put together a proposal for Scottsdale's Design Review Board, Planning Commission and Airport Review Board, which it must pass through because it is in Scottsdale Airpark. It must also gain Scottsdale City Council approval. Optima President David Hovey, Jr. hopes to have that process completed by late summer/early fall.
It is no secret that Scottsdale needs housing, but not at the cost of the environment or of the lifestyle that people come here to enjoy.
Optima has repeatedly addressed these issues with creativity and innovation that helps to build quality industries, happy people, and communities that enhance our area. After all, there is no place like home, especially when "home" is our much-loved Sonoran Desert.