Writer Joseph J. Airdo // Photography by Michele Celentano
Despite the obstacles of masks and COVID-19 testing, Musical Theatre of Anthem's producing artistic director Jackie Hammond wholeheartedly believes that the nonprofit performing arts organization's 2021–2022 season was by far the best in its 14 years of educating and entertaining the community.
"I truly feel that Musical Theatre of Anthem offers something for everyone," Hammond says. "Whether you want to try out something new or are a seasoned performer, we welcome you and cannot wait to watch you grow and build your confidence. Many first-time Musical Theatre of Anthem participants come to watch a show and then get excited to be a part of the magical experience."
Comprised of seven stellar productions, an expanded offering of classes and even a haunted house, the theater's staff, performers, families and supporters proved that the arts are not only possible but essential during challenging times like those we have faced over the past couple of years.
Moreover, the theater certainly has no intention of slowing down anytime soon as it gears up for a summer filled with learning and performance opportunities and a 15th season that will take it to exciting new heights.
From Dalmatians to Ogres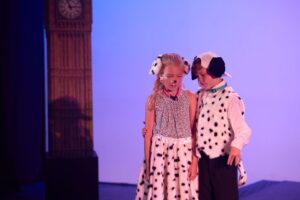 Musical Theatre of Anthem kicked off its 14th season last July with two productions — "101 Dalmatians Kids" and "Singin' in the Rain, Jr." For the latter production, the theater utilized a new rain system that two fathers designed and volunteered to implement.
"That was really exciting to have the rain actually on the stage and the actors tap dancing in the rain just like in the movie," Hammond says. "That was something that we had never done before. It was a neat element to add to our production value."
In September, Musical Theatre of Anthem presented "Matilda, Jr.," the first production for which it began double-casting.
"That is a lot of extra work but it also provides a lot of extra opportunities for the kids," says Hammond, noting that each set of cast members performs a certain number of shows.
Musical Theatre of Anthem's new rain system was utilized again in December for its production of "Once on This Island, Jr.," a theatrical adaptation of Hans Christian Andersen's fairy tale "The Little Mermaid." However, this time, it was joined by the additional elements of sand on the stage and flash cotton to create a fire effect.
After its holiday concert, an annual community outreach effort, Musical Theatre of Anthem in February brought "Disney's Cinderella Kids" to its stage, coinciding with the 50th anniversary of the classic animated feature film.
It is now in the midst of several performances of "Seussical" through May 7.
"It has been really exciting to bring all of the Dr. Seuss classics to life," says Hammond, noting that the theater previously presented the "Jr." version of the show. "This is the full version of 'Seussical,' which allows us to showcase adults as well as kids."
Hammond adds that Musical Theatre of Anthem produces one show each season in which adults are also cast as it provides a learning opportunity for those on both ends of the age spectrum.
"The kids learn from the adults but the adults also learn from the kids," Hammond explains. "We have got some really hard-working kids in these productions."
Musical Theatre of Anthem will close its 14th season June 16–18 with "Shrek, Jr." — a full-scale production that, because it takes place during the summer, will provide those hard-working kids an opportunity to be fully immersed in the theatrical experience of singing, dancing, acting and bonding as a cast all day long during rehearsals.
Beyond the Stage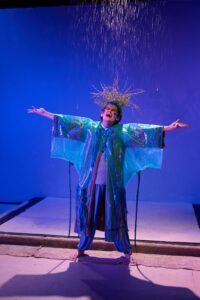 Stage productions were only the tip of the iceberg for Musical Theatre of Anthem's 14th season, though. In October, the theater hosted its first haunted house, which was preceded by a workshop during which youth aged 14–18 collaborated to create creepy characters, design macabre makeup and costumes and decorate a hair-raising haunt.
"We had at least 500 people come through our haunted house which, previously, was something that was never really offered anywhere in the vicinity," says Hammond, noting that the nonprofit performing arts organization received a generous donation of items from an Anthem resident who has done haunted houses for years. "That was a really fun night for the kids so we will definitely be doing that again this year."
Musical Theatre of Anthem last fall also expanded upon its class offerings. In addition to the return of its weekly acting classes, the theater introduced improv games and improv troupe; vocal technique and audition prep; monologue prep; fairytale theater; puppetry; and homeschool theater.
"There are a lot of kids who maybe do not feel comfortable singing or dancing but still want to hone in on their acting skills," Hammond says. "So it has been great for them to have the opportunity to explore those parts of acting without having to get up and sing and dance."
The producing artistic director adds that kids may attend an entire session or just drop in on individual classes. That way, they can explore a variety of classes and see where their interests and skills align best.
"Once they get some more confidence, they usually want to jump right into a production as well," Hammond says. "So [the classes] can be used as a stepping stone to gain more confidence and skills before auditioning for a production. But they are also good for kids who are very experienced and want to improve their craft in a specific skill or try something new."
Musical Theatre of Anthem will keep the learning and performance opportunities flowing this summer with the return of its popular performing arts institute June 20–24, during which participants will rotate between various classes and instructors in their specialties. The material will include selections from the theater's forthcoming 15th season.
Participants will also choose electives from more than 20 different options — including creating a character, ballet, improv, tap, theater history, voice and diction and mastering the dance call — and get to show off some of the skills they have learned during a series of live evening performances.
Similar to its class offerings, Musical Theatre of Anthem will also allow participants to opt out of the performance portion if they wish to do so, ensuring a welcoming and flexible environment for all.
From a Stuffed Bear to a Wooden Boy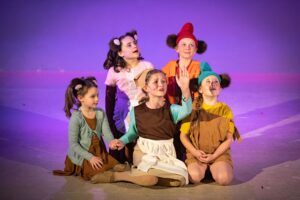 This summer will also see the first two productions of Musical Theatre of Anthem's highly anticipated 15th season — "Disney's Winnie the Pooh Kids" and "A Chorus Line: Teen Edition."
"For 'A Chorus Line,' we are bringing in Sherry Henderson — who has been on Broadway and toured with Liza Minelli — to direct and choreograph the show," Hammond says.
The theater's 15th season will continue with "Little Women" and "A Year with Frog and Toad Kids" in the fall, "Be More Chill" in the winter, a special yet-to-be-announced production in the spring and "My Son Pinocchio, Jr." next summer. In other words, the season will be jam-packed with singing, dancing and more to delight, excite, surprise and challenge the community's many exceptionally talented performers.
"We have never turned away a performer because they could not afford to participate in a production," Hammond adds. "The Lyle Kishbaugh Scholarship Fund offers full tuition coverage for youth to participate in our productions at no cost."
Hammond credits much of Musical Theatre of Anthem's continued success to the local business community.
"We started a new program in which businesses can sponsor productions and we have had a lot of community support with that, which has helped to subsidize the cost of our productions," she explains.
"I am also grateful for our families and our performers who are such a loyal, supportive and consistent part of the Musical Theatre of Anthem community. It really does take a village to put on these productions — especially during this challenging time. The support of our families has been the No. 1 reason that we have been able to keep going."
Experience
"Seussical" // Through May 7 // $25
"Shrek, Jr." // June 16–18 // $25
Summer Performing Arts Institute // June 20–24 // See website for prices
Musical Theatre of Anthem // 42201 N. 41st Drive, Anthem // 623-336-6001 // musicaltheatreofanthem.org