Writer Shannon Severson // Photography by Loralei Lazurek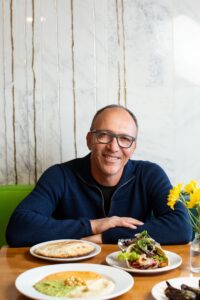 One of Bassel Osmani's most treasured childhood memories is the Sunday afternoon meals his grandfather would cook up for family, friends and neighbors in his native Lebanon.
"On my mom's side, my family is foodies to the extreme," the Pita Jungle co-founder reveals. "[My grandfather] was a pediatrician but he was a big foodie. Everyone would come to his house on Sunday — family, neighbors — he had his hands in everything. We all learned to be food critics from the time we were little."
In those days, dinner time also served as curfew. His mother would gather Osmani, his sister and two brothers for a family meal at the same time each night. It's that gathering around the table with loved ones for good food and conversation that is at the core of his philosophy on life and success.
Osmani is one of three Arizona State University roommates who founded Pita Jungle as young, ambitious, just-out-of-college friends. Osmani, Fouad Khodr and Nelly Kohsok have gone on to successfully grow the business to 24 locations around the Valley, but it wasn't in this entrepreneur's original plans.
"At 18, like 90% of Lebanese people, you go abroad to get an education," Osmani says. "My [physician] father didn't want me to go through the French system, as was most common. He was impressed with the American educational system that he saw at the American University in Beirut where every student could have an audience with their professors. That is something that just wouldn't happen in the French system. He wanted that experience for me of having access to all of my professors."
Osmani's North American educational journey began in Canada — primarily because he spoke French and not English at the time, but the cold weather had him pining for warmer climes. The decision was solidified when a friend attending UT Austin would call while sitting by the pool as Canadians were still shoveling snow. The biomedical engineering major used his time in Austin to tick off general education requirements while soaking up the legendary music scene in the Texas capital.
"The culture in Austin — the music, the creativity — it was super fun," he recalls. "I saw Stevie Ray Vaughan many times and so many jazz bands. When I came to Phoenix, it was a big grid and every two or three miles there was a Safeway and a Circle K. The music scene wasn't as good back then."
While it took some time to cultivate better live music offerings, Phoenix did give him the chance to finish up that biomedical engineering degree at ASU and he thought he might go on to get an MBA or return to Lebanon to work in the medical space, but his home country was politically volatile and other opportunities began to arise in some unexpected places.
Osmani had worked odd jobs to stay afloat during college — a fast food gig at Wendy's, a job as a residential advisor to help with tuition and an Arizona Republic paper route he shared with Khodr, who also worked at a small, family-run Lebanese restaurant. One night, the restaurant was in desperate need for help.
"Fouad [Khodr] asked me to help him out," Osmani recalls. "They were slammed. At that point, I'd only worked at Wendy's, never as a waiter, but it was Lebanese food and I did it. When I started serving, I had stage fright, but then you get a high — you get a rush — and you know what to expect. It's liberating.
"The chef moved and opened his own restaurant. I got a call, 'It's an emergency. Can you come help?' His server had left and it was just the chef and his wife in the kitchen. [The restaurant was] a small room with ten tables. I was by myself. I loved it. The music was good, the tables were rolling. They offered me a waiter job."
It felt like the perfect fit — right across from ASU so Osmani could work the lunch rush, go to his lab and then return at 5 p.m. for the dinner shift.
"After 10 p.m., I'd make the owner and his friends sandwiches while they played cards," he says. "Inflation [in Lebanon] had gone way up and my parents couldn't help me the same way they had before. What kept me in college was working in that restaurant."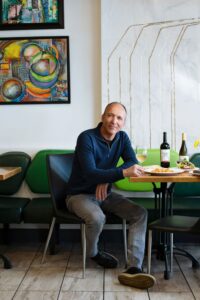 A Shoestring and a Plan
At age 19, Osmani met Kohsok, who was getting her degree in broadcast journalism at ASU. Along with Khodr, the three rented a house in Tempe and eventually came up with the idea of launching a Mediterranean grocery store. They knew there was a market for it and had contact with a restaurant customer who was an international food importer. The hunt began for a space to rent. They scraped together $12,000 in cash and opened a Home Depot credit card for whatever improvements might be needed.
"Our first site was on Apache and Terrace," Osmani says. "We met with the landlord, Mr. Pasternak. He gave us a lot of time. We were novice negotiators; I think he was entertained. He must have wondered what we were up to but he helped us a lot and gave us a good price."
As the trio surveyed their first rental property, they could see that it used to be a pizza shop and a new idea began to germinate.
"Suddenly, the plan changed," Osmani reveals. "We knew restaurants so we decided, 'Let's do a restaurant.' We wanted to do Mediterranean food that didn't need a translator. I saw dishes that were so good at the restaurants where I worked, but because of the lack of description, people didn't order them. We decided we should democratize the food. Everyone would like it if they knew what it was.
"We morphed very quickly. I wasn't trained as a chef and neither was Fouad, but I had learned to cook by watching the "Great Chefs" series on [public television.] It was no frills, but you understood the techniques. Now, I had a restaurant [kitchen to practice in] and I would go in and do my thing. We morphed into doing global food with a healthy Mediterranean twist. It would be American and global, but healthier, using olive oil and low sodium, nuts, grains, etc."
A handyman was hired to help with painting and restoring the existing tables on the property, which they tiled themselves. That Home Depot card came in handy as the entire process ended up totaling about $15,000. For decor, a painter did some sponge work on the walls and then they approached students at the ASU art department to ask if anyone would like to display their art at the new restaurant. The artists would keep all the proceeds if a piece sold — a tradition that continues today.
"We can support artists and have great art in our restaurants," Osmani says. "People like it. We created a place where people would linger and hang out. When we hired, we hired people like us — a large portion of our employees in the early days were from the surrounding local colleges. We had a policy against uniforms. We played cool music and had cool art. We started to get a reputation as a hip place and people began to come from all over to visit our restaurant. It became a place to see and be seen.
"The two partners and I were always there with the customers. We were there to entertain, like hosting people in our own home. We want to have that culture for our restaurants."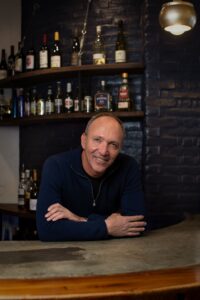 Change and Opportunity
Through the toughest economic times, the trio has grown and persisted, started families, and managed the ups and downs of raising children and keeping connected with family overseas — Kohsok is French by birth and currently lives in France while her daughters attend college there. They have long maintained a productive working relationship and friendship.
"We never pay attention to who is doing what," Osmani says. "We all take time and do what we need to do. We learned through the pandemic how to make it work long distance with Nelly [Kohsok]."
The trio owns the majority of their restaurant locations and a substantial number of the franchised stores are owned and operated by former Pita Jungle staff who have learned the core values of the business from the ground up.
Much has changed since the doors first opened in 1994, not the least of which is the way customers utilize food delivery apps. It can be a challenge to keep customers coming in to keep the fun and lively vibe that makes Pita Jungle such a popular Arizona institution with the tagline "The art of eating healthy."
"The restaurants that are successful are providing experiences and we want to create that," Osmani says. "We have different demographics at each of our locations, from college kids to soccer moms."
Pita Jungle has had success with Tapas boards for sharing, happy hour small plates, drink specials and an innovative seasonal menu that changes three times per year, giving the chefs a chance to utilize in-season produce and blend Mediterranean flavors with other cuisines including Asian and Mexican. The restaurant has even introduced its own wine at an affordable price.
"We developed these wines with specific characteristics that pair with our food," Osmani reveals. "Our cabernet sauvignon is a softer cab that goes well with leaner food and our chardonnay is less oaky."
While the restaurant partners can't be at every location all the time, they continue to focus on developing accessible, healthy, high-quality menu items, training employees to be welcoming and efficient and creating an environment where customers feel right at home.
Pita Jungle's commitment to community involvement remains a priority. The restaurant has a well-established history of engaging with school systems, hospitals and shelters to give back to neighborhoods and organizations that do important charitable work.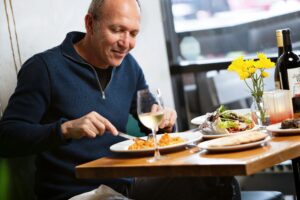 Living the American Dream
So, what does Osmani do when he's not innovating new ideas or visiting Pita Jungle locations in person? He enjoys time with his wife Rachael — who he first met at the restaurant when they were in their 20s — and their children, he still cooks at home and he's an avid pickleball player.
A pickle hummus was even developed with the restaurant's special pickles that are brined in salt water instead of vinegar. It's occasionally available on a seasonal basis. What first began as an April Fool's joke ended up being a delicious innovation, but innovation is second nature to Osmani.
With a lot of hard work and willingness to take risks, Osmani is living the American dream.
"The dream is alive," Osmani says. "My favorite thing in my life is that I count myself lucky to have been able to grow within my own environment and economic system without having to respond to someone's whims. It's not a given that you will be happy when you work for someone else. I'm lucky and blessed that I've been able to control whom I work for: my patrons and employees.
"I don't know if I would have done better if I'd stayed with engineering. What makes me happy through it all is the extent of people, customers and employers who have touched me in a meaningful way. I hope that, along the way, I may have contributed, if ever so slightly, into their healthful and mindful way of being."