Writer Shannon Severson // Photography Courtesy of Nanette McClelland-Miller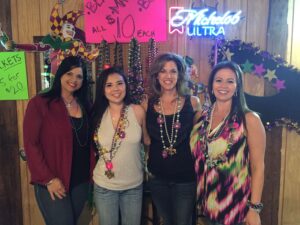 Mardi Gras is a celebration most closely associated with New Orleans. However, for the last 22 years, Louisiana native and Anthem State Farm agent Nanette McClelland-Miller and her husband, Josh, have brought a taste of the Big Easy to Arizona — raising close to $200,000 for families and communities in need in the process.
"As a State Farm Insurance agent in Anthem, I was one of the very first businesses in town," McClelland-Miller explains. "The event began as an open house for the community. The Roadrunner owners at the time were my first clients; when they suggested a Mardi Gras theme, it was perfect. Josh and I have always wanted to share our heritage with the community and what better way than with something like this?
"Over the years, we have chosen a cause or individual in the community to help. At first, we sold beads to help a local woman fighting cancer and it was a big hit. Later, we raised funds for both Hurricane Katrina and Hurricane Rita victims. We send the funds wherever they are needed each year."
On March 4, McClelland-Miller's Mardi Gras will return from its pandemic hiatus for a huge celebration and fundraiser beginning at 5 p.m. at the Roadrunner Restaurant & Saloon in New River. In addition to the colorful, classic beads, there will be a raffle and silent auction full of items and experiences donated by the community.
It's a family affair as the couple's young daughter, Jolie, has grown up helping out with the fundraiser. Plenty of friends are also helping out and local businesses, including iTrade Pay, Ricky Miles at Cardinal Financial, Select Auto Glass and Southwest Auto Glass have stepped up to be sponsors. The Roadrunner's $10 cover charge starts at 7 p.m. and includes bull riding.
"Josh will make two big pots of gumbo to serve up that night," says McClelland-Miller. "We will have gumbo and boiled crawfish sold cash-and-carry in two big tents. There will also be the traditional Hurricane cocktails available. We will have everything decorated for the event and will have a board with photos of the family."
For this, the 19th year of the fundraiser, McClelland-Miller has chosen to benefit a special young man and his family. Christian Fox suffered a severe head injury in a motocross accident on Sept. 24. His parents, Dave and Lori, have been by his side ever since, as they also continue to care for their two younger children — Jesse, 13, and Fiona, 19 months.
"I saw a posting about Christian at my gym and posts about the accident on Facebook," McClelland-Miller recalls. "I donated to his GoFundMe, but when I learned he was still in the hospital, I knew I had to do the Mardi Gras fundraiser for Christian."
The 14-year-old North Valley Christian Academy freshman, who first began riding dirt bikes at age 2, was injured during the last practice lap of the day on a typical Saturday morning with Dave and Jesse. Christian lost his footing as he landed at the bottom of a jump. Dave immediately recognized that the riders approaching the jump were not looking ahead to see the accident and that they were going to land on Christian at the bottom of the jump.
"I tried to get to him and realized I couldn't," Dave recalls. "I ran to the top of the hill to try to flag riders to stop. I was yelling, 'Stop! Stop!' They were not looking ahead at the track; instead, they were looking at their front tires."
Dave himself was hit by a bike. As he flipped in the air, he saw the first rider ride directly over Christian. While still in the air, he was hit again and knocked unconscious, landing about 60 feet below where Christian was lying.
"When I woke up, I fell three times trying to run to him," Dave says. "I didn't realize I had a broken ankle, a broken jaw, a broken finger and had bit a chunk out of my tongue. Through all this, [my younger son] Jesse kept everyone calm. Jesse was my rock; he is so brave."
Lori was home with Fiona when she got the call from Dave. Christian was being transported by helicopter to Phoenix Children's Hospital.
"The call I got was Dave saying, 'I just need you to pray,'" Lori says. "'Christian is hurt. I just need you to pray.' As I parked my car at the hospital, I saw him flying in. I remember walking in and saying, 'That's my son.'
"When they brought me back to the trauma room there were so many people that I couldn't see what was going on. I thanked the helicopter team and asked, 'Is he still alive?' They said yes. Jesse came in with Dave, who was in a wheelchair. He had blood all over him. I didn't know what was happening. It was just an overwhelming feeling. It felt like a nightmare. I wanted to wake up and have it all be gone."
Christian's next 72 hours would be critical as he was stabilized enough to be moved to the intensive care unit. Time was a blur, but when the dust settled, there were miracles to celebrate in the midst of his fight for life. Christian didn't have any injuries to his spine or any major broken bones. He did, however, have a significant brain injury that required the removal of a portion of his skull to accommodate swelling. He was not breathing on his own.
When news spread about the accident, there was an outpouring of support from the community. A colleague at Dave's office created a purple ribbon logo with the hashtag "Pray for Christian." Purple is Christian's favorite color. Soon, there were stickers, bracelets, pins and t-shirts. From Christian's school to around the world, the family has learned that there are people praying for Christian in all 50 states and 22 countries.
"It just blew up," Lori says. "The Anthem community in general has been a huge part of our healing process. NVCA had a 'purple-out day,' Anthem Rotary hosted a car wash, Heather Boop from Legends is awesome, our friend DonnaLynn dropped off stickers at Anthem businesses and the dirt bike community has been amazing. Christian's trainer had a charity dirt bike rodeo in honor of Christian."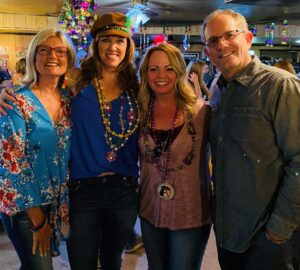 The upcoming Mardi Gras fundraiser by McClelland-Miller is boosting their spirits and actually shares a special connection with Christian. Dave says the family plans to attend and he was especially touched when he found out about the Mardi Gras menu.
"Christian loves seafood," Dave says. "It's his absolute favorite. We used to go crawfishing every year, so I about lost it when Nanette said it was a big crawfish boil. It is so kind of her to do this for us."
As of press time, Christian remains at Phoenix Children's Hospital. A recent bout of meningitis set him back but, as a testament to Christian's strength and fighting spirit, he beat the illness even as his body continues to heal. Christian breathes on his own with just nighttime support from a ventilator, he is recovering well from the placement of a shunt to drain fluid from his brain. The family believes that Christian can hear, so Jesse and Dave call him every night to pray with him.
"Even if he's asleep when they call, Christian opens his eyes," Lori says.
The family continues to pray for healing of his optic nerves and vestibular restoration. He was naturally prone to retinal detachment but that did not happen, despite the seriousness of the injuries to Christian's head.
Dave and Lori switch off nights at the hospital. New visitor rules have allowed them to spend more time with Jesse and Fiona on the weekends now that two grandparents are allowed to spend time with Christian in his room.
The Fox family is anticipating the day when Christian will be able to return home.
"We are at a place where he is pretty medically stable and we want to make sure he stays that way," Lori says. "We don't know when God has that planned but we are waiting for that next step in his healing process."
Funds raised in Christian's name will help them with all the renovations they will need in order to make their home safe and navigable for Christian, who will be in a wheelchair. Already, health insurance has been a challenge, particularly for needed therapies. The family is doing a lot of Christian's physical therapy themselves so they don't exhaust therapy dollars before he is well enough to take full advantage. They hope to surround their son with a therapy team full of people who believe in Christian.
"We want a team that sees value in Christian and believes that he is going to do all things again," Lori explains. "That is what we are waiting for and that is what we want. We have been really blessed. People have helped pay for Fiona's daycare and tutoring for Jesse. It can be hard for him to go to school with all that is going on, but we are so proud of him. He is even volunteering at church to work with children who have special needs. He has a servant's heart. It takes courage to step out and volunteer."
It is this indefatigable spirit of perseverance and gratitude –– even in the hardest times –– that shines through in every member of the Fox family. They are thankful for every friend, stranger, business and neighbor who has responded to Christian's battle.
"The amount of lives Christian has touched had been really impactful and it helps us, too," Dave says. "I have people reach out to say, 'I've been struggling in my faith until I was able to hear about Christian's story.' One of our prayers daily is for him to be able to share his testimony someday. So many lives have already been changed."
So as Christian's story has brought the community together in different venues, this event will bring the whole community into one venue. The Roadrunner will also donate 15% of the proceeds from their standard food and drink menus that night.
Donations are also being received via a GoFundMe that can be accessed on McClelland-Miller's State Farm Facebook page.
Hopefully, by the time McClelland-Miller's Mardi Gras is ready to let the good times roll next year, Christian will be there — flanked by family and friends, feasting on his beloved crawfish.
Nanette McClelland-Miller's Mardi Gras Fundraiser
Saturday, March 4 // 5 p.m. // Roadrunner Restaurant & Saloon // 47801 N. Black Canyon Highway, New River // 623-742-6866 // nanette@nanettemiller.com // nanettemiller.com