Writer Rebecca L. Rhoades // Photography by Loralei Lazurek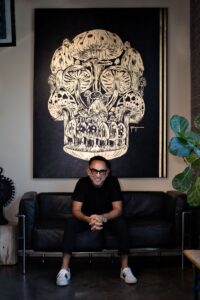 The cream-colored walls of Gennaro Garcia's studio/gallery showcase the works of a master creative. But look closely. Hanging among the framed giclees, monosilk prints and vivid multimedia works is a glimpse into the artist's past. The simple watercolor painting depicts a classic Southwest scene: A pueblo ladder rests against the deep pink wall of a Santa Fe-style home. Nestled in a nicho is a Virgin of Guadalupe statue, while a potted sunflower grows next to a brick archway. The signature is dated 1998.
"That's how I got started," Garcia says, with a laugh. "When I first moved to Yuma, I started painting these pieces of canvas, and I would sell them at the mall for $25 each. I didn't sell that many."
A collector of his more current work found the piece on eBay and sent it to Garcia as a gift in 2014. Its price 16 years later: $3,600. A testament to the artist's almost-storybook ascent.
Born and raised in Mexico, Garcia's first passion was food. He spent his teens and early 20s working in his parents' and then his own restaurants; a secondary job painting business signs with his older brother fostered his artistic talents.
In the mid-1990s, he came to the U.S. and spent the next few years managing an eatery in Yuma. After meeting his now wife, Briseida, he moved to Phoenix and got a job as an interior muralist. In 2006, he struck out on his own.
Today, he is one of the most prolific — and respected — artists in the Valley. His oeuvre encompasses a wide range of works, from oil paintings, prints and murals, to pottery and wood carvings. His brightly colored canvasses and prints, many of which feature Mexican icon Frida Kahlo or intricate skull-shaped trees of life, can be found in some of the top homes in the state. And his "Hecho a Mano" line of dishware, which display the outline of a pair of outstretched hands, is a favorite of homeowners and professional chefs throughout the Southwest.
"The whole idea of being an artist is to create art. The technique, the colors, the textures — they don't matter," he says of his ever-changing mediums. "The part I enjoy most is the learning process. That's why I'm always creating something new."
Most recently, the artist began experimenting with the traditional Mexican art form of Talavera pottery.
In 2018, Garcia started traveling to Puebla, Mexico, to study Talavera at Casa Uriarte, the oldest Talavera factory in the country. Founded in 1824, it's also the largest, employing approximately 100 craftspeople who make each plate, urn and bowl by hand.
"The artists work with the same technique and in the same style, and use the same type of brushes, that they did 200 years ago," Garcia explains. "True Talavera is the most difficult art technique I have learned in my life. You see the artisans who have been doing this forever, and they do it so smoothly and beautifully that it's almost like they're drawing with a pencil."
While Uriarte is known for its traditional designs — "tibors," or lidded urns, also known as ginger jars; amphora vases; and tableware, all with floral patterns, Moorish crosshatches and dots, and "plumeados" or swirls — artists such as Garcia are bringing contemporary sensibilities the age-old art.
"I have painted cacti, Frida [Kahlo] and my 'Hecho a Mano' hands, but I use the plumeados from 200 years ago on the side," he says.
Mariana Muñoz Couto, commercial director for Uriarte Talavera, adds that Gennaro's work integrates a lot of things from Mexico as well as pop culture, but it's not so highbrow that it's difficult to understand.
Garcia never brought his Talavera to the U.S. because transportation costs and gallery commissions would consume most of the profit. Plus, any pottery he created in Mexico sold immediately. Then COVID happened.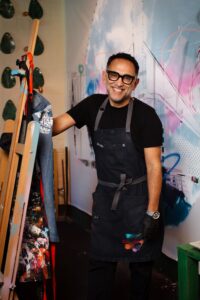 Creating — and Thriving — in a Post-Pandemic World
"When COVID hit, the galleries started closing," Garcia explains. "I had to adapt."
Prior to the pandemic, Garcia frequently traveled to Mexico, working as a sort-of artist-in-residence in such idyllic destinations as Todos Santos, Valle de Guadalupe and Los Cabos. As the health crisis grew, he pivoted, and instead of making art for others to sell, he decided to open a series of "arteliers" — a portmanteau of "art" and "atelier."
"What I did was start opening these kinds of spaces," he explains. "I opened one in San Diego, in Los Cabos, in Todos Santos. They're all the same idea, where I go and paint. I use them as galleries and as studios."
In May 2022, Garcia signed the lease on half of a large space on Grand and 11th avenues — his first gallery in his hometown. The eponymous artelier opened its doors in early February.
In addition to Garcia's paintings and prints, the gallery offers t-shirts, Hedley & Bennett chef aprons, cast iron cookware, totes, wine bags and much more, all featuring the artist's distinctive designs.
The showstopper, however, is the Talavera. A custom-built arched display unit exhibits an eye-catching selection of pottery.
"I designed that piece of furniture just to showcase the Talavera," Garcia says. "This is the first time that I bring the whole collection to Arizona."
In the center of the cabinet is a massive tibor — at least 3 feet tall and decorated with a sea of blue plumeados and a black tree of life from Garcia's "De la tierra es el hombre del agave la mujer" series: "From the earth is the man, from the agave the woman." The piece recently was displayed at the National Museum of Mexican Art in Chicago.
Surrounding the tibor are Talavera plates, bowls, mugs and other serving dishes, as well as a selection of enamelware. There are the iconic "Hecho a Mano" and "De la tierra es el hombre" designs; images of Frida Kahlo surrounded by cacti, flowers and butterflies; the Mezcal No. 5 motif, a playful take on the Chanel No. 5 perfume bottle; and a series that highlight a species of honeybees that were cultivated by the Maya more than 3,000 years ago and are now facing extinction.
In the center of the room, a long rustic table is bookended by two additional oversize tibors. One features a traditional blue-and-white finish; the other, a more exaggerated teardrop-shaped pot with a modern raised white-on-white botanical design.
"I wanted to do something completely different," Garcia says. "From the beginning, my idea was to marry old-school Talavera with my own contemporary art. I want this piece to be the centerpiece of a very minimalistic house — a very modern, very beautiful, very Mexican house."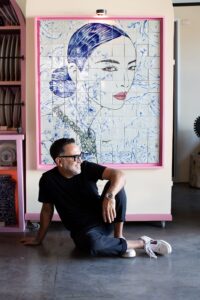 The Intersection of Art and Food
Garcia has plenty of future plans for his artelier. In addition to being a showroom for his art and a working studio, it will eventually serve as a gathering spot for special dinners.
"I want to bring in winemakers from Mexico, chefs from Mexico, local chefs," he says. "The idea will be to have dinner here, served on my plates, with my art around. Friends can bring records to play, or they can play the guitar or piano. And we'll talk art. It's going to be a fun space."
The idea to combine art and food harks back to Garcia's early days in his family's eatery, blended with his current work designing and running restaurants.
Garcia has partnered with numerous food and beverage businesses to develop their interior decor, serveware and even wine bottles. Locally, these include the numerous Barrio Queen outposts, Ghost Ranch in Tempe, Salt Tacos y Tequila in North Phoenix and Tempe Public Market. Acclaimed Mexican chef Javier Plascencia has commissioned murals from Garcia and has used the "Hecho a Mano" plates in his establishments. And the artist also has worked with Naui winery in Valle de Guadalupe to design labels for its vintages.
Five years ago, Garcia joined forces with celebrated Phoenix restaurateur Aaron Chamberlin and chef Sunny Santana to open Taco Chelo, a taqueria on Roosevelt Avenue. The Mexican bistro is celebrated as much for its food as it is for its look. Garcia was responsible for the entire interior of the space, from the massive turquoise-green bar to the skull-decorated light fixtures and Talavera tiles that wrap around the bar — even the enamelware mugs feature his artwork.
All these experiences combine in Studio Gennaro Garcia. It's the culmination of a lifetime of creativity, learning and a passion for flavor in all aspects of being.
"This isn't just my studio," Garcia concludes. "It's going to be a gallery, an art club, a food club — and just a space to create the world. Everybody's going to be invited."