Writer Shannon Severson
Photography by Carl Shultz
Photos of Food Courtesy of Wandering Donkey
[dropcap]T[/dropcap]he birth of the Wandering Donkey food truck seems not so long ago for Lance and Beth Smith.
Although Lance's roots began successfully in the corporate world more than three decades ago, his passion for food began as a very young man. Preparing meals — sometimes extravagant ones — for large groups of family and friends brought him great joy and satisfaction.
At the age of 20, his culinary skills were elevated significantly while traveling through Mexico and working under the tutelage of renowned French chef Jacques Fontaine, a graduate of the world-famous Cordon Bleu in Paris in 1948.
An avid Food Network enthusiast, a certain show caught Lance's eye, prompting him to leave the corporate world. It changed the life trajectory for him and his wife, Beth.
Over the last 10 years, they've navigated turning one successful food truck into four. From there, Epic Catering Concepts was launched in 2017. This past July, they established a McDowell Mountain and DC Ranch brick-and-mortar restaurant — Wandering Donkey Taqueria and Tequila Bar.
The establishment — which boasts a 2,000 square foot outdoor patio, is dog-friendly and has a fire pit ready for the cooler months — is quickly becoming a popular neighborhood gathering place for people and pups.
Food Truckin'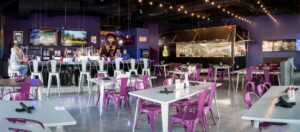 "I was watching 'The Great Food Truck Race,'" Lance recalls. "I said to Beth, 'We should get one of these!' Six months later, our first truck, Grilled Addiction, hit the streets of Phoenix."
That was in 2012, a time when the food truck craze was in its infancy and mostly centered around Los Angeles.
Lance says that daily Google searches for the term "food truck" numbered an average of 26,000 that year. Within a year, that number grew to 26 million. Today, there are more than 400 million inquiries. In Phoenician terms, the Smiths are among the original food truck pioneers here in the Valley.
In 2012, the Smiths launched the Wandering Donkey food truck and, along with their catering company, they gained an excellent reputation that had them tempting thousands of tastebuds at events and corporate functions all over the Valley.
"The Wandering Donkey food truck is one of the longest-running trucks at the Arizona Cardinals games," Lance says. "They actually sought us out at a First Friday event. We've served everyone from former coach Arians to Larry Fitzgerald, Carson Palmer and Kurt Warner — just to name a few. Many professional athletes have eaten at our trucks and contracted us to do events at their homes. We've found the restaurant is also attracting superstar former athletes."
Wander In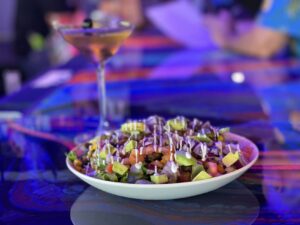 With all of the great feedback from customers, the Smiths decided it was time to set down some roots. Since they have personal connections to the North Scottsdale/Cave Creek area, a location on the corner of Bell Road and Thompson Peak Parkway seemed like the perfect spot. Plans began for Wandering Donkey Taqueria and Tequila Bar's first permanent home.
"We recognized early on that people are looking for more than just good food," Lance says. "They're looking for an experience. One of the things that sets us apart is the ambiance and vibe of the place. It's quickly becoming the neighborhood's bar and restaurant of choice. People want a good neighborhood watering hole, as well as a place to bring family."
The interior is alive with color: a food truck replica serving up "Build It Your Way" burritos, bowls and tacos is a fun twist. Patrons enjoy the work of local artist, Leila Parnian, who created murals and a custom bar that's a real showstopper.
"People come in just for that bar top," Lance says. "It's beautiful. Leila does graffiti art and created three different, big murals on the walls with spray paint — though you'd never know that's what it is. She's done projects across the country. Our customers love to take pictures with her art."
Wandering Donkey Taqueria and Tequila Bar officially opened July 29 of this year. After some construction stops and starts due to supply chain and staffing challenges, the summer opening was actually a blessing. The off-season gave the pair a chance to fine-tune the menu, equipment and staffing, and to be ready for the fall influx of snowbirds and tourists that blow in beginning in the fall.
Tempting Tastebuds
Beth says that she and Lance believe in quality.
"We started that with our food trucks," she explains. "Our sources are held to the highest standards and customers know they're getting food and drinks that taste good and are made with the best ingredients."
For those who might have discovered the restaurant by first visiting the truck — or wish they had — there is the food truck menu option. The creative, sit-down menu represents the regional fare of all the states of Mexico along with craft cocktails, many of which feature tequila, of course.
Lance says the menu revolves around nine different specialty taco plates.
"Our Mother of All Quesadillas is made using a 200-year-old recipe from Sinaloa," he notes. "It's stuffed with stewed pork and Oaxaca cheese. It's big enough to share or there's enough to take home leftovers and fry them up with an egg for breakfast the next morning."
The menu also features twists on stateside favorites like a Sonoran dog on Indian fry bread and Grandes Nachos Burros Errantes — which seem like the perfect indulgences while watching the Arizona Cardinals on the big screens.
The Smiths have designated their spot as a Cardinals bar and take pride in the fact that the sound is always set to "on" for the games. There are also lobster tacos, fish tacos made with beer-battered sea bass, ribeye and tri-tip tacos — among others.
Lance notes that the Birria tacos are an absolute hit with diners.
"Birria is a big craze in Mexian cuisine right now," he explains. "They're traditionally done with goat. We do it with lamb, but most in the U.S. make it with beef. Ours are unique and people love them."
The Smiths also take great pride in their out-of-the-box bar menu. Their mixologist, known as "Ice Man," created a drink selection of thirst-quenching selections, many of which feature House Cazadores, their elevated well tequila.
The traditional El Dorado Cadillac Margarita shares the spotlight with the Honeybee — a blend of Patron Reposado tequila, triple sec, fresh lemon juice, honey and a buzz button, a flower that releases a mouth-tingling compound for a cooling effect. Meanwhile, Beth's favorite is Drink of the Dead, made with Vida de Muertos mezcal, fresh lime juice, sage honey and egg white.
As the popularity of Wandering Donkey Tacqueria and Tequila Bar grows, the Smiths have added $3 taco Tuesdays and live music on Thursday through Saturday nights, based on musician availability. Every day, tequila flights please the connoisseur or the beginner. Both rocks and frozen margaritas have plenty of variations, so customers often come back to try a new flavor the next time.
Greatest Grub on Grass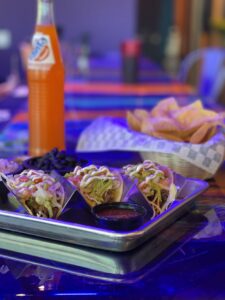 With the burgeoning success of their crown jewel, you might think that the Smiths are ready to settle in for a while. Not so fast, though, as new adventures are on the horizon for the catering arm of their business.
The Smiths' Epic Catering Company has been given the contract to provide food and drinks for the 2022 Bird's Nest at the PGA Waste Management Phoenix Open, as well as serving more than 15,000 VIP guests and the production teams. It doesn't stop there. Epic Catering will also bring ten Valley food trucks to the event — a high-profile opportunity if there ever was one.
It's all part of the Smiths' intention to be involved with the Thunderbirds Charity in this prestigious community event that gives back so much to the less fortunate in our community.
"We love supporting the community in any way we can," Lance says. "We are all about playing a positive role in our neighborhood and across the Valley."
The enthusiasm that Lance and Beth bring to their business is clear. Their passion for food and drink and dedication to hospitality comes through in their voices as they talk. Wandering Donkey Tacqueria and Tequila Bar is an extension of their home and the two love seeing the reactions of their happy customers.
Beth says she and Lance like to welcome everyone into their restaurant as family.
"We've made a lot of great friends in a short period of time," she explains. "We just enjoy people's company and we enjoy being at the restaurant and making sure people are happy and enjoying themselves. We just enjoy being there. Lance and I are good at different things and we recognize that in each other. That reflects in our business."
Lance agrees and, looking back, he sees how getting out of the corporate world and catapulting into restaurants and catering is really the fulfillment of what he and Beth were meant to do.
"It's really true that when you do what you love, you'll never work another day in your life," he says.