Writer Joseph J. Airdo
Photography Courtesy of Grayhawk Golf Club
[dropcap]E[/dropcap]very round of golf at Grayhawk Golf Club comes with a healthy side of Scottsdale's Sonoran Desert lifestyle — a relaxed atmosphere that provides an experience unlike any other in the entire world. It is that offering that has led the public club, which recently celebrated its silver anniversary, to be widely considered one of the absolute best golf courses in Scottsdale
Boasting a unique, edgy golf experience driven by the type of service and conditions usually found at private clubs, much of Grayhawk Golf Club's success over the past 25 years can be attributed to its first and only director of golf — Joe "Shoe" Shershenovich.
Although he grew up playing all sports, Shoe says that he really excelled at golf.
"I really enjoyed the game but simply had no idea about the business side of golf," Shoe adds. "I am very fortunate to work with the leadership team at Grayhawk in a sport I love — and still very much enjoy playing today."
Although Shoe is responsible for nurturing Grayhawk Golf Club into the relaxed, well-rounded golf experience that it is today, its story actually begins with a meeting between Grayhawk's founders — Gregg Tryhus and Del Cochran.
"Gregg and Del sat down and thought about the things they would like in a club," Shoe explains. "They wanted a place that takes the game seriously, the lifestyle and service seriously, but have the freedom to create a very different experience. Hosting special events, and having fun doing it, also was a big part of the vision."
Teeing It Up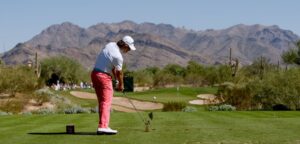 Grayhawk Golf Club opened for play in 1994, just as the high-end daily fee, member-for-a-day movement hatched.
Talon was the first of its two courses to debut.
Designed by 1981 U.S. Open and 1979 PGA Champion David Graham and golf course architect Gary Panks, Talon boasts a 6,973-yard layout that provides breathtaking views of the nearby McDowell Mountains as well as the Phoenix/Scottsdale skyline.
One of the course's most notable features is the unique way in which its back nine is built around a series of deep box canyons with a handful of holes laid out along steep drop-offs and thick stands of Mesquite, Palo Verde and Ironwood trees.
Grayhawk's Raptor course debuted one year later. Designed by famed golf course architect Tom Fazio, the par-72 course stretches 7,151 yards from the back tees and unfolds over the gentle hills and across shaded natural arroyos found in this picturesque corner of the Sonoran Desert.
Usually set up for championships, Raptor offers thrilling challenges that command players' respect through a high-stakes game of risk and reward. Most of its fairways are generous, featuring large greens with sweeping undulations.
Speaking of championships, Grayhawk Golf Club has played host to a number of them over the years, with Greg Norman, Colin Montgomerie, Tom Lehman and Mike Weir being just a few of the golf pros claiming wins in the process.
Grayhawk Golf Club hosted its first professional championship — now known as the WGC-Dell Match Play — in 1995, 1997 and 1998. In 2000, the club hosted the predecessor of the Hero World Challenge. It then hosted the Tommy Bahama Challenges in back-to-back years in 2004 and 2005. And from 2007 through 2009, it hosted the Frys.com Open, giving Raptor the distinction of being among only a handful of Arizona courses outside of TPC Scottsdale to host a PGA Tour tournament.
Professional championships are only one piece of Grayhawk's golf puzzle, though, as it is also a strong supporter of amateur golf.
For example, Raptor hosted the NCAA Division I Men's and Women's Golf Championship earlier this year and will do so again in both 2022 and 2023. Moreover, 60,000 boys and girls on teams spanning all 50 states make their way through local and regional qualifiers to compete in the PGA Jr. League Championship at the club.
"We've ended up covering a wide range," Shoe muses. "Youngsters could potentially play here at the PGA Jr. League Championship, then the NCAAs and maybe even another PGA Tour event someday."
Hole in One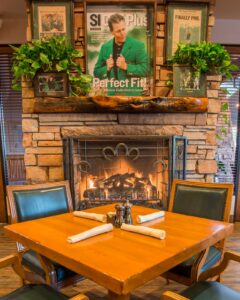 Grayhawk Golf Club offers much more than just golf, though.
"Grayhawk leadership always wanted the club to be a part of the residential and golf community," Shoe explains. "Residents of Grayhawk — as well as golfers — enjoy coming to experience the relaxed atmosphere in a public, welcoming environment."
Grayhawk's clubhouse, which opened alongside Raptor in 1995, is a timber-beam, stacked-stone beauty that features both a golf shop and a trading company. Meanwhile, its restaurants — such as The Quill Creek Café and Phil's Grill — attract golfers and non-golfers alike thanks to their innovative indoor-outdoor patios, which were designed with Scottsdale's wonderful weather in mind.
In 2012, Isabella's Kitchen opened just across Thompson Peak Parkway from the clubhouse and quickly became a North Scottsdale hot spot. Shortly thereafter, Grayhawk Golf Club launched the Morning Joint — more frequently referred to as Mojo by regulars — proving that the club really does aspire to provide its guests with an enjoyable, well-rounded experience.
And it succeeds in doing so. Shoe reiterates that Grayhawk Golf Club's elevation beyond golf to become a unique destination with something for everyone is what its leadership has always aspired to offer.
"We had a lot of ideas that, from day one, are still in place," he says. "It was a pretty simple formula of surface and service that we executed. Our guests have high standards and expect us to meet their expectations every visit. We do our best day in and day out in every department to be as consistent as possible to back up our reputation. It is a fun challenge in a very competitive Scottsdale golf market."
After all, Shoe knows that just as hundreds of golf's best compete for championships, hundreds of thousands of everyday golfers compete for pride. Therefore, shopping, dining and simple relaxation and recreation with family and friends are key parts of Grayhawk Golf Club's success.
Home to 36 holes of tour-tested golf that are open to everyone, the club has broadened its appeal to become one of the community's most treasured gems.
"Scottsdale — and Arizona in general — is an extremely strong golfing community," Shoe says. "It is part of our lifestyle here and people enjoy coming to see what Scottsdale and Arizona golf is all about. Our local golfing community is very proud of our offerings and of the destination in general.
"What is most important is most of our key/senior leadership has been with this organization for many years. We have a strong bond, all sharing the same goal to make it better each day, and that means a lot to me. It is still a lot of fun to come to work each day."