Writer Joseph J. Airdo
Photography Courtesy of Desert Warriors of the Southwest Mounted Archery
[dropcap]D[/dropcap]iana Troyk thoroughly enjoys any activity that she can do with her horse.
"I like doing things with my horse and I think that he likes doing things with me," Troyk says. "In fact, I do not want to do anything without him."
Troyk spent much of her life as an avid barrel racer and she still appreciates embarking on tranquil trail rides with her horse. But there is another equestrian activity that, for the past 20 years, has hit her passion's bullseye.
"At 51, I started horseback archery in 2002 and have consistently been training, teaching and competing around the world since then," Troyk says.
She is now the owner of Desert Warriors of the Southwest Mounted Archery — a Scottsdale-area training course that showcases, promotes and shares the art of this noble form of martial arts on horseback.
"What could be better than flying down the course on your favorite archery horse, hooves thudding, wind in your hair and drawing and shooting your targets as you race by?" Troyk asks. "Not only are you one with your horse but you also only hear the beating of your heart in tune with your horse's hooves, along with the sound of your arrow hitting the dead center of a target."
Instinctual Speed Shooting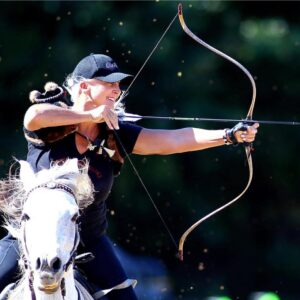 Troyk has been riding horses since she was just 3 years old. Her love for all things equestrian was probably passed down to her by her family.
"My grandparents had a ranch in Bakersfield, California," she says. "And my dad was kind of like John Wayne/George S. Patton rolled into one; he was a marine but he was also a cowboy."
Troyk's family later moved to the desert area of Ridgecrest, California where, at 10 years old, she got the first horse that she could call her very own.
"I did barrel racing, I did mounted shooting … I tried just about everything on horses," she says.
Troyk eventually moved to Wisconsin and pursued a career as a flight attendant. However, she also continued training, barrel racing and participating in other equestrian activities. She first tried her hand at mounted archery just before retiring to Arizona in 2002.
"It was so different," she says. "Mounted shooting is 80% horse and 20% you. Mounted archery is the other way around. It is 80% you and 20% horse. You are still a partner with your horse and they have got to go down the course at an even speed that you want, but it is you drawing the arrow and shooting the target. And that, to me, was more challenging."
Troyk joined the Mounted Archery Association of the Americas upon its inception in 2007. Three years later, she started Desert Warriors of the Southwest Mounted Archery — one of nearly 40 chapters within the association.
It is there that Troyk not only continues to train herself but also men, women and children aged 8–70.
"This is such a growing sport and, believe it or not, it is one of the safest horse sports on record," says Troyk, noting that movies like "The Hunger Games" and "Wonder Woman" have propelled the popularity of the activity in recent years — especially among women.
Troyk teaches the style that was taught to her by Lukas Novotny, who was one of the founders of the Mounted Archery Association of the Americas and held the first mounted archery clinics in the US. That style — the thumb release — is one of instinctual speed shooting that the Mongols once used in war.
Honoring the Comanche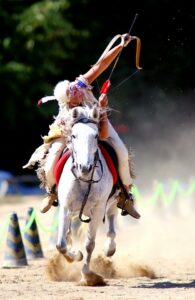 As with any sport, though, training leads to competition.
In 2010, Oregon held the first International Mounted Archery Competition," Troyk says. "It was a great success, having competitors from the US, South Korea, United Kingdom, Germany, Japan, Mongolia, Poland and Canada. Competitors' ages ranged from 14 to 63."
In 2016, South Korea hosted the first-ever World Martial Arts Masterships, including the World Horse Archery competition. Troyk competed in the event alongside Novotny and two of her students.
"Since I started competing in 2010, I have been to many countries that wanted us to come in the costume of our country's heritage," Troyk says. "I did a lot of research and know that the plains Indians — mainly the Comanche — were the ones to start shooting off horses, not just for food but in war.
"For the first five years, I dressed as a Comanche, representing Cynthia Parker — a blue-eyed white woman who was captured, married a chief and had two sons, one being Quanah Parker, who was the most revered Comanche warrior in US history. By representing her, I felt I could respect and honor the Comanche."
Since 2016, Troyk has hosted two national competitions and one international competition with representatives from eight different countries in attendance at her Desert Warriors of the Southwest Mounted Archery course. The next national competition is set for this month.
Four ranking events take place throughout the weekend with competitors being ranked based on speed and accuracy in forward-, back- and side-shots. The public is invited to attend and observe the competition from the grandstands, just as they are for training and play days throughout the rest of the year.
Without Reins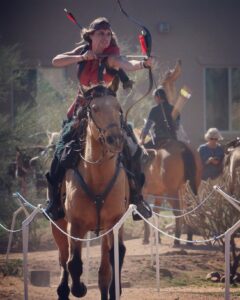 Having recently turned 70 years old, Troyk continues to train and compete, proving that mounted archery is not only safe and accessible but also keeps participants in excellent physical shape. However, she admits that she has been seeing a lot of her students — including her own daughter Erin, with whom she now enjoys the activity — surpass her abilities and achieve new heights in the sport.
"We are always looking for those horse lovers fired up into wanting to learn the ancient sport and compete throughout the country and the world," Troyk says. "The joy is the love of your horse and your bow. Your horses are your partners and are trained not to be afraid of the flying arrows or bow sounds and are to be ridden without reins."
It all comes back down to enjoying activities that she can do with her horse.
"I love horses and I cannot imagine ever being without them," Troyk explains. "It is something that I can work at every day and try to get better and improve. I like training people and seeing how well they do. I like watching my daughter get out there. She is a natural at it. And it is so much fun to see people beat me — and to see people get excited about it. Like any sport, if you love it enough, you want everybody else to do it, too.
"Yes, I can go out and trail ride — which I still do — but I like doing this. I love this sport so much. Nothing comes close that is more challenging or fun to me than horseback archery."
Experience
The Red White and Blue National Event // Nov. 5–7 // Desert Warriors of the Southwest Mounted Archery // 31811 N. 166th St., Scottsdale // 414-617-3843 // sw-mountedarchery.com