Writer Joseph J. Airdo
Photography Courtesy of The Holland Center
[dropcap]W[/dropcap]hen Jennifer Rosvall took the position as executive director of The Holland Center, she immediately fell in love with the community that it serves. She had always been familiar with and fond of the area but she never knew the extent of its inherent charms until she became directly involved with and invested in its culture, its people and its success.
"I fell in love with its people and how tight-knit it was but there was always a little bit of a gap," says Rosvall, noting the disparity between the community's senior/retirement population and school-age youth. "I think that is important to bridge that gap."
Rosvall recalls that The Holland Center was formerly thought of as a senior center. However, over the past year, it has flourished into a multigenerational center with arts and education opportunities for individuals of all ages, assuring that it is able to affect change by building a community of character and kindness.
Rosvall believes that bridging the gap between the area's youth and seniors — and everyone in between — is a key component of achieving that.
"Our kids have so much to learn from our seniors," she says. "The seniors in our community are a wealth of knowledge and some of the most interesting and giving people I have ever met. The reason for [The Holland Center] is to bring everyone together — to give this community an opportunity to really meld."
Theater, Nature and Education
Jim Sherbert, who serves as the chairman of the board for The Holland Center, says that the organization was formerly known as The Foothills Community Foundation before its name was changed to more accurately reflect its mission and programs.
"What we are trying to do with each of these programs is be able to define some point in the community that needs a specific area of support and is driven by a nonprofit," Sherbert explains. "Typically, the programs are independent and run themselves from a mission perspective. The Holland Center manages the rest."
The Holland Center provides tax organizational and legal structure, manages all accounting and financial work and even facilitates marketing, volunteer recruitment and fundraising efforts.
"People may not know that Foothills Caring Corps, Foothills Food Bank and Arizona MusicFest were all part of The Foothills Community Foundation at one time," Sherbert notes. "They just grew up big enough to manage on their own."
The Holland Center currently oversees five programs. Among those programs is Desert Foothills Theater, whose mission is to invite theater participation from all members of our community. Aiming to help change lives through the performing arts, Desert Foothills Theater provides training for young artists, teaching them discipline, self-confidence and collaboration as well as dance, acting and voice skills.
Meanwhile, Desert Awareness Committee — another one of The Holland Center's programs — aspires to educate residents and visitors to understand, conserve and preserve the Sonoran Desert's plants, animals, water and wildlife. The program provides not only workshops and seminars but organized hikes as well.
Then there is The Holland Center's Partners in Education program, which seeks to ensure that all students in the community have access to educational enrichment programs and to support innovations in teaching and learning. Comprised of parents, retired educators, business owners and other residents who believe that quality education is essential to the social and economic fabric of the community, the program raises funds to support local students and teachers.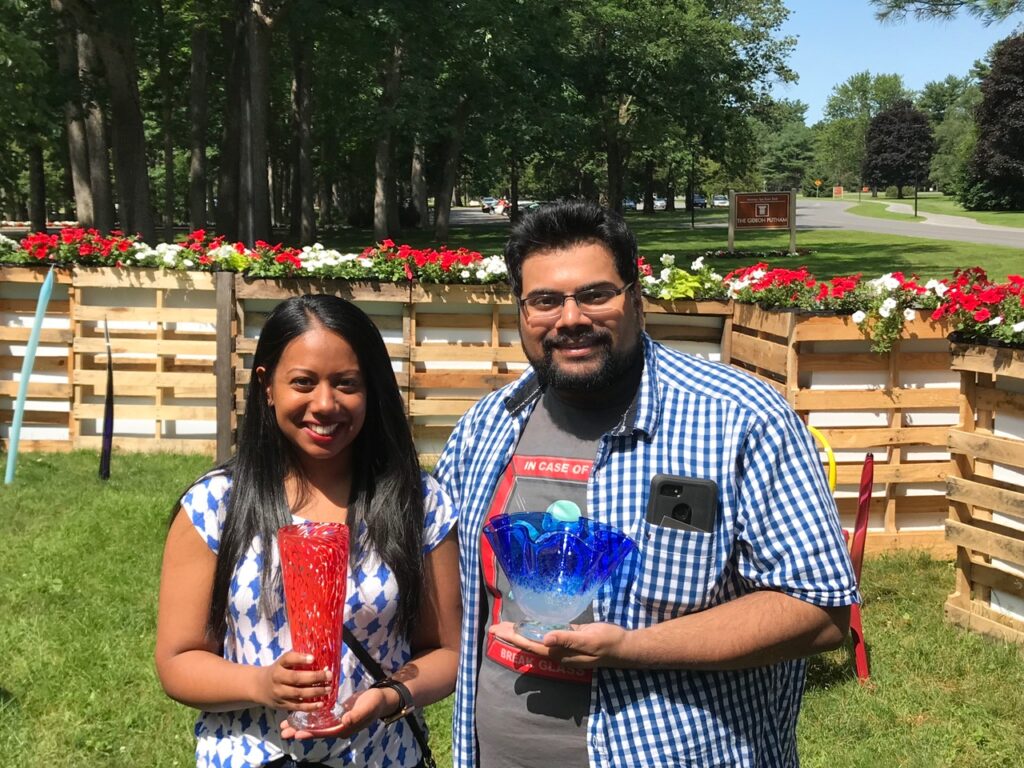 Lifelong Learning
Sherbert says that The Holland Center has received an enormous amount of demand for continuing education offerings. Instead of stepping on the toes of other organizations like community colleges that may offer full-semester courses, its community center program has opted for a different and — for many people — a much more manageable approach of individual sessions on specific subjects.
Those subjects range from Americana and anthropology to financial tips and healthcare navigation. Then there are the classes that are just for fun, such as those offered by The Holland Center's artist-in-residence Gregory Tomb.
The partnership between Tomb and The Holland Center began just over a year ago when the artist was looking for a place where he could set up his mobile glass studio while he was in town for the winter. He later introduced the idea of having a fall fundraiser to benefit Desert Foothills Community Theater and the partnership moved to a mutually beneficial creative endeavor.
"They are helping me by providing space while I am in town so I can work and provide classes and, in return, I can sell some of my work to support their theater program," Tomb explains.
The artist appreciates the opportunity that The Holland Center provides him to not only create his gorgeous glass art but also pass on the knowledge and skill of glassblowing to others.
"There is something that happens to the human mind when you physically create something with your hands," says Tomb, noting that he comes from a family of educators. "It helps with how you communicate, how you solve problems and how you are community-minded."
Tomb adds that he has always been interested in and drawn to the magical allure of the glassblowing process. Sharing that process with others has brought him even more joy than the ethereal beauty of the finished products themselves.
"Most folks in this day and age are kind of separated from the processes of creation," he explains. "They are used to searching for things on Amazon or going to a storefront and picking something out of a box. They do not really have any idea where it came from or how it was made. We all have enough 'stuff.' What is just another piece without any kind of emotional attachment or story that goes along with it?"
Making art yourself with your own two hands facilitates that emotional attachment and provides you with that story — not to mention a few fun photographs to share with jealous friends on social media.
Tomb will continue to offer classes at The Holland Center through the end of March before then traveling east to a town in the Adirondack Mountains where he serves as artist-in-residence through the summer. However, his positive experience at The Holland Center has ensured that he will return to the Valley to at the very least host another fundraiser in the fall.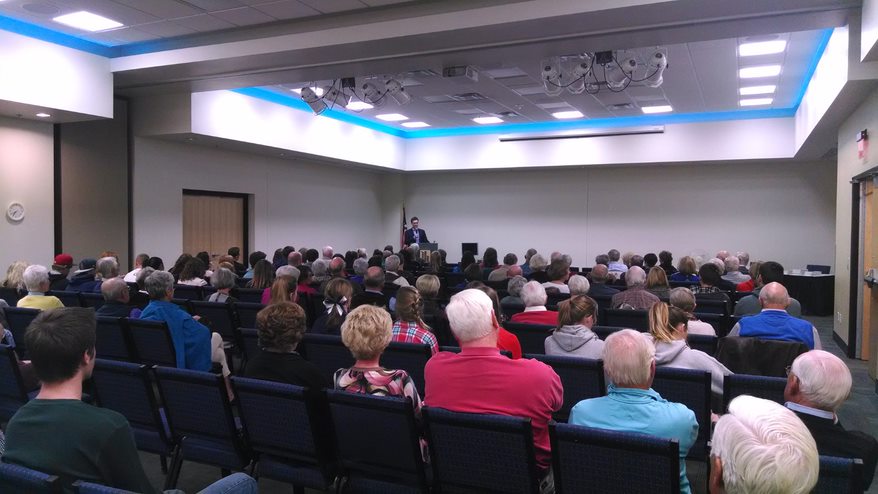 Desert Foothills Leadership Academy
Sherbert not only serves as the chairman of the board for The Holland Center as a whole but also of its newest program — Desert Foothills Leadership Academy.
"One of the issues that I think is important in this desert foothills area is the lack of a really strong sense of community," Sherbert says. "We do not have community boundaries like they have in Peoria and other cities across our state. We cover four different municipalities — from a big city like Scottsdale to smaller towns like Cave Creek and Carefree — and each one of them has very different needs and agendas."
That is where Desert Foothills Leadership Academy comes into play.
"What we are trying to do with Desert Foothills Leadership Academy is build community awareness of the issues that are faced in these communities from a broad range of not only education and arts but also government and resources," Sherbert explains.
"How does government work? How are resources like water and power defined, identified and supplied to the community? How do all of these things work? How are they planned for? How does city planning in Scottsdale differ from Cave Creek? How do these cities [and towns] corporate and manage this?"
Participants of the program — which is an exclusive partnership between The Holland Center and The Carefree-Cave Creek Chamber of Commerce — meet for one full day each month for nine months for a variety of expert presentations, on-site tours, panel discussions and hands-on training. Subject areas include health care, tourism, technology, sustainability, innovation, education, land usage/growth, social services, arts, local issues, transportation, public safety and more.
The most significant part of the program, though, is that its participants are not government officials but instead ordinary members of the desert foothills community.
"The idea is to build awareness so that these people can go on to be more active in the community," says Sherbert, noting that participants include everyone from doctors to lawyers to real estate agents.
Participants have also been broken up into three separate individual groups that have each been assigned a different nonprofit organization — The Holland Center, Foothills Caring Corps and Foothills Food Bank. At the end of the nine-month program, each group will prepare a presentation reporting how they have addressed the organization's specific needs.
"The feedback that we have been getting so far has been extremely positive and people's engagement has been outstanding," says Sherbert, noting that the first-year program is still in its infancy. "I have been very impressed with the level of involvement of our participants. I believe that if we continue on with this path, this is going to be a very successful program."
Creative Kids
Rosvall is proud of all of The Holland Center's programs and remains committed to the success of each one. She has especially enjoyed how the nonprofit organization as a whole has developed over the past year, bringing her dream of a united community one step closer to becoming a reality.
"Watching it grow and seeing families come in and become a part of it has been very exciting," the executive director says. "It is neat to see it evolve as certain people come in and completely change the trajectory of the whole thing. Sometimes I just have to take a step back and watch it happen."
In the future, she hopes to further The Holland Center's offerings for the area's youth by getting a creative kids program off the ground that incorporates all of the arts — from theater to photography to poetry.
"That is a big dream of mine and I would do anything to pull that together," Rosvall says.
The Holland Center
34250 N. 60th St., Building B, Scottsdale
480-488-1090