Writer Joseph J. Airdo // Photography by Carl Shultz
[dropcap]A[/dropcap]s Robin Cochran grew up, her World War II veteran father and public servant mother encouraged her to help others through participation in church and community volunteer activities and service projects. A particular passion of hers was assisting underserved seniors and at-risk teens in her native Mississippi community.
"My parents taught me that living with purpose means to live with duty to care for oneself and others and to live life with a heart of love," Cochran says. "I believe in this quote [from Mahatma Gandhi] and saw this exemplified by my parents throughout my childhood: 'The best way to find yourself is to lose yourself in the service of others.'"
Therefore it should come as no surprise that the Troon North resident last fall joined Foothills Caring Corps — a nonprofit organization that serves older individuals and adults with disabling conditions — as its new executive director.
"I am truly grateful to have this opportunity to serve alongside Foothills Caring Corps' amazing staff and its kind and energetic volunteers," Cochran says. "I pledge my commitment to serve with integrity, creativity and vision to enthusiastically carry out [the organization's] strategic plan and meet the growing and changing needs of our neighbors."
That plan — motivated by the goal to help older adults and individuals with disabling conditions to remain living independently in their own homes for as long as possible — involves a force of volunteers and staff who provide in-home services, transportation services, community services and support as well as access to activities that promote physical, mental and emotional health.
A Caring Community
Most recently the chief development officer of Christian Care, Arizona's largest nonprofit provider of senior living with six communities throughout the state, Cochran's resolve to assist in improving others' lives and advocate for the underserved led her to obtain a law degree from the University of Mississippi School of Law.
Throughout her legal career, Cochran assisted individuals and families in estate planning, elder law and probate matters, as well as real estate, tax, corporate and consumer finance issues. She gained a wealth of experience problem-solving with clients — especially older adults and those in need of financial, estate and healthcare planning.
Cochran also organized, planned and chaired a number of fundraising events, nonprofit campaigns and legacy planning programs.
Her service record as a volunteer includes positions within the Southwest Autism Research and Resource Center's Planned Giving Professional Advisory Council, HandsOn Greater Phoenix, U.S. Vets Packages from Home Programs for military families, the U.S. Bankruptcy Court Consumer Self-Help Center and the Scottsdale Police Department Community Auxiliary Organization.
As a result of those experiences, Cochran recognizes the significance of and knows how to implement effective strategies to help people while also building awareness of important issues — positioning her as a valuable addition to Foothills Caring Corps and its copious programs that are critical to the lives of so many in our community.
"For the past 20 years, Foothills Caring Corps has provided vital services otherwise unavailable in the Foothills geographic area," says Cochran, noting that it is all about neighbors helping neighbors. "Our organization is a vital way for volunteers to engage, support and be a part of this caring community."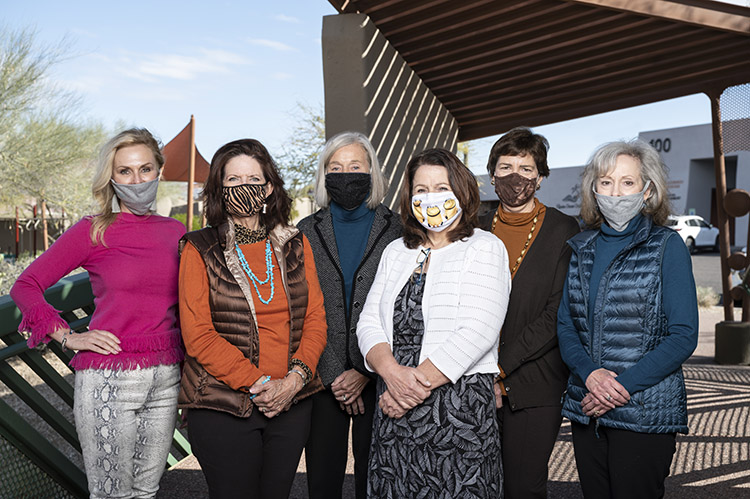 Neighbors Helping Neighbors
Foothills Caring Corps recently also welcomed four new members to its board of directors.
Susie Dymoke — a Carefree resident, avid community advocate and longtime Foothills Caring Corps volunteer — is originally from the north of England. When she first moved to Arizona, she did not know many people so she started volunteering for the Carefree Cave Creek Chamber of Commerce, aspiring to make a few new friends while putting the wealth of knowledge from her careers in high-tech, cooking schools and the dental field to good use.
Dymoke has also volunteered for the Desert Foothills Land Trust and Hospice of the Valley, but it was working with Foothills Caring Corps that held an extra special place in her heart.
"Having an elderly mom in a tiny village in England trying to stay independent, it was a way of feeling a connection to and helping similar folk," she says. "We all know or aspire to be a senior. We all chose our homes here for a reason, and helping people to stay independent in the homes they love is an exceptional yet simple mission."
Ron Fink — who is originally from Hamburg, New York — has similar motivations for being a part of Foothills Caring Corps.
"Growing up, my parents shopped and delivered groceries to both sets of my grandparents," he says. "The trip to each house was a one-hour round-trip, which my parents, my sister and I did every week. Years later, when my aunt was widowed, my parents took her shopping and to lunch. I saw how much joy these visits brought to my older relatives."
Fink has been volunteering for Foothills Caring Corps for more than three years as one of its van drivers and a helping handyman. He has helped with the nonprofit organization's loan closet, participated in many of its fundraisers and gatherings and even contributed to its quarterly newsletters.
Born and raised in a small town in New Jersey, Richard Tompeck has also always been an active volunteer in community causes. His resume includes service to education, planning and hospital boards. A couple of years ago, he was paired with a gentleman requiring respite care through Foothills Caring Corps.
"His wife needed time to go out so I sat with him, walked and talked with him and became very interested in this cause," Tompeck explains. "My experience with the gentlemen with dementia was very moving. Long after he no longer qualified for Foothills Caring Corps services, I was still visiting him and his wife and helping them. They had hospital and treatment issues, nursing home issues and his care was exhausting. I used to visit him daily until his passing.
"Volunteering to those in need makes you want to do more."
Cynthia Driskell, owner and physical therapist at Carefree Physical Therapy, rounds out the quartet of new board members. She says that advocacy for healthcare and community issues has been an ongoing priority throughout her professional life.
"Looking out for family and neighbors is what you do when you come from a small rural community," says Driskell, who is originally from Missouri. "Service with Foothills Caring Corps is a good fit with my professional experience in geriatric healthcare. I have tremendous respect for the quality programs and caring spirit that have grown with Foothills Caring Corp."
You Are Not Alone
Cochran says the addition of Dymoke, Fink, Tompeck and Driskell to Foothills Caring Corps' board of directors will further help in shaping and carrying out the nonprofit organization's mission in the years ahead as neighbors' needs grow and change.
"I am thrilled and deeply grateful to welcome these [four] talented individuals," Cochran adds. "Their diverse backgrounds and skills will provide extraordinary expertise that will further our collective works of service to the Foothills Caring Corps neighbors and community."
Tompeck says that anyone who learns about Foothills Caring Corps is immediately drawn to the nonprofit organization.
"Most people want to help someone other than themselves but often are unaware of the need or how to help," he says. "With Foothills Caring Corps, the needs are clearly defined and the options to help unlimited."
Fink adds that Foothills Caring Corps' work is now more important than ever as a result of the COVID-19 pandemic. He recognized this while he and his wife, Irene, were taking part in one of the nonprofit organization's recent Spread Joy Convoy outings, during which volunteers visit homes to provide neighbors with goodie bags filled with treats, puzzles and more.
"The neighbors were happy to see our volunteers," Fink says. "You could see the smiles in their eyes because we all had on face masks and social-distanced. The neighbors are missing the social interaction they had in the past. The caravans gave them a small amount of socialization that they so needed and wanted."
Meanwhile, Dymoke hopes to see Foothills Caring Corps grow and expand. She would even like to see the nonprofit organization's concept be embraced worldwide.
"Foothills Caring Corps is an absolute gem of an organization with a simple mission that makes an enormous difference in people's lives," she explains. "The staff and volunteers have hearts of gold, as do every single one of our donors and community partners. I am so proud to be a part of it."
Driskell adds that she, too, is proud to join the many talented and dedicated board members, staff and volunteers who have built Foothills Caring Corps into one of the most valuable organizations in the community.
"As an incoming board member, my goal is to ensure future financial stability of the organization to meet the needs of our growing senior community," she says. "I would like area seniors to hear from Foothills Caring Corps this message loud and clear: You are not alone."