Writer Joseph J. Airdo // Photography by Mike Spinelli Photography
Sam Crump takes tremendous pride in being both a resident of and business owner in Anthem — a community that he says is exceptionally special for a number of reasons.
"Anthem is a community that we have built from the desert floor," he explains. "Unlike most towns that have a long history, we are in the unique position of creating the history of our founding years. All of us are building the foundations that will support future generations of Anthem residents. Our schools, churches and nonprofit organizations supporting youth, seniors, veterans, animals and more are the fabric of Anthem."
Crump adds that at the center of it all is Anthem Area Chamber of Commerce, which last month named him its 2021 Business Person of the Year.
"I derive energy from engaging with my fellow passengers on this journey," says Crump, who owns both Anthem Law and Sam's Frozen Yogurt. "And I am honored to be recognized for it."
A number of those other individuals, businesses and organizations of which Crump speaks — that truly are the fabric of Anthem — were also recognized during last month's award ceremony.
Fuego Hot Yoga and Wellness was recognized for its commercial design while Sunset Cyclery and North Valley Custom Hauling received the chamber's Economic Impact and Community Impact awards, respectively. North Valley Custom Hauling's Dustin Holm also took home the chamber's Congressional Recognition Award while Uncorked Media Group's Mary Ellen Twohey was named the recipient of its Leadership in Action Award.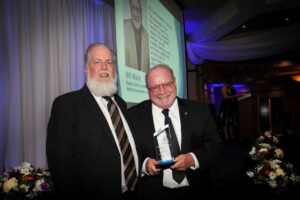 Retired community leader and volunteer Bill Black of the Rotary Club of Anthem was honored to receive not just one but two awards, being named both Anthem Area Chamber of Commerce's 2021 Public Servant of the Year and its 2021 Ambassador of the Year.
"Being a member of Anthem Rotary provided me the opportunities, with their many events and projects, to participate and give back to the community," Black says.
Anthem Area Chamber of Commerce also named Musical Theatre of Anthem as its 2021 Nonprofit of the Year — an honor for which the theater's producing artistic director Jackie Hammond could not be more grateful.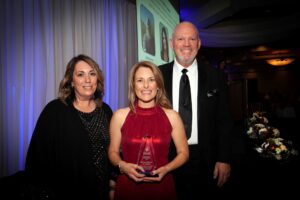 Like all nonprofit organizations — as well as businesses and individuals for that matter — Musical Theatre of Anthem faced unprecedented challenges over the past two years as a result of the COVID-19 pandemic. The theater remained steadfast in its commitment to serve the community by introducing new programming such as homeschool theater classes, performer-led workshops such as its first-ever haunted house and livestreaming events for those who cannot attend shows in person.
"Musical Theatre of Anthem would like to thank the wonderful Anthem community for participating in our programs when it is more important than ever for kids to be together and learn and grow as artists, patrons and leaders in their community," Hammond says. "We would not be successful without this amazing community of participants, audience members, dedicated donors, board members and resilient staff members."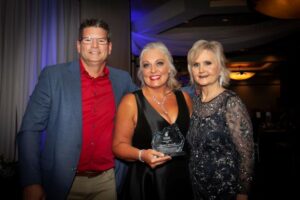 Anthem Area Chamber of Commerce's departing executive director Heather Maxwell was also honored during the ceremony, receiving its 2021 Living Legacy Award.
"It has been so rewarding to work alongside our local business owners and help support their goals and be a part of the story of our amazing community," says Maxwell.