Handbags and Heartstrings
Writer Joseph J. Airdo
Photography Carl Schultz
Like so many other cherished community events, Anthem Giving Circle's annual Purses for a Purpose fundraiser last year pivoted to a virtual format as a result of the COVID-19 pandemic. Eating, drinking, socializing and celebrating made way for an online bidding process and livestreamed program.
In spite of that, the event was a stellar success for the nonprofit organization that, since 2007, has been helping people throughout the communities of Anthem, Desert Hills and Tramonto with medical bills, rent and utilities payments, home and automotive repairs and emergency expenses.
"We got to reach out to people all over the United States," says Diane Steenman, who chairs the nonprofit organization. "From a fundraising point of view, we made 95% of what we made the year before; so that was fantastic. Everybody was in such a giving way."
Steenman believes that generosity was due, in part, to the fact that the world at large is a very challenging place right now.
"I think because the world is so challenging, people really see just how blessed they are and are then willing to open up their pocketbooks to help others — especially when we tell them some of the stories of what is happening here in the Anthem area," she explains. "They are shocked when they hear that there are children in need here in Anthem as well as in Tramonto and Desert Hills, which are all typically considered to be very affluent areas."
Because of the community's generosity last year, Anthem Giving Circle was able to expand its service area to Black Canyon City.
"That is pretty significant for us because there is a lot of real serious need up there," Steenman says.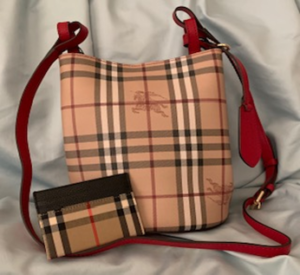 The nonprofit organization is counting on the community's continued support in order to address that need throughout 2022. The Anthem Giving Circle team is, therefore, grateful to be returning to an in-person format for this year's Purses for a Purpose fundraiser, with the hope it can match or exceed the 2019 event's total of $32,000.
This year's event, scheduled for Feb. 1 in Anthem Country Club's Ironwood Ballroom, will carry a western theme and feature 150 silent-auction purses, five live-auction purses and a raffle purse valued at $1,000.
"This year's raffle is for a beautiful Burberry purse with Burberry wallet," says Steenman, noting that the winner may choose to either keep the purse and wallet or return them to Nordstrom for store credit.
Event tickets are $50 and include a drink and hors d'oeuvres. Raffle tickets — which cost $20 for five or $50 for 15 — can be purchased online in advance of the event on the nonprofit organization's website.
Another successful fundraiser will help Anthem Giving Circle continue its various charitable efforts, which include providing area schools with gift cards that they can give to students in need and donating items to the St. Vincent de Paul Society and Foothills Food Bank and Resource Center. The nonprofit organization also collects new and gently used bras for St. Vincent de Paul's undergarment drive.
"We were able to support them — no pun intended — with 750 bras and $500 in donations last year," says Steenman, noting that the cause is one of the most underserved efforts with some of the greatest need. "That is close to a 30% year-over-year growth."
Steenman is incredibly grateful to the community for its support of Anthem Giving Circle over the past 15 years and hopes it will continue to help the nonprofit organization achieve its goal to improve lives and lessen needs — or at least make them more manageable.
"We are a small charity," Steenman acknowledges. "We call ourselves 'small but mighty.' Everything that we do is for our community."
Steenman also encourages the community to personally join Anthem Giving Circle.
"You will get to meet new friends and really feel the impact that you are making in the community," she says.
Purses for a Purpose: Double Deuces
Tuesday, Feb. 1 // 5–8 p.m. // Anthem Country Club's Ironwood Ballroom // 41551 N. Anthem Hills Drive, Anthem // $50 // anthemgivingcircle.com