Writer Joseph J. Airdo // Photography by Carl Schultz
Jean Renn recalls the blessing that she and her family received from the St. Vincent de Paul when she was just a child growing up in San Fransisco. Having had experienced the nonprofit organization's assistance first-hand, it was always a dream of hers to give back and be able to lighten the loads and brighten the lives of those who need a helping hand.
And that is precisely what she and her neighbors do as part of the St. Vincent de Paul Society in Anthem, which operates out of a standalone building on the grounds of St. Rose Philippine Duchesne Catholic Parish.
The reasons that people need the St. Vincent de Paul Society's assistance are diverse. Some have lost their jobs, others have had their hours reduced and some simply do not make enough money to support themselves or their families — especially in the wake of the COVID-19 pandemic, of which the effects are still lingering.
"People are going back to work but there are also people who cannot find work," explains Renn, the local conference's president. "We have many people who have looked for jobs but they are either overqualified or underqualified."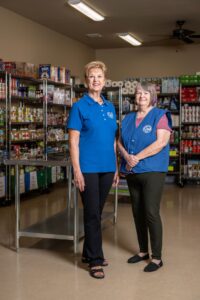 Sometimes, the St. Vincent de Paul Society is able to successfully refer such people to local businesses where they get hired and are able to begin their journey back to independence. But there are still many others who count on the nonprofit organization's help in order to survive.
"I think that people outside of the Anthem area have this perception that it is a very middle-class community," Renn says. "But there are people living paycheck to paycheck in Anthem just like everywhere else. It is expensive to live and the opportunity for jobs is minimal. There are many reasons why [people find themselves in need of our help] and none of them are through any fault of their own."
The St. Vincent de Paul Society has had a presence in the Anthem community since 1998, starting as a small food pantry in the back of St. Rose Philippine Duchesne Catholic Parish. As the need for its services grew, the nonprofit organization — a local conference of a worldwide organization founded way back in 1833 — eventually needed its own space.
In 2010, plans were introduced to move the St. Vincent de Paul Society into a double-wide trailer on the property, but it was decided that a new standalone building would better serve the community. The nonprofit organization spent the next few years securing all of the necessary plans and funding for the project and officially moved into its own building in 2015.
"Our area covers as far north as Black Canyon City and as far south as Tramonto," Renn says. "We help with not just food but also utilities, rent, medical bills, car payments — you name it."
The St. Vincent de Paul Society also partners with other nonprofit organizations — including Anthem Cares Through Service, Anthem Giving Circle, the Daisy Mountain Firefighters Charities Association, Daisy Mountain Veterans, Foothills Food Bank and Resource Center and the Salvation Army.
Through various donations and with the help of those organizations within the Network of Anthem Area Assistance Providers, the St. Vincent de Paul Society was able to offer a total of $174,697 in financial help to 1,304 people in need last year.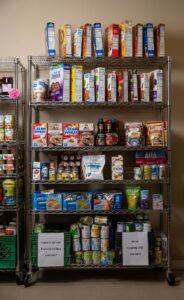 That figure is in addition 1,006 bags of food, which are filled with canned goods, frozen meats and pizzas, among other things. The nonprofit organization even supplies toiletries — essential items that are not typically covered by the Supplemental Nutrition Assistance Program.
"We often tell people to come as often as they want," says Renn, noting that the St. Vincent de Paul Society's food pantry, run by Linda Handlon, is open Noon–2 p.m. Mondays, Tuesdays, Thursdays and Fridays. "Because they can take that money that they would have spent on food and use it on bills, instead."
Those in need of the St. Vincent de Paul Society's assistance may call 623-465-9694 — even outside of the food pantry's hours. Renn also strongly encourages donations to the nonprofit organization from community members who are fortunate enough to be able to do so. After all, the more funding it has, the more people it can help.
"We feel that we are helping one person at a time and we see that as a blessing," Renn says. "Just knowing that we have relieved the stress of financial and food issues is a reward for us."