Writer Amanda Christmann
Photographer Carl Schultz
[dropcap]S[/dropcap]ince before recorded history, wine has been used to commemorate special moments. No other food or drink is so deeply entwined in our culture and traditions than wine, and its popularity has not waned through the centuries. In fact, not only do we continue to enjoy the varieties of flavors of wine, but storing wine has become its own craft.
In the last two decades, home wine cellars have become more popular than ever, and Wine Cellar Experts founder Rick Benson has had a front-row seat. He and his team of craftsmen have not only witnessed the growing trend; they have been part of shaping the way Valley residents are incorporating the art of the wine into their lives.
"What I am seeing more now is that almost everybody wants to have some sort of wine cellar element in their home," Benson explained. "A lot of cellars are art to people. As we go through the process of creating these spaces with people, the most important aspect becomes what it feels like in the room—the artistry it reflects as they live in their space, entertain in their space, and talk about their travels and all of the experiences connected to wine."
Storing wine properly is critical to preserving its flavor and freshness, but in recent years, designers like Benson have been asked to infuse an increasing level of creativity into the wine cellars they create. They are now incorporating unprecedented materials, rethinking use of space and finding new ways to convey the style, memories, and personalities of their owners. From Old World beams and stone to contemporary glass and steel wall spaces, it is an exciting time for wine lovers who want something special for their wine collections.
To get those creative juices flowing, we asked Benson for the top five trends he's seeing in wine cellars today.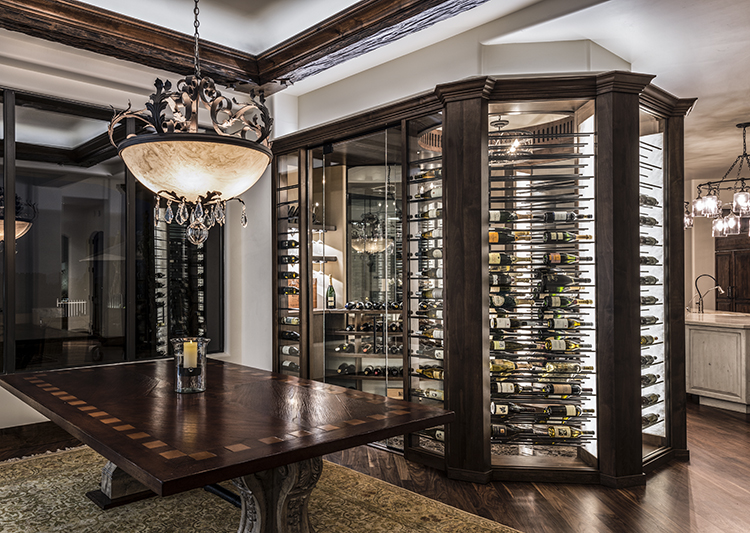 Wine as Art
"The integrated element of artistry is something we're seeing more frequently," said Benson. "It's no longer only about being able to safely and securely store a wine collection; it's about entertaining and storing the memories and connections they have to wine in a way that becomes part of their lifestyle."
For example, one client came to Wine Cellar Experts wanting to transform a wine wall into something that better reflected their personal style.
"They had a glass box on the wall with wine racks behind it," Benson said. "There was nothing wrong with that, but the client was looking for something more aesthetic that would dramatically change the feel of the room. We ended up recreating the front, changing the racking around and giving them a personalized decanting area with access to the cellar interior. We also added a large stone & wood surround around the glass entry doors.
"It's now so simple, it's beautiful. It became a piece of art to them. It still holds all of the bottles they wanted it to hold, and it also adds ergonomic value to using and displaying their bottles."
Customized Spaces
As wine cellars, rooms and walls become increasingly popular, people want to express their own unique style. Mass-produced designs purchased at big box stores have lost their appeal for true oenophiles.
"Even in the last year, we've gotten so many more clients that come to us because they're looking for something unique and custom. Customization is something people can feel connected with. People want customized designs using hand-carved wood, glass and acrylics, and there is so much that can be done.
Incorporating antiquities can be part of that process.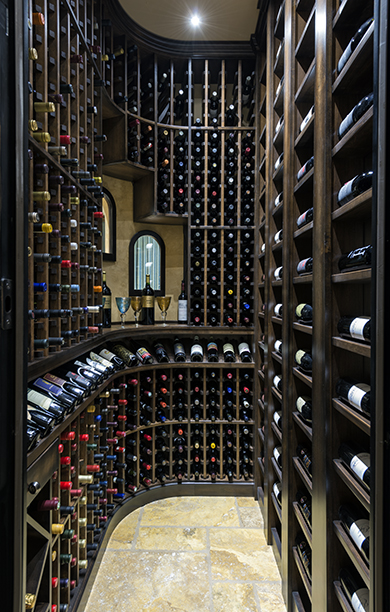 Did You Know?
Cheers!
The ritual of clinking glasses together started in the Middle Ages, when poisoning one's enemies was relatively common. Drinkers would pour a small amount of wine into each other's glasses so that, if one glass was poisoned, so were the rest.
No, Thank You
The ancient Romans liked to season their wine with things like fermented fish sauce, garlic, absinthe—and lead.
Viva el Vino!
In the mid-1800s, the French wine industry was nearly destroyed by a tiny aphid called phylloxera vastatrix. U.S. vines—primarily from Texas and Missouri—were sent to France to be grafted to their existing vines. These aphid-resistant vines saved the industry, and are a big reason why we can still find our favorite Bordeauxes and Burgundies.
"We carry a certain amount of antiquities in our studio, including 150-year-old presses that we've gotten from Europe. Sometimes we'll incorporate Old World beams and stone so that a cellar feels more like a cave than a room, and we've also got projects in which we'll create a niche and put in presses, vines or different antiques, and set them up in way that they become part of a wine cellar experience.
"It has become popular in the design process of personal wine rooms to include, for example, wine-tasting lounge areas with counters and barstools, built-in bars, custom liquor cabinets and even custom-designed Spanish Cedar humidors for preserving and aging cigars."
Wine Panels
"Wine panels are probably the second biggest request I'm seeing," said Benson. "People don't feel like they have to build a cellar or dedicate an entire room to have a beautiful, customized storage solution. It's one of the biggest changes that have happened in the last 10 to 15 years."
Wall panels that hold two dozen or so bottles of wine require a minimum amount of space, but don't have to lack in imagination. Many panels are refrigerated to optimize the flavor and life of a wine collection, but that's where the similarity ends. Panels can feature rich woods and intricately carved details for a traditional look, sleek glass and LED lighting for a contemporary approach, and everything in between.
"It's all about displaying their wines in a unique way that represents the client's home," Benson said. "Those who don't want to take a big leap are looking at other alternatives, and wine panels are filling their needs and desires."
Acrylics
Acrylics are revolutionizing wine cellar design. Clear and simple acrylics to hand-made panels backlit by LED lights create intoxicating effects to modern, colorful spaces that place the wine front and center stage.
"A lot of people like the idea of being able to display their wines in a more label-forward view. In an effort to do that, we try to create more of a floating look. Acrylic is a great thing to use in those applications."
Contemporary design isn't the only style that benefits from this flexible material.
"Working with acrylics is a lot like working with wood," said Benson. "There is a lot of opportunity for creativity. It's come a long way. We can create a lot of texture and even veining to make it look like wood or stone. It plays off of light really well, and it's pretty amazing."
Wine Walls
Taking a cue from the restaurant industry, walls dedicated to wine storage are increasingly popular.
"Wine walls seem to be a pretty significant trend," Benson explained. "Rather than people putting wine downstairs in a basement, they tend to want to put it on display on a wall. Wine walls are a unique concept in that they don't need a lot of room and they can fit in a variety of places throughout the house.
The depth of a wine wall is relatively shallow, which makes them a practical yet bold statement in many homes.
"I think one of the most popular things about wine walls is not only how they showcase a wine collection, but the footprint of a wine wall is relatively small.
Most wine walls incorporate either framed or unframed full-glass exposure, and typically display wines horizontally so labels can be easily read. Besides adding a feeling of luxury to any home, they also invite conversation about the travels and experiences behind each bottle.
Regardless of the size or design of a project, Benson finds today's trends refreshing and invigorating.
"I can't tell you how much pleasure that brings me when we work with a client to successfully install a wine cellar into their home. I love working with people and to see them be so childlike and excited with the result.
"I am very passionate about this industry, and about working with clients to uncover this magic that becomes a permanent part of their life—part of their joy."