Writer Joseph J. Airdo
Photography by Paul Gill
[dropcap]A[/dropcap]t first glance, spring is the season that possesses the greatest symbolic significance. The blooming flowers and greener grass indicate the concepts of rebirth, rejuvenation and renewal. But upon closer examination, autumn may hold a more substantial message. 
Any Arizonan who has ever traversed our spectacular state in search of its autumnal beauty knows the serene imagery that can be found out in nature this time of the year. The jaw-dropping red, orange and yellow pigments in our fall foliage encourage us to leave our air-conditioned houses for the first time in months and embark on hikes, not only in our own neighborhoods, but also in the farthest reaches of our state.
Paul Gill has spent the last 30 years of his career as a nature photographer. His images have been featured in countless publications and collections, inspiring people who come to witness the childlike wonderment with which he approaches his work.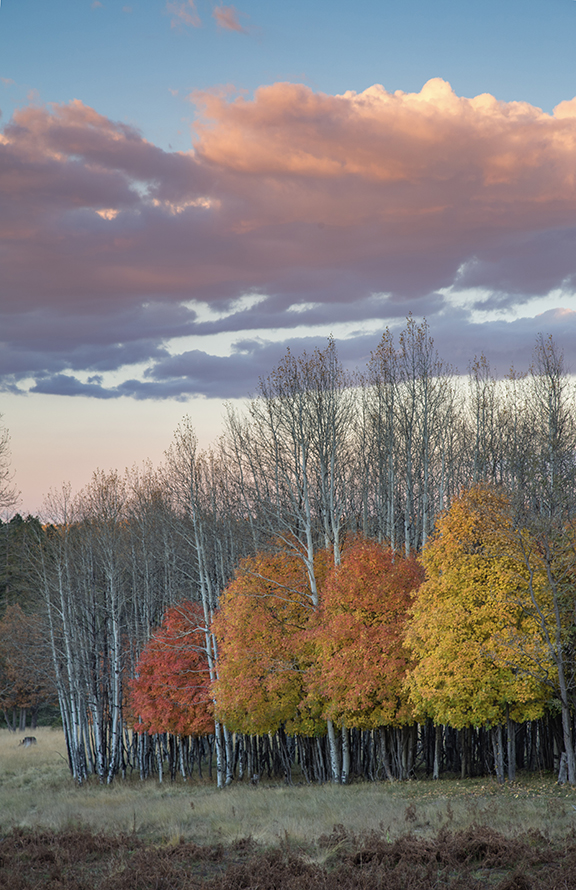 Although Gill photographs our planet's natural elegance year-round and has shot in several states, he has a special place in his heart—and in his eye—for autumn in Arizona. His commitment to capture the uncommon occurrences of fall in the Valley requires him to essentially live out in nature for days on end.
Images Arizona is honored to share some of Gill's fall photography—which vividly illustrates this season's symbolic significance. It is our hope that this month's photo essay inspires you to fully appreciate the beauty that briefly adorns our state this time of the year while acknowledging that it is actually ever-present.
"Chasing fall color in Arizona starts on the North Rim of the Grand Canyon in late September and explodes in aspen yellow from the San Francisco peaks along the Mogollon Rim to the White Mountains in October. The red maples flow out from below the Mogollon Rim through the desert and down to the Mexico border through November. Then, rivers of cottonwood and sycamore follow the streams and rivers through the Sonoran desert through December."
Paul Gill
About the Photographer
Paul Gill fondly recalls experimenting with his father's Instamatic camera in the 1960s.
"My father used to take our whole family on summer trips across the U.S.," says Gill, noting that it was during these trips that he was allowed to use the Instamatic camera to capture the many locations his family visited. "My father was very big on travel and exploring."
Gill credits those experiences during his youth, as well as his father's love of nature and his mother's work as a painter and illustrator with what he has discovered to be his own life's calling—nature photography.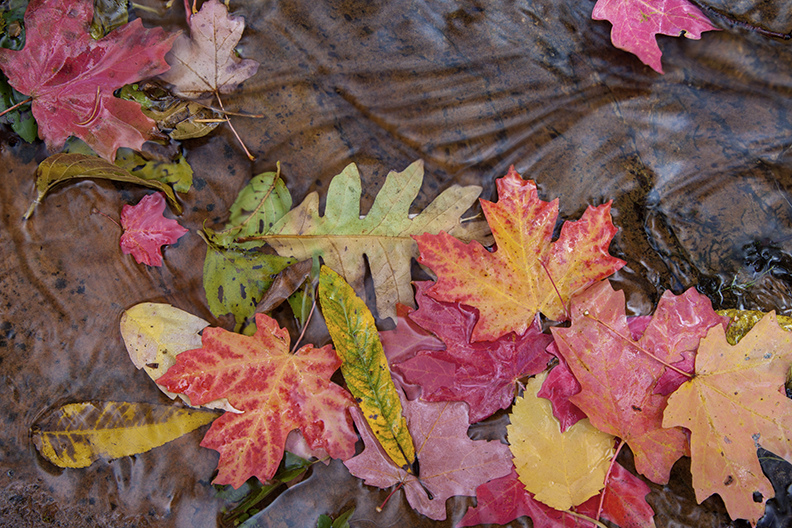 "I have always had a camera from a very early age," says Gill. "Growing up in Scottsdale, the Sonoran Desert was where I was first inspired by the light and the local nature, which is the prime subject of most of my work now."
Gill attended Scottsdale High School and quickly found himself developing and printing black and white film in Scottsdale Vocational Tech's graphic design dark room. He then attended Scottsdale Community College and later transferred to Arizona State University, where he received a degree in fine art.
Although Gill has always been drawn to photography, that is not where his journey as an artist began. In the 1980s, Gill took a job as an art director for the Scottsdale Center for the Arts. He spent 17 years working in the graphic design world until he realized that he is happiest in motion and at play.
"Something that I had lost sitting behind a desk for decades was the disconnect with nature and the childhood wonderment of the world," Gill explains. "It is this playful scene of discovery through visualization of the natural world that keeps me motivated."
Gill tried his hand at painting, but quickly discovered that his photography captured much more interest from others and better fulfilled his own passion.
"I gave up on the graphic design business and went right into nature photography," says Gill. "I just burned out on graphic design and decided that I wanted to live out in the middle of nowhere and come straight out into nature. It really was kind of a hobby gone wild and has gotten out of control. Nature photography is now my whole life."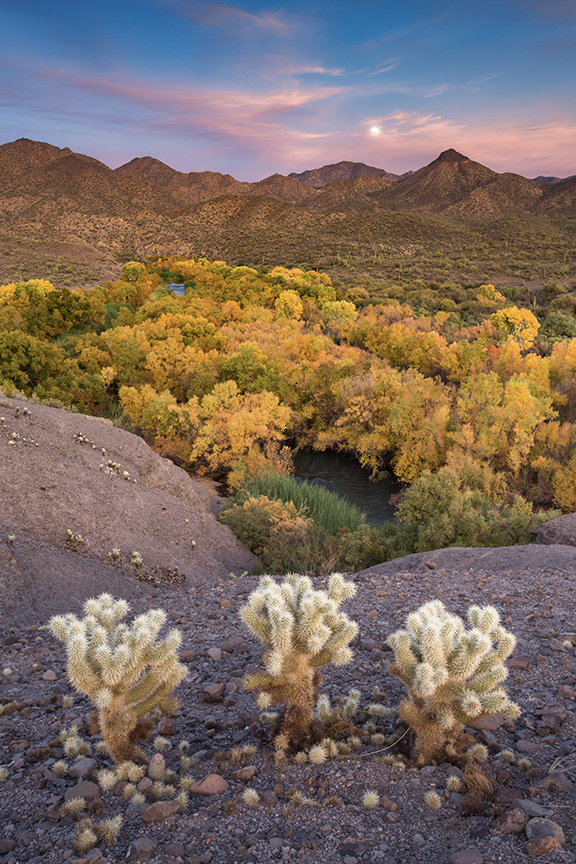 Gill believes that his graphic design skills can be seen through his images. They tend to be sharper and more graphic than the euphoric and almost dreamy look of others' photography. It is that unique aesthetic that has attracted the attention of Arizona Highways magazine, National Geographic and many other publications that have featured his work.
In addition to having more of his images featured in next year's National Geographic calendars than any other photographer, Gill is honored to have his work included in "100 Views"—the official publication of Grand Canyon National Park's centennial. His photography is also displayed in a number of private and corporate collections, including the Smithsonian, Arizona State Capital, APS and State Farm Stadium.
"There is enough in the fascinating, ever-changing world of nature to keep and hold my interest," says Gill.
"It is what I have not seen yet that is my biggest motivation. The more remote an area, the more I want to take a closer look for its hidden treasures."
The Magic of Nature
Contrary to popular belief, those incredible colors have not just magically appeared out of thin air. They have been there all along. Thinking back to high school science classes, we know that sunlight fuels plant cells that contain chlorophyll—the chemical that not only converts light into energy but also gives leaves their gorgeous green color.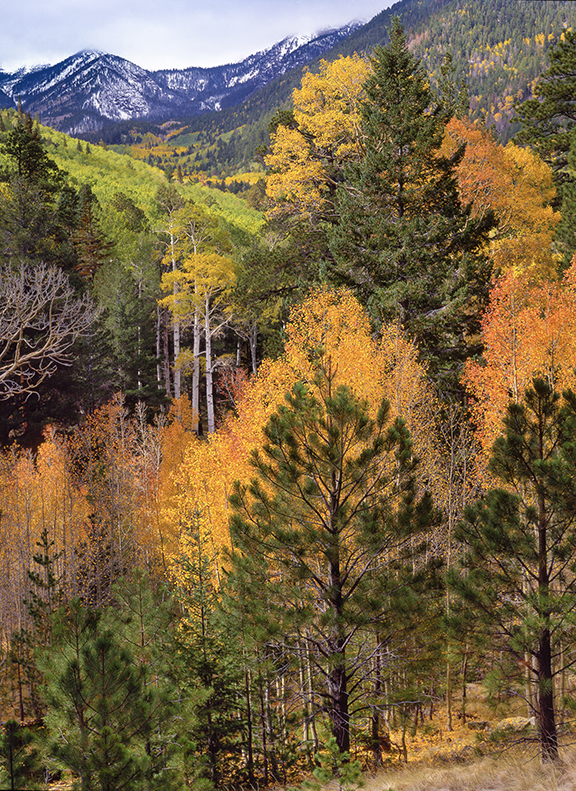 When sunlight abates in autumn, that chlorophyll breaks down and allows the hidden red, yellow and orange hues to illuminate.
Fall's miracle teaches us a valuable lesson. Astonishing beauty is all around us at all times. Sometimes, though, it is just hiding beneath the surface, waiting for the perfect moment to reveal itself.
"Fall in Arizona is something you really have to experience. I hook up my pop-up camper to the back of my four-wheel-drive truck, and that is pretty much where I live for about three months. I start off in late September to capture the end of monsoon bloom and keep shooting through December."
Paul Gill