Writer Shannon Severson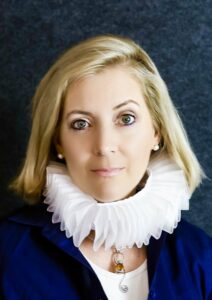 There's no denying that the Globe Theatre on the banks of the River Thames in London is a dramatic departure from the desert masonry and orange-hued redwood beams of Frank Lloyd Wright's Taliesin West. As far apart and varying in origin they might be, both of these settings celebrate a heritage of groundbreaking invention and artistry.
This spring, Southwest Shakespeare Company will once again showcase its talented array of actors, directors and playwrights to Taliesin West's intimate theater, furthering their mission to bring Shakespeare's works to life for Arizona audiences.
Jeffrey Hatcher's adaptation of Ben Jonson's "The Alchemist," directed by David Ira Goldstein will be staged April 13–16 and Shakespeare's "Much Ado About Nothing," directed by Ingrid Sonnichsen, will conclude the series with performances May 18–21.
Mary Way is the executive director of Southwest Shakespeare Company and played a pivotal role in securing the Taliesin West venue, as the company often performs at Mesa Arts Center and at select schools throughout the state as part of its educational outreach efforts.
This marriage of creative legends of the past and today's performers and preservationists is easy to imagine.
"To give life to Shakespeare, who is a seminal part of Western culture, in a place designed by a modern master of architecture, fuses the past with the present and creates a space that is not only inspiring but is also a welcoming and intimate experience for both the actor and audience." Way explains. "After all, we are in Mr. Wright's home theatre — it's like magic.
"I have always been intrigued by the relationship between place and space on the stage. Happenstance brought me together with Stuart Graff, CEO of the Frank Lloyd Wright Foundation. Immediately, we started hatching a plan to stage SW Shakespeare's 'Standing O' series at Taliesin West's Music Pavilion — the space had not housed a play in 40 years. It was absolutely thrilling to bring to pass a new era in theater history."
Past is Prologue
That fusion of notable theater personalities past and present will take the limelight when leading director Goldstein –– who served as artistic director of Arizona Theatre Company for 25 years prior to his retirement in 2018 –– directs Jonson's comical satire, "The Alchemist."
Goldstein explains that Hatcher's adaptation was performed in New York City last year. While the setting wasn't changed to modern times, more contemporary language makes it accessible to today's audiences. Hatcher has his own connection to Frank Lloyd Wright, having written "Work Song," an epic play about Wright that Goldstein previously produced at Arizona Theater Company. He's also written a character play about Wright's relationship with Ayn Rand entitled "Wright/Rand."
The chance to direct at Taliesin West is a particular thrill for Goldstein, who has always admired Wright.
"To go there in the evening and see Taliesin West at night and sit in the auditorium –– you feel Wright's spirit in that room," Goldstein says.
He credits Way with doing everything in her power to keep actors working during the pandemic shutdown and finding a way to access the theater on-site when Taliesin West is such a busy, sought-after location.
Audiences may not be as familiar with Jonson, but that wasn't the case in Shakespeare's day and Goldstein is excited to bring forth the work.
"Jonson was a contemporary of Shakespeare and, at the time, was considered England's greatest playwright," Goldstein says. "They were friends. Shakespeare's writing is beautiful and poetic; Jonson was much more cynical and hard-edged. Most of his plays are comedies. I'd describe it as sort of the 'South Park' of its time with lots of poking fun at people."
"The Alchemist" will be staged as an on-script old-time radio play with Foley artists producing sound effects. Goldstein says it's fun and fast-paced with an all-star cast of Southwest Shakespeare Theatre company favorites.
"It has the energy of when you're running at something full speed," Goldstein reveals. "It's strangely contemporary in that it's all about the Black Plague in London. The rich people leave town and their homes are left to the servants. A servant hooks up with a con man and they start ripping people off right and left by pretending they have a stone that can turn any base metal into gold. It's in modern language but still has a touch of period. One of the players now comes from Brooklyn; it's quite clever."
While Goldstein remains semi-retired, he has served on the board of Southwest Shakespeare Company for the last two and a half years, previously directing "Hamlet" at Taliesin West. He feels the work the organization is doing is extremely important.
"Plenty of theaters do [contemporary] works and do them well," Goldstein says, "but only Southwest Shakespeare is dedicated to the classics. There's no other like them, and they have an educational mission. Every year, they're exposing thousands of kids to classic theater done in an exciting way."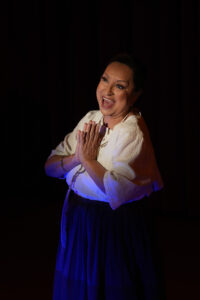 From the Big Apple to Arizona
Presenting Shakespeare in a way that all audiences can access and identify with is also at the heart of the company's new producing artistic director, Debra Ann Byrd. She began her time at Southwest Shakespeare Company as an artist-in-residence in 2019, having been much more accustomed to the busy streets and skyscrapers of New York City than the dusty desert vistas of Taliesin West.
Byrd is an accomplished, award winning classically-trained actor and writer and is the founding artistic director of the Harlem Shakespeare Festival.
"My relationship to Shakespeare began around about 1996," Byrd recounts. "I had been acting for many years in the Black theater and gospel theater musical productions and I was looking for a new challenge –– something that would help me to grow as an artist, something that was interesting and that could improve talent. A troupe came up to perform Shakespeare at the Victoria theater in Harlem and I decided to give [classical acting] a shot."
She decided to attend Marymount Manhattan College to study, becoming the first person in her family to attend college. As she worked her way through the curriculum, she came to the level four acting class, which was Shakespeare-focused. The challenge came with a natural dose of self-doubt.
When she saw a Public Theater production of Shakespeare's "Julius Caesar" with Tony Award-winner Jeffrey Wright, something clicked.
"[Wright] had a certain way of being that I recognized, from my community" Byrd recalls. "It made me more comfortable and made me know and recognize and realize that I, too, can probably go ahead [with this] and be OK. It gave me the confidence to go into my Shakespeare class. My professor, Elizabeth Swain, was really a brilliant teacher and very kind. She taught us how to pull apart Shakespeare's texts, look for clues and repeated words and phrases, use alteration and perform monologues. We were told that a time was coming when women would be acting in male roles and we ought to prepare male monologues."
Swain took the class to see a special taping of John Barton, who had come to America and was coaching different celebrities.
"I saw Charles Dutton come to the stage and play Othello," Byrd says. "It changed my entire world. He was brilliant and moving and strong and stirring and clear. So I told myself, 'I want to play that role the same way he did with all of his wonderfulness. That set me on the thought pattern –– or a mission –– to be able to play Othello one day."
And play Othello she did, eventually producing an all-female cast "Othello: The Moor of Venice." After Byrd earned a Bachelor of Fine Arts degree, she continued to perform while completing advanced studies at Shakespeare and Company, Public Theater's Shakespeare Lab and The Broadway League's Commercial Theatre Institute.
"I really wanted to change up the model of how I produce theater," Byrd says. "From that, came the heart of Shakespeare. I wanted to create opportunities for artists of color to build their resumes. Often, they would train in the classics, but had a hard time securing roles. We produced plays and staged readings of plays so these actors could be ready with a resume. Our focus was people of Asian, Hispanic and African descent, but we always had a mixed-race cast. If Shakespeare is universal, then the people on stage should be universal."
She founded Take Wing and Soar Productions in 2003 and eventually the Harlem Shakespeare Festival in 2013, producing and acting in multiple productions along the way, including playing the role of Mark Antony in an all-female production of "Julius Caesar" and receiving best lead actress and outstanding actress in a lead role nominations from AUDELCO and the New York Innovative Theatre Awards, respectively
Byrd also embarked on a three-year writing project as writer-in-residence at the Shakespeare Birthplace Trust to create "Becoming Othello: A Black Girl's Journey" — a documentary feature film; a 90-minute, five-act play; and a written memoir that tell her story of growing up in Harlem and her encounters with race, the classics and her life and influences. When she met Way at a Shakespeare Theatre Association event in 2019, the two decided Byrd would bring her Harlem production to Arizona and perform it at Taliesin West.
"She was looking for a show to put in her presenting season and asked me if I would bring my all-female Othello to Arizona," Byrd says. "I told her that I was also working on my 'Becoming Othello: A Black Girl's Journey' project and Mary said she could help with that. We did a workshop production at Phoenix Art Museum in March of 2020."
Byrd moved to Phoenix and her successes here came right before the COVID-19 pandemic shutdowns; but Way, Byrd, Stacey Walston and a team of artists pressed on, producing full Shakespeare performances on Zoom.
"We would perform live on Zoom and then edit it and put it on the [Southwest Shakespeare Company] Facebook page for public consumption," Byrd recalls. "It was a great time, a busy time. We wanted to create programming so artists would continue to have an outlet. I supported Mary in any way that was needed –– [we worked with] directors across the nation and as far away as the United Kingdom and India. We created an online community for these artists to stay connected."
When performances resumed in the fall of 2021, Byrd was asked to join the team and she did so in January of 2022. This is her first season as producing artistic director and she is thrilled to bring her vision of a supportive and accessible space for experienced actors and those just getting their start.
"If we want to grow actors, they need more opportunities," Byrd explains. "In my practice here at Southwest Shakespeare Company, I'm keenly aware of those actors just getting their start, and I work to make sure they get stage time to grow their talent. Everyone is always welcome –– different ages, races, cultures, abilities –– everyone is welcome as long as we are on the same path toward excellence."
Byrd grew up admiring Wright's Guggenheim Museum and is looking forward to bringing performances back to his Taliesin West again this year.
"It's a beautiful experience knowing you're coming to Frank Lloyd Wright's space," Byrd says. "I like to say it's 'mad cool' –– a special experience not to be forgotten."
As she looks to the future of Southwest Shakespeare Company, Byrd anticipates sharing the productions with regular patrons and welcoming new ones and students who haven't yet experienced Shakespeare.
"We want them to enjoy the play, be entertained, be moved and be persuaded to have conversations with fellow theatergoers and their families when they get home," Byrd says.
'The Alchemist'
April 13–16 // See website for times // Taliesin West // 12621 N. Frank Lloyd Wright Blvd., Scottsdale // $35+; youth, student and teacher discounts available // swshakespeare.org