Writer Shannon Severson // Photography by Loralei Lazurek
Strumming, drumming and singing — 15 talented student musical acts will take the stage at Harold's Corral for Cave Creek Unified Education Foundation's Rock the District fundraiser on Saturday, April 15.
Musical acts have a pre-event mentoring day where they work with professional musicians and radio industry representatives, providing them valuable feedback before they perform with all the lights and sound of an official concert venue.
Proceeds from the family-friendly evening will be awarded as grants to Cave Creek Unified School District teachers who apply each summer for items needed in their classrooms. CCUEF president Heidi Brashear says the organization's events last year raised enough funds to grant $69,000 — an all-time record.
"This is our biggest event and all the money we raise goes directly to the classrooms," Brashear says. "We have grown in the last couple of years and our fundraising efforts have quadrupled. The Cave Creek Unified Education Foundation has been around for about 14 years and we've given out over $300,000 to the classrooms. My goal is to generate awareness about the foundation and continue to grow it."
Brashear says the bulk of Rock the District's revenue comes not from the affordable ticket prices, but from the excellent community sponsors, including presenting sponsor Sanderson-Lincoln, and silent auction items which, this year, include vouchers for stays at Ritz-Carlton Maui Kapalua, the Arizona Biltmore, Hotel del Coronado and Great Wolf Lodge Scottsdale as well as Fender guitars and tickets to Bearizona, the Arizona Science Museum, wine events and more.
The Soda Rush food truck will also be on-site with sweet treats and upgraded VIP experiences are available at the Sanderson Lincoln Black Label lounge.
Brashear expects the event will sell out to upwards of 400 people, but auction items can also be bid upon online for those who'd like to support the event but can't attend in person. This year three, well-loved district employees — two principals and one former principal — will add to the fun when they serve as masters of ceremonies.
"It's amazing to see the confidence of the students while they are on stage," Brashear says. "We really want the community to come enjoy the night and see the talent of these musicians."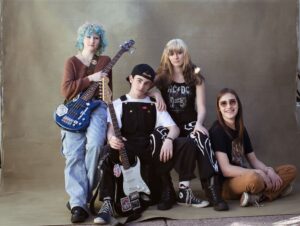 All The Better
Melinda Graeff, a 17-year-old junior, fronts All The Better with lead vocals. She's always loved singing and founded the band with 16-year-old guitarist Jake Nupoff. The two, who have previously performed at Rock the District, recruited 18-year-old senior Emma Lisiewski to play bass and sophomore Cole Sinclair to play the skins.
All The Better's influences include Metallica, Maneskin, Mario Duplantier, Neil Peart, Shinedown, Highly Suspect, Ned's Atomic Dustbin, My Chemical Romance and Jimi Hendrix. They write their own music and Graeff is inspired by criminal cases she's studied in her pursuit of a forensic science degree.
"Our songs are inspired by countless artists and bands coming from each member," Nupoff says. "We mainly write songs with a heavier punk/metal sound, with a little bit of blues-inspired riffs thrown in here and there."
All The Better's members have some unique pastimes when they're not playing music. Sinclair constructs complicated Lego sets and hopes to someday build prosthetics as a biomedical engineer.
"I like ballroom dancing, specifically Latin," Lisiewski reveals. "I've been taking lessons for about five years now."
She plans to major in music technology, with an eye toward live sound and music production.
Graeff's interests include art and mixed martial arts and Nupoff is a fan of video games.
All four point to specific individuals who have supported them and their musical pursuits.
Graeff says that one of her biggest supporters has been Nupoff, who encouraged her to be part of a band in the first place. Liseiwski credits her guitar teachers, the most recent of which helped her overcome stage fright and her parents who always encourage her to find new opportunities and pursue them.
Sinclair says his grandmother has been one of his prime sources of support, encouraging him to get his start in drumming at age seven and helping him find a teacher.
Nupoff's dreams of a career in the music industry drive him as he credits his parents for helping him in his pursuit of it.
"I wouldn't be in the position I'm in without my mom," he says. "And I'm thankful to my sister for the jam sessions in [our] living room as well as to my dad for coming out to all my shows. Lastly, [I'm thankful for] my grandma. If it weren't for her buying me a toy drum kit to [annoy] my mom, I never would've realized I had a passion for music."
Auditory Distress
Auditory Distress, a rock trio of Cactus Shadows High School seniors, includes drummer Nick Conger, who is an alum of several previous Rock the District competitions, lead guitarist Braden Peters and lead vocalist Jayden Soltau. The band formed after a facetious brainstorming session of band names made them realize that they could actually form a band since they all had musical talents.
Conger says that he was first prompted to play drums when he was a small child and watched a drummer and bassist trade solo performances.
"About a week later, I ended up grabbing drumsticks that I found from the game 'Rock Band' and started banging them on the furniture at my house," he says. "That same year, I got a drum set for Christmas and haven't stopped playing since."
Auditory Distress's sound is primarily inspired by 90s grunge, a la Stone Temple Pilots and Smashing Pumpkins. The band plays covers as well as its own original music. This is the trio's year competing in Rock the District together.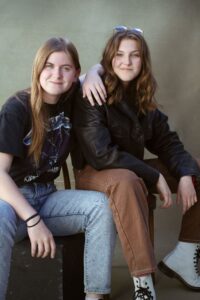 Megan & Emily
Megan "Meg" Swansiger and Emily "Em" Lewis are 16-year-old sophomores who began playing songs with catchy rhythms for fun and then decided to pair up for the competition as first-time entrants.
Lewis, who plays bass, is inspired by Metallica's Cliff Burton, while Swansiger, who plays guitar and vocals, says she's always been in love with the bluesy riffs of Greta Van Fleet's Jake Kiszka and also admires the singing style of Eddie Vedder, the late Kurt Cobain and Led Zeppelin. Both girls enjoy art, bicycling and collecting vinyl records.
"Em and I want to continue to do gigs together in the future to better our skills and continue to have a blast in pursuing music," Lewis says. "I've also looked into flight technology and becoming a pilot."
They both credit family for support and encouragement.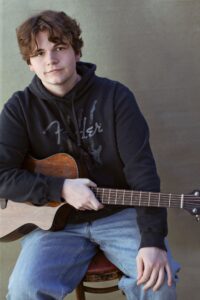 Ben Jeffcoat
Sixteen-year-old Ben Jeffcoat is a country music artist with amazing guitar and vocal skills. He had a musical background in drums and piano but picked up a guitar two years ago and hasn't looked back.
Jeffcoat's diverse influences include Canadian singer-songwriter Mac DeMarco, The Grateful Dead and The Strokes. He writes his own music but will be playing covers that are meaningful to him for his debut competition. He's hoping to get some exposure and learn from what the judges have to say, having already had some local exposure by performing at the Cave Creek Rodeo Days royalty pageant.
While school and music occupy much of his time, Jeffcoat also enjoys reading and hitting the gym. His future plans include attending Northern Arizona University to pursue a career in the park service and making music in his free time.
"My parents and my friends have been my main supporters," Jeffcoat says. "My earliest performances were me playing for [them.] The encouragement I got in those early stages really helped me stick with it."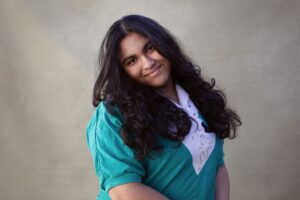 Hridya 'Hiya' Sapra
Hridya "Hiya" Sapra is a talented pop singer and drummer on stage, but this 15-year-old freshman also plays the piano and flute. While Sapra is a solo act, she also enjoys singing with her friends. Her interest in music first began with movement and she's always been encouraged by her parents, friends and siblings.
"I've been into dancing and singing from a young age," Sapra reveals. "I took dance classes and being Indian meant a lot of festivals and such for dancing, so I always have had a passion for it. I remember one of the prime times in my career, especially when I was younger, was when 'Frozen' came out and I would sing 'Let it Go' in costume."
Musical inspirations include Ariana Grande, Taylor Swift, Billie Eilish and Nico Collins. These artists stand out to Sapra for their personal honesty. While listening to music, she often draws or paints and is also an avid skateboarder. She writes her own music from the heart, derived from her own experiences or events that happened to someone she knows.
She adds that qualifying to be in the competition this year has been a huge confidence boost.
"Making people smile to my music or singing makes me really happy," Sapra says.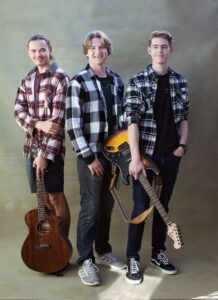 Pipher, Miller & Lambrecht
Country-folk trio Pipher, Miller & Lambrecht has been compared to a young Crosby, Stills and Nash.
Grant Pipher, Braden Miller and Michael Lambrecht are seniors who cite musical influences from John Denver and Dire Straits to Michael Jackson and thrash metal. All three play guitar and were brought together by their high school instructor, Mrs. Dolezal, when she needed an act to entertain the audience between groups at a chorale and band concert. Their voices and talents blended beautifully and a band was born.
The three have begun to write their own music and their friendship has made a difference in how they write, practice and perform. Their family members — some with musical backgrounds and some without — have encouraged them to keep practicing and pursuing music.
"I've played with bands before, but none of them were with people that I was super close to," Miller says. "We all come together to make decisions and have kind of grown up together. It's really fun."
Each of the band members agrees that making people happy is a major motivator for performing.
"The last song we will perform at Rock the District is called 'Sitting on Top of the World,'" Miller says. "You should just see people's faces light up. It's a super cool song and we will play a super cool set. We're excited."
School and work take up a large portion of their time, but Lambrecht says he's also an avid hiker.
"I love hiking," he says. "I recently went on a 50-mile hike for a week in New Mexico. It was a life-changing experience."
As they've gone through the process of forming a band and singing together, they've learned the value of planning, making decisions as a group and the satisfaction of seeing it all come together on the stage.
Rock the District
Saturday, April 15 // 6–10 p.m. // Harold's Corral // 6895 E. Cave Creek Road, Cave Creek // $25; student and teacher discounts available // rockthedistrict.net