Writer Shannon Severson
The birth of speakeasies dates back to the ill-fated 18th Amendment and the Prohibition era, which extended from 1920 to 1933.
The term "speakeasy" may have originated from the soft voices required of patrons in underground establishments, where a secret password was the key that opened the unmarked door to backrooms and basements that offered forbidden libations from moonshine to cocktails.
Wine, on the other hand, was a bit more accessible as people were allowed to make a limited amount for their own use. Small gatherings and wine "appreciation" clubs emerged, often in private homes.
While alcohol is perfectly legal these days, there's still a touch of alluring mystery that lingers around the idea of speakeasies and smaller-scale opportunities to taste and toast. North Valley neighborhoods are abuzz with venues inspired by tradition for just such an experience.
---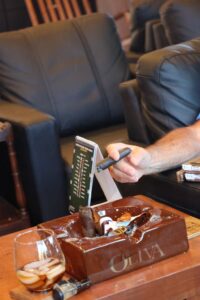 Sticks Golf & Cigar Lounge
While the name of this Carefree establishment spotlights golf and cigars, as it should, there's just not enough room on the sign to list all that Sticks Golf & Cigar Lounge offers.
"I tell people, 'We're not a cigar lounge, we're a social experience,'" says owner Larry Foppe. "It's a place you can sit down and talk for a couple of hours. We don't do loud music or bands. We know our customers and what they drink, what they smoke. Everybody's on a first-name basis. It's very unique."
Foppe's' customers enjoy a full bar; indoor and outdoor spaces with screens for catching a game; humidified cigar lockers for annual rental; a "Full Swing" golf simulator; and a laser shooting range.
A main lounge furnished with comfortable leather chairs is a laid-back, clubby spot to smoke one of the over 1,500 brands and sizes of premium cigars available for purchase in the state-of-the-art 250-square-foot walk-in humidor. Some rarefied smokes can be found and prominent cigar makers often visit to hold events and offer deals.
Sticks Golf & Cigar Lounge is all about having something for everyone. There are 50 different bourbons and 30 different scotch varieties with which to pair a cigar. Wine, beer and craft cocktails are also plentiful. The lounge doesn't serve food, but has menus from nearby restaurants for to-go orders and will cater for sporting events like football games — with Sunday NFL being a top draw.
While Foppe has many regulars, including those who take advantage of the VIP membership experience with 24/7 access to a private lounge, newcomers are immediately welcomed into the fold.
"When somebody new comes in, they're immediately asked to join the groups," Foppe explains. "Everybody introduces themselves, and they sit down and have a conversation. I love it."
The clientele skews heavily male but Foppe says that about 20% of his clientele is female, and he has some special events aimed at the demographic — including ladies' golf instruction each Thursday night with a local golf pro in the simulator, which is a non-smoking space; gun safety training classes; a planned level two live ammunition course at Ben Avery Shooting Facility; and an "introduction to cigars" class especially for women.
The owner points out that you don't have to smoke to enjoy Sticks Golf & Cigar Lounge. Non-smokers often enjoy the beautiful outdoor patios and golf simulator.
"We are kind of known as the 'Cheers' of Carefree," Foppe says. "Sticks is where everybody knows your name."
---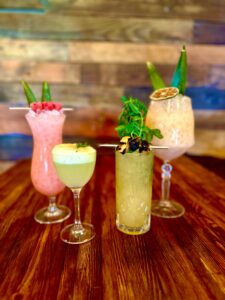 Poppy's Office
After the unexpected loss of Paul Keeler in 2021, the beloved founder of Keeler Hospitality Group, his son Matt had a vivid dream that became the seed of a new business — a speakeasy called Poppy's Office right next door to its sister restaurant, Liberty Station.
"I woke up, called my family and said, 'We have to do this,' and they agreed," recalls Matt, who is the chief executive officer of Keeler Hospitality Group.
"North Scottsdale doesn't have a speakeasy and, like all our concepts, we are delighted to open in this part of town. These residents deserve the same type of amazing cocktails and experiences that other parts of the Valley offer. We will continue to innovate in this area. We love playing in the sandbox with our neighbors."
Guests first enter a vestibule that is an exact replica of Paul's office — furnished with his desk, lamp, bookshelves and memorabilia. A secret passageway leads to a richly appointed 1,500-square-foot bar adorned with luxe fabrics, wood, marble and family photos. Two family booths seat large parties and can be made more private by drawing a set of curtains.
The concept is a place to reminisce and create new memories — a bit of tradition with a nod to the new.
"Poppyisms," clever terms and sayings attributable to the elder Keeler, appear frequently around the establishment, including on the elevated cocktail menu designed by Keeler Hospitality Group's director of beverage, Adam Downey.
Sip a refreshing Honey-Do List, a gin, honeydew-dill cordial and aquavit quaff adorned with lemon, cucumber air and dill, or go for something a bit bolder in Poppy's Cigar, a blend of Bruichladdich The Classic Laddie, The Deacon Whiskey, apple, chocolate and Peychaud bitters, sweetened with local honey, smoked table side with a luscious Luxardo cherry to top it off.
Several drinks, including the Best in Class — a riff on a Manhattan — are prepared tableside. Wine drinkers will also find plenty to choose from.
Poppy's Office hours are just like its hardworking namesake: open daily at 4 p.m. for happy hour until 10 p.m. on weekdays and later on weekends. Poppy's Tacos are offered in a rotating selection each day or customers can order food to go from Liberty Station next door.
---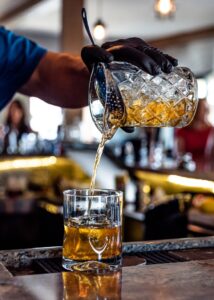 Carefree Spirits Distillery
It may be surprising to learn that a town as small as Carefree has a locally owned distillery business known for carefully crafted bourbon and vodka, but it does — with a little help from Kansas.
Carefree Spirits Distillery founders and majority owners Renea McQuiggan and her husband, Mike, began their journey as hobbyists, using her family's Midwest cornfield as an ingredient source.
After years of research, development and a degree from Moonshine University in Louisville, Kentucky to hone their skills, the couple opened Carefree Spirits Distillery's tasting room in 2019. Visitors can learn about the international award-winning brand and taste flights of smooth-drinking Carefree Bourbon and Chakra Vodka.
The single-barrel Carefree Bourbon is distilled and aged in the Midwest using the best water and grains and aged for a minimum of two to three years. It is then brought to Arizona, where it is toasted and waits for a month or two before bottling. Several barrels from 2017, 2018 and on will be introduced as special releases in the coming years.
Chakra Vodka is made right next door to the family farm in Kansas with imported water, then shipped to the distillery in Carefree to be proofed down, blended and filtered. All natural ingredients and extracts are added to create flavors like pineapple and rosemary or green tea, mint and matcha, without any sugars or artificial flavors.
In 2022, Jake Stuckey joined the ownership group and is a self-described "expert drinker," though the McQuiggans call him their "master taster."
"Mike, Renea and I are all lovers of spirits," Stuckey says. "I know what tastes good. I spent time in Kentucky and developed a love for bourbon. We hit it off when I offered to help them out with sales. We're having a wonderful time."
Carefree Spirits Distillery has recently become the sponsor of Buffalo Chip's Friday night buckle winner and the McQuiggans have expansion plans for 2025, including a new 15,000-square-foot facility in Carefree featuring a bottling and blending showroom; corporate offices; a tasting room; a retail shop; and an event center.
The current tasting room is meant to welcome the community and highlight the restaurants around the Valley that feature Carefree Spirits Distillery's products.
It's open daily for folks to come in, order a drink or a flight and enjoy a charcuterie board or bring their own food from nearby restaurants. Each Wednesday is cigar night, in partnership with Sticks Golf & Cigar Lounge, while bloody marys are served each Sunday. The space can also be reserved for private events.
"We invite newcomers to talk to our mixologist and tell them what you typically like," Stuckey says. "You can start with a flight to try it, and they can tailor a drink to your preferences. Our guests say we serve some of the best old fashioneds they've ever had, the best craft cocktails and the best charcuterie boards."
---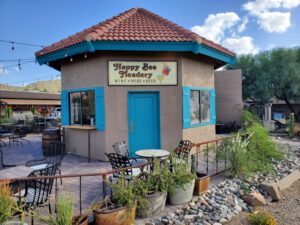 Happy Bee Meadery
A small but immediately recognizable, peaked-roof octagonal building with a bright, turquoise-hued door at the center of Cave Creek is the inviting home of the newly-christened Happy Bee Meadery.
Rick and Marie Robart have created an enchanting spot to gather and relax while sampling beer, wine and mead from entirely local sources. A newly furnished and landscaped patio is dotted with fire pits and fire towers to gently warm the cooler evenings we all relish.
If hunger pangs hit, Happy Bee Meadery has you covered in a most surprising way. On the second Saturday of each month, beginning at 5 p.m., live music serenades guests while a portable pizza oven created from a vintage Chevy Corvair cooks up a menu of pizza, pretzels and other delicious bites.
Mead — a fermented blend of honey, water and often fruits, herbs or spices for flavor — may be unfamiliar to us today, but it is one of the oldest alcoholic beverages on earth, with its origins in Northern China dating back to at least 7000–6500 B.C. The drink's popularity in Europe is tied to its use as a sacred, ritualistic beverage by Norse and Celtic cultures, followed by a rise in regard in the British Isles during the Middle Ages.
Modern techniques continue to evolve as the drink — which can be sweet or dry, sparkling or still with varying proof levels — regains popularity and boasts a dedicated following. Unlike grape-based wine, it's also got staying power; a bottle of mead can be enjoyed, recapped and stored in the fridge. Even after a couple of months, its taste and quality are unchanged.
"Marie first convinced me to try mead on a trip we took for her birthday in 2019," Rick recalls. "It has so many natural qualities. I don't like sweet stuff, but I was pleasantly surprised by the flavor and all the good things in it. Now, we have mead and local beer and wine at Happy Bee Meadery. [There's] something for everyone."
Happy Bee Meadery offers a choice of three or six tasting flights of mead. Beer, wine and mead are available in chilled or off-the-shelf bottles or cans for everything that's available on draft. Patrons can purchase drinks to take home or to enjoy while sitting on the patio. The on-site team is also happy to cork up unfinished bottles for guests to take home with them.
"People really enjoy the patio area," Rick says. "We want our guests to enjoy Arizona's wines, beers and mead the Cave Creek way."
---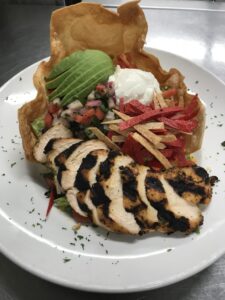 Venues Café
Venues Café is a longtime fixture in the quaint downtown shopping district of Carefree. Along with specializing in comfort food with a southwestern accent, the restaurant is known for being a favorite of locals and out-of-towners with its friendly staff and a can't-miss menu.
Owner Catherine Marr is entering her 14th year of operation and says it's always a special night at Venues, where patrons can look forward to a different menu spotlight nearly every day of the week. She's made highlighting local artists and charities a hallmark of her business.
"Our customers are the best and the area is a little slice of heaven," Marr says.
An extensive wine list and specialty cocktails, including the Fig Moscow Mule, Carefree Colada and Catherine's Cosmo — a classic cosmopolitan with a prosecco float — are on the happy hour menu. Specialty cocktails, such as the Ginger Apple Blush Martini that is now being featured for fall, are also offered.
Patrons can sample their way through the menu with happy hour noshes like Asian lettuce wraps, assorted sliders, deviled eggs and charred honey garlic wings. Marr keeps it interesting with something special to look forward to nearly every day of the week.
On Tuesdays, a free glass of house wine or beer is served with the purchase of every burger. On Wednesdays, $3 street tacos escape the confines of Tuesday and can be paired with $5 house margaritas. Thursdays feature pasta creations and any two entrées can be paired with a half-priced bottle of wine. Fridays naturally lend themselves to all-you-can-eat beer-battered fish and chips. Saturday is all about the prime rib.
Meanwhile, brunch is served every Sunday, when guests can enjoy bottomless champagne or mimosas — one bottle per customer — with any brunch menu purchase.
Beyond daily specials, Venues Café's regular menu has delicious specialty salads for lunch — the chicken taco salad being a favorite — and, starting at 5 p.m., entrées include crowd-pleasers like short ribs with wasabi mashed potatoes, chicken schnitzel with lingonberry sauce, salmon with lemon beurre blanc, and the chef's creamy, homemade, stuffed jumbo shrimp with risotto or seafood enchiladas.