Writer Susan Kern-Fleischer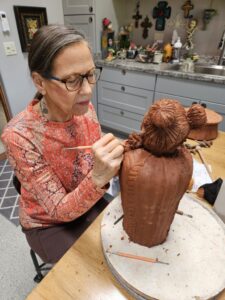 A true reflection of the creative diversity among Arizona's artists, Sharon Albrektsen, Jacki Cohen, Carol McDonald and Kelly Charveaux may each work in different mediums and with different materials, but they all have one thing in common.
Fueled by their imagination, they are driven to create.
The four exceptionally talented women also share the distinct honor of having had their work selected to grace the cover of the directory for this fall's 27th annual Hidden in the Hills Artist Studio Tour. Coordinated by the nonprofit Sonoran Arts League, 164 artists will participate in this year's highly anticipated event, which will be spread across 41 studios throughout the scenic Desert Foothills communities of Cave Creek, Carefree and North Scottsdale.
Showcasing both nationally recognized and emerging artists, the popular art tour attracts thousands of patrons who appreciate fine art and seek a variety of mediums, styles and price ranges. With the event taking place the weekends before and after Thanksgiving, the tour also attracts holiday shoppers who want to find an original, unique gift.
For art enthusiasts who return to Hidden in the Hills year after year, the artist directory has become quite a collectible. For participating artists hoping to gain more exposure, being selected as a featured cover artist is often an honor that adds more prestige to their professional achievements.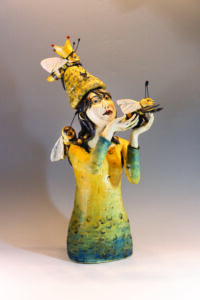 Daydreams With Clay
Sharon Albrektsen grew up in Chula Vista, California, in an artistic family that encouraged her to explore her imagination. Her mother was a professional clown and a seamstress, and her grandfather helped spark her imagination as they played with Play-Doh. Being dyslexic, she struggled to read, but she thrived in her art classes. She loved working with clay so much, she earned the nickname "Muddpuppy" from her family.
Later, as a college student, Albrektsen realized that she wanted to use clay to share stories rather than create functional pottery.
"I started making pots and I always wanted to alter them," she says. "It's about daydreams for me … that's how my mind works."
Albrektsen earned her Bachelor and Master of Arts from Adams State College in Colorado, and Master of Fine Arts at Fort Hays State University in Kansas. She spent more than four decades living in Colorado, where she owned and operated a coffee house. She also taught art in grades from kindergarten through college.
A few years ago, Albrektsen reconnected with a high school friend and moved to Scottsdale to start a life with him. They married last year.
"I am a narrative artist who is in love with clay," Albrektsen says. "Clay gives me the placidity to capture my thoughts when it is wet and permanency of the form when fired. My work is layered with meanings of who I am now and who I was."
Using borrowed symbols from the Christian religion, other cultures visited in her travels, and those from history, she combines all to make her own personal symbolism.
"Previously, I made a vague reference to the figure in my imagery," she says, adding that the costuming on her figures pays homage to her mother. "Lately, the figure has become of grave importance to the story-telling nature of my work."
Albrektsen finds her inspiration from nature, fantasy and journeys imagined or real. She is also influenced by her favorite two-dimensional artists, including Salvador Dali, Hieronymus Bosch and Remedios Varo.
"I see their work in my mind as 3D," she says. "There's also a bit of Dr. Seuss in my work, and I am also inspired by James Cameron and Tim Burton."
A Christian with two adult children and four grandchildren, she often pokes fun at religion and other societal topics.
"Sarcasm is a way of life for me, and satirical humor is a major portion of my narrative vocabulary," she says. "It makes the sarcasm a little easier to digest. My work, although seemingly fantasy, is a reality for me."
Using a hand-built method, Albrektsen often works in the moment, letting the clay guide her, but sometimes she will create a thumbnail of the piece or doodle her ideas on paper. She fires her work up to five times in an oxidation kiln and she uses underglazes, glazes, stains, oxides and gold luster to give each sculpture its desired visual depth.
Color is of the utmost significance in her work.
"The layering of bold, vibrant colors invites the viewer to take a closer look," she explains. "It is not my intention to give up my whole story, but to entice the viewer to make up their own."
Seven years ago, Albrektsen was invited to be an artist in residence for three months at the Yingge Museum of Ceramics in New Taipei City in Taiwan.
"It was an amazing experience," she says. "I was working with Japanese porcelain, which was like working with cream cheese … it was so good. I taught workshops and created so much work there. Two of my pieces are on permanent display in their sculpture garden."
Albrektsen's imaginative, playful "Bee Free" ceramic sculpture graces the front cover of this year's Hidden in the Hills artist directory. She started her bee series when she was working towards her MFA degree.
"I was amazed that bees can fly with such big bodies and small wings," she says. "But I was also affected by messages that said, 'bee kind,' 'bee grateful' and 'bee blessed,' and I thought, 'What would it look like to bee free?'"
This is Albrektsen's first year participating in Hidden in the Hills. She will exhibit and sell her work at glass artist Sandy Pendleton's Studio No. 22 in Cave Creek.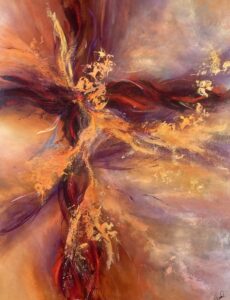 Going With The Flow Of Abstract Art
Carol McDonald never thought of herself as a creative person until much later in life. As a child growing up in a suburb of New York City, she excelled at English, math and science. While she enjoyed drawing and coloring, it was never a focus. As an adult, art was more something she appreciated and collected rather than created.
It wasn't until 2018, when she was approaching retirement from her left-brain, analytical, business administration career, that she began to pursue a newfound passion for painting. Spending time at art galleries and events, her husband saw something in her and told her she "needed a hobby in retirement."
"That Christmas, my husband bought me an easel, art supplies and a video of one of my favorite artists, Bruce Marion, and encouraged me to 'go play,'" says McDonald, who lives in Chandler. "That was all it took to re-ignite that creative spark and I have been painting ever since."
While she has done some realism painting, she always comes back to her first love: abstract.
"Abstract art has no agenda," McDonald explains. "It's all about potential and what might happen next. In some ways, it's a metaphor for my life, "I'm an observer in life. I watch and assess and then determine how I will respond. When I'm painting, I do the same thing. I start out with some basic shapes and then see where the painting wants to go."
McDonald is drawn to how images flow and colors blend together. Some of her work is vibrant in color while others are more muted and soft. Many of her pieces have "S" curves within them, depicting movement and grace.
"My mood often affects the colors I choose," she says. "I start with dark neutral colors to create a general composition, and add color and glazes on top of it. It's a bit of a dance and I'm never sure where it will end up. It's never a conscious choice; I go with the flow."
Working with acrylic paint, McDonald uses many different tools to achieve her effects, including silicon scrapers, palette knives and various brushes.
"I also love to explore different textures and materials to see how they impact a painting," the artist says. "Every painting has its own unique energy. It's not always something tangible; many times, it's an emotional reaction and we're not even aware of why a piece of art appeals to us — we just know that it does."
Emitting an energy that captivates its viewers with many subtle textures, McDonald's abstract acrylic painting, "Power From Within," is one of three works featured on the back cover of this year's Hidden in the Hills artist directory.
During the tour, guests can find McDonald and her new work at mixed media painter Bela Fidel's Studio No. 26 in Scottsdale.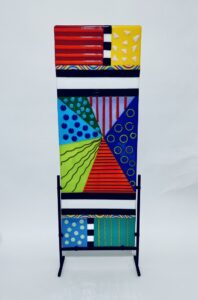 Celebrating Life Through Fused Glass
Jacki Cohen discovered her passion for working with fused glass more than a decade ago; but just three years ago, she experienced what she calls a rebirth of her work and life.
"My mother was hospitalized with COVID pneumonia and was very ill," she says. "This was before vaccines were available, and visitors were not allowed in the hospital, so she fought for her life alone. When she was released, she was like an infant … basically helpless. I nursed her back to health with the help of my family."
The experience had a profound effect on Cohen and she began to translate her emotions into her work.
"The art that I have been producing since her near-death experience has been all about life," she says. "The joy of life, and the simplicity and complexity of nature. I have translated this realization with more color and more layers. Life has so many layers and I have been expanding my art to incorporate these many layers, textures, and details."
A Scottsdale resident, Cohen is disciplined in her routine, and she finds she is most creative in the morning and she often sketches out her designs before getting started.
The process of fusing glass requires careful concentration. She begins by heating the glass to a minimum of 1,100 degrees to make it soft and pliable. Then she plans, cuts and pieces together the glass during the day, running her kilns overnight. Once the pieces have fused together, they must be cooled extremely slowly to avoid thermal shock.
In addition to incorporating circles and other symbols that celebrate life, she often mixes in dichroic glass, which is a metallic glass that sparkles and shines.
"The dichroic is layered to represent the deepness, layers and complexity of life," she says.
An avid hiker, much of Cohen's work is inspired by the beauty of her natural surroundings. Featured on the back cover of this year's Hidden in the Hills artist directory, her stunning fused glass wall panel, "Blaze," was inspired by the beauty of Arizona's sunrises and sunsets.
During the tour, Cohen will exhibit and sell her new work at Wesley Hartin Art Studio No. 8 in Carefree.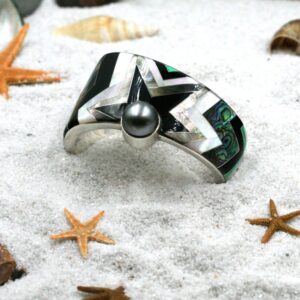 Jewelry Guided By Intuition
Born in Faith, South Dakota, near the famous mineral-rich Black Hills region and adjoining Sioux Indian lands, Kelly Charveaux's early collection of rocks and arrowheads evolved into a lifelong love of gems and jewelry.
She moved to Arizona in her early teens and immediately started collecting turquoise.
"Turquoise is my favorite mineral to work with," Charveaux says. I love mixing it in with almost everything. The color variations from the greens to the blues and the variety of matrix makes turquoise so diverse."
While working for a jewelry manufacturer, Charveaux left college to study at the Gemological Institute of America and furthered her education at the Revere Academy of Jewelry Arts in San Francisco. She has also taken workshops from Jesse Monongya, an award-winning Native American inlay artist.
A Fountain Hills resident, Charveaux plays the bass guitar in her free time. She also paints and creates mosaic art but her primary passion is creating jewelry. She is best known for her bold styles and exquisite inlay designs. Inspired by her surroundings and the energy of the stones, she relies on her intuition to guide her as creates her designs in the moment.
She finds unique gemstones in a variety of places — including shops, gem shows, auctions and outside on the ground.
"When I'm shopping, I pay attention to the energy of the stones," the jewelry designer says. "I'm drawn to their color and texture. The price tag is usually the last thing I look at."
Skilled at lapidary, Charveaux says that cutting stone can be somewhat therapeutic.
"Nothing is more fun than slicing open a rock and seeing what is inside," she notes.
This will be Charveaux's first year participating in the Hidden in the Hills Artist Studio Tour. Appearing on the back cover of this year's directory, her breathtaking cuff, "Mother & Child Reunion," features sterling silver, black onyx, Mother of Pearl, Black Lip Mother of Pearl, a Tahitian pearl and abalone. Her title for the piece was inspired by the pearl — or the "baby" within the mollusk of the shell.
Tour attendees can meet Charveaux at painter Marless Fellows' Studio No. 23 in Cave Creek, where she will exhibit and sell a variety of new, one-of-a-kind contemporary and whimsical pieces — including earrings, rings, bracelets, necklaces and bolo ties.
---
27th Annual Hidden in the Hills Artist Studio Tour
Nov. 17–19 and Nov. 24–26 // 10 a.m.–5 p.m. // See website for participating studios // Free // hiddeninthehills.org