Writer Joseph J. Airdo // Photography by Carl Schultz
Artist Sue Krzyston believes that the Southwestern and Native American artifacts featured in her ultra-realistic oil paintings represent the soul of the people who created them.
"I strive to capture that feeling on canvas by using the nuance and essence of an object and utilize the effects of light and shadow to depict the beautiful and varied textures of each item that I select for my compositions," Krzyston explains. "Light is so important in making the artifacts relate to each other. I try to make the inanimate objects come alive in the glowing warmth of the light."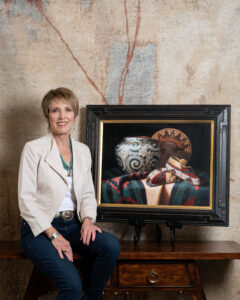 Krzyston's journey as an artist began in 1981, shortly after she quit her career selling furniture.
"I decided, as a hobby, to start to oil paint," Krzyston says. "I took a painting class at an adult center and learned how to mix oil paints. I did that for just a few lessons."
She then began to develop her own painting techniques by way of reading books, visiting museums and browsing art galleries — honing her talent every step of the way.
"When I first started painting, I was doing landscapes and some portraits," Krzyston says. "Then my husband and I purchased a new home with many empty walls. My husband said that we needed paintings for those walls. Since I had started collecting Native American pottery and other Southwestern artifacts, he suggested that I try to do a painting of one of those pots."
With that, the artist had discovered her niche. A single painting of a pot grew into many others featuring the various Southwestern and Native American artifacts that Krzyston had collected over the years.
"I am always inspired by the artisans whose work I collect and feel that my paintings are an art form within an art form," she says. "I am paying homage to the beautiful craftsmanship of these artifacts by arranging them together and adding light and shadow to make them come alive and relate to one another."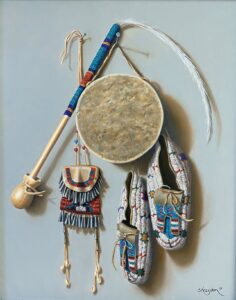 Krzyston starts by physically placing a few artifacts together in different configurations and compositions.
"I have to be able to see them together so I know where shadows are going to happen," she explains. "I spend a long time doing that because, for me, the composition is very important. The eye flows through the composition. So I will spend a long time with the various items and keep changing the compositions, angles and lighting and tweaking the arrangements."
Sometimes, Krzyston adds a few peppers or berries to the scene in order to introduce a pop of color or add a bit of life to the composition.
"And I will keep photographing all the while," she adds. "That way, I can look back at the photographs on my computer to see which angle best suits the composition and best makes the items relate to one another."
From there, Krzyston begins painting, using many thin glazes of paint to achieve the rich glow of an object. The artist builds paint in many layers in the highly realistic beads that she paints on the moccasins so that they actually appear to be real beads.
"When people look at my paintings, they generally remark about the light that I capture," she says. "That helps to give a very three-dimensional appearance to my paintings so that you can almost feel all of the different textures."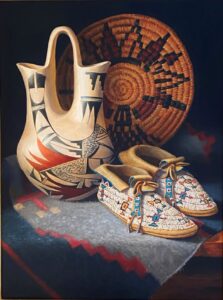 In fact, one might even say that, because of the artist's uniquely self-taught technique, Krzyston's paintings look more realistic than a high-resolution photograph or even the physical artifacts themselves. Light and shadow truthfully reveal the individual fibers of a fuzzy blanket, reflect the delicate details of every glistening piece of pottery and bounce off each intricately painted moccasin bead.
"I admire the paintings of Dutch masters like Johannes Vermeer," Krzyston says. "They have very deep, dark-toned backgrounds. Then, out of the shadows, are these wonderful, light-filled foregrounds. I try to incorporate that look with my art to give the Southwestern and Native American artifacts that same type of feel."
Always on the lookout for new artifacts that speak to her artist sensibilities, Krzyston does not dwell on meanings or patterns and instead just appreciates each item for its intrinsic beauty, craftsmanship and workmanship. And she hopes that her paintings reflect that while truly touching those who view them.
"The greatest thrill for me as an artist is to have someone look at something that I painted and be able to relate to what I thought about in my head and felt as I tried to capture that on canvas," she says. "It is incredible when someone can understand what I am trying to say and feel what I am trying to convey with what I put on canvas."
Krzyston will be a featured guest artist at Sue Bickerdyke Interiors — where her awe-inspiring work is on display and available for purchase — during Carefree's January art night. Owner Sue Bickerdyke says that it is a pleasure to represent Krzyston's amazing fine art at her home furnishings and art gallery.
"The realism of the beads on the moccasins and pouches is my favorite of her work," Bickerdyke says. "You can visually see and feel the various textures from the bright beads and the rough leather to the cool pottery and the warmth of the Navajo rugs. Shadows come to life under different light sources giving you a chance to enjoy a different level of the details. This art invokes all of your senses."
Sue Krzyston
Thursday, Jan. 20 // 4–7 p.m. // Sue Bickerdyke Interiors // 36889 N. Tom Darlington Drive, Carefree // Free // 480-595-0171 // suebickerdyke.com