Writer Shannon Severson // Photography by Dillon Johnson
"L'Entrata" means "the entrance" in Italian and Anthem's new wine bar of the same name has definitely made an impressive entrance into the community with wines from around the world as well as top tapas, panini and charcuterie boards by chef Josh Bracher.
Owners Jay and Maria Toupin welcome guests into L'Entrata Tasting Room's inviting indoor/outdoor space that is a personal representation of their own hospitality style. The Toupins originally hale from Washington state and those origins can be seen in the extensive offerings from the Pacific Northwest amidst the hundreds of bottles that fill the wine display along a wall of the charming shop and restaurant.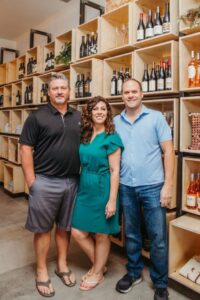 Moreover, L'Entrata Tasting Room is a family affair. The Toupins' grown children are often waiting tables, recommending vintages, polishing glasses or hauling in cases of wine through the back door. Maria's nephew, Taylor, developed the logo and branding. Jay's parents, Bill and Mary, also help out and Mary uses her background in the floral industry to create beautiful gift baskets for patrons to purchase as tasteful gifts.
"We've had lots of family members who have followed us to Arizona since we were married in 2010," Jay says. "In fact, we spent our anniversary putting on our grand opening in October of 2021."
The wine list — by the glass, bottle or even case to take home — features wines from around the world, including less common varietals from Greece, Portugal and Spain and from small, boutique wineries with which the Toupins have fostered relationships. Soon, L'Entrata Tasting Room will introduce Cabernet Sauvignon, Chardonnay and Sauvignon Blanc under its own label from Washington winemaker Aryn Morell.
L'Entrata's servers are happy to make recommendations — whether you are in the mood for a glass of wine, a mug of suds or even a beverage of the non-alcoholic variety.
"I try to bring people outside their comfort zone," Jay says. "I encourage them to try something a little to the left or right of what they usually drink. I encourage branching out."
Jay and Maria, who are consummate entrepreneurs, took what was a relatively small, dark space in a Daisy Mountain Drive strip mall and transformed it into an open, bright environment that transports guests to another place — except for those gorgeous Arizona sunset views, of course, which are key to the L'Entrada experience.
Maria says that she and Jay aspired to leverage our state's absolutely beautiful weather.
"If you're sitting on the patio or outside bar, that sunset is to die for," she explains.
Fresh air and sunlight — or starlight — stream into the high-ceilinged space through a retractable glass wall that divides the convivial, double-sided bar and a long patio where outdoor seating ranges from tables and chairs to couches and coffee tables, all tastefully appointed with fresh flowers and greenery from local florist Natalie Gilliland's shop, Poppies.
"We wanted the environment to be elevated but not stuffy," Maria says. "We are really happy to bring a business like this to the community. We've lived in Anthem and felt like it really needed a local place where people could gather and enjoy great wine and delicious food."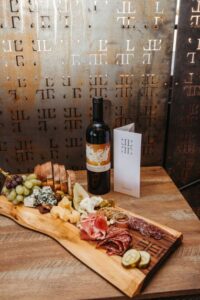 The original plan for the L'Entrata menu centered upon charcuterie boards — a rotating selection of meats, cheeses, olives, nuts and interesting condiments served on handcrafted tasting boards by Mark Larson of MDesignAZ. Those are still on the menu, but now there is also so much more.
"Through our culinary consultant, Brian Driscoll of Driscoll's Cuisine and Cocktails, we met chef Josh Bracher and jumped at the chance to bring him in as our executive chef," Maria says. "We told Josh to take it in whatever direction he wanted to. He works out of our micro-kitchen and produces incredible food. He knows our brand and was proud to be a part of L'Entrata. We are thrilled to have him."
Bracher creates delectable small plates for lunch, dinner and brunch on Sundays. Along with weekly specials that utilize the freshest ingredients, the menu features creamy burrata with heirloom tomatoes and wild mushroom flatbread with white truffle oil drizzle. Brunch favorites include eggs Benedict, croque madame and an enticing croissant board.
Everything is made from scratch and nothing is wasted, which means Bracher can take supply chain challenges and turn them into culinary triumphs.
"Josh is so creative," Maria says. "There is always something new on the menu."
The Toupins are blown away by the positive response to L'Entrata Tasting Room from customers and the support from the community as a whole. The couple says that Tennessee Grill owner Chris Bosn sent a congratulatory bouquet to them and even loaned them the services of his manager on L'Entrata's opening night.
"The community has been so amazing," Maria says. "I can't tell you how many times each day that people say, 'We needed this so badly. We are so glad you're here.' It's been so positive."
Jay also credits friends Bryan and Nancy Franks, who own Brix Wines in Carefree, for helping him with research and advice.
"They filled a niche that Cave Creek and Carefree needed and we knew it was something we wanted to do," Jay explains. "Bryan and Nancy stay in touch and they check in on us. I give them a lot of credit for our success because it wouldn't have morphed into what it is without them."
Locals have been enthusiastic about the biweekly free wine tastings at L'Entrata and live music on Thursday and Saturday evenings and on Sunday afternoons. Private events like birthday parties, graduations and even a wedding reception have also been popular.
Always innovating, the Toupins — who are already hosting tastings — are planning to host wine dinners with featured winemakers and, when Valentine's Day approaches, floral arrangement lessons with Poppies Flower Shop. They're truly aiming to make L'Entrata a spot where there's always a reason to gather.
"I think my favorite customer response is from folks who have just moved into the area," Jay notes. "They say, 'We didn't realize Anthem had something like this.' I give credit to word-of-mouth advertising and our 'repeat offenders,' as I call them. That's what will sustain us — being part of the community and people telling their friends."