Elevating Education
Writer Joseph J. Airdo
Photography Courtesy of Rotary Club of Anthem and Sarah Varney
When Edward Varney moved to Arizona in November 2010, one of the first things that he did was join the Rotary Club of Anthem. Having been a member of one of the worldwide nonprofit organization's chapters in New Hampshire two years prior, the club's mission to make each community a better place was very important to him.
Throughout his 10-year membership in Anthem, Varney became drawn to the club's scholarship program — which aims to recognize outstanding achievement of graduating high school seniors in the community. In addition to awarding $1,000 to up to five applicants each year, the program provides educational and training opportunities to students hoping to attend college or a vocational school to better enhance their future career path.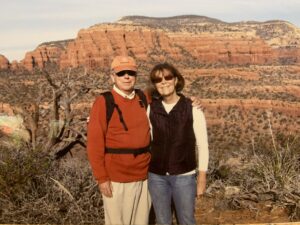 Sadly, Varney passed away June 20. The impact he had championing the Rotary Club of Anthem's scholarship program has inspired the chapter to re-name the program the Edward F. Varney Memorial Scholarship Fund.
"Education was very important to Ed as was the scholarship fund to make sure that students have access to education," says Krista Solomon, Rotary Club of Anthem's scholarship committee chair.
She adds that 18 graduating high school seniors applied for scholarships through the program this year — by far the most the Rotary Club of Anthem has ever received in a single year.
"We look for well-rounded students," explains Solomon, noting that each applicant is evaluated based on their letters of recommendation, activities and accomplishmens and a 250-word essay utlizing Rotary International's four-way test of truth, fairness, goodwill and being beneficial to all.
"Since we are a nonprofit, giving organization, what they do in our community as far as activities outside of school is very important to us — whether they are volunteering at a church or with another nonprofit organization to help support the community in some way."
Solomon says that each and every one of this year's 18 applicants possessed excellent records of achievement and submitted stellar essays. It quickly became crystal clear that separating five winners would be inconceivable.
Rotary Club of Anthem treasurer Joe Alvarez, who helps to organize the nonprofit organization's annual golf tournament, says a compromise was reached.
"Despite battling the pandemic last year and the beginning of this year, the Rotary Club of Anthem had a record-breaking fundraising year thanks to the great community of Anthem and its support of our events," he explains. "The board of directors agreed with the scholarship committee's recommendation and we awarded all 18 of the applicants with $1,000 scholarships."
Solomon was thrilled that each and every one of the amazing applicants would be recognized for the hard work that they completed throughout high school.
"I work in healthcare and a lot of these students are going to be physicians or nurses," she says. "One was even wanting to go into engineering and actually help develop prosthetics for children. Throughout this past year of the COVID-19 pandemic, it has become clear that healthcare is very important. It excites me that many of these bright minds are going to be entering that healthcare world."
Alvarez adds that the Rotary Club of Anthem hosted a reception for all winners and their families July 27 at the Anthem Civic Building to celebrate their accomplishment.
"It was well attended by many and we had seven of the recipients recite the essay they wrote and tell us about their future plans in education," he says.
The Rotary Club of Anthem has set up a system to accept donations to its newly named Edward F. Varney Memorial Scholarship Fund and has already received more than $6,000 for next year's program on top of the $5,000 it has budgeted for it.
Solomon's advice for next year's applicants writing their essays is simple: "Speak from the heart." She adds that Varney loved reading the students' essays.
"I read some of the essays to him the day before he passed and he was very touched by being able to hear those," she says.