Writer Joseph J. Airdo
Photography by Carl Schultz
[dropcap]A[/dropcap]nthem resident Steve Adelson recalls the exact moment that music engulfed and therefore changed the trajectory of his entire life. As a 17-year-old recent high school graduate in 1969, Adelson was encouraged by one of his friends to pick up a guitar and play a single chord.
"I was addicted," says Adelson, noting that he became determined to master the music of The Beatles, Led Zeppelin and other popular rock groups of the era. "There was this song called Alice's Restaurant by Arlo Guthrie. It was a finger-picking song. To me, it sounded outrageous but I figured if I learned that song, I would be the happiest guy in the world. I learned it and I said, 'There has got to be more.' I am still addicted now and, 52 years later, I am still playing."
However, the guitar served only as a gateway instrument for Adelson, who, two-and-a-half years into college, switched majors from chemical engineering to music.
"I studied with many different teachers," Adelson says. "It was not just entertainment. I wanted to learn how to play the guitar as much as possible to be creative. So I studied creative guitar players like Wes Montgomery, Jimi Hendrix and Michael Hedges."
In 1983, Adelson encountered a crowd of people on the corner of Bleecker Street and University in Greenwich Village. Curious, he decided to investigate.
"I looked over the top and there was a guy tapping on the guitar," Adelson says. "Tapping means you are hammering with both hands and playing it like a piano. His name was Stanley Jordan. I immediately went home and started playing like that on my guitar. Six months later, I discovered the Chapman Stick and it changed my life."
A Crayon of a Different Color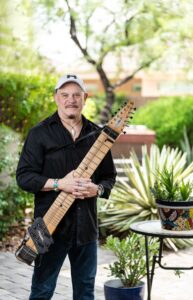 The Chapman Stick is an electric musical instrument invented by jazz guitarist Emmett Chapman in 1969.
"He said he was playing the guitar and, by divine intervention, his right hand went over the top and he started touching the string," Adelson says. "He delighted in this new technique that he discovered. Within the next five years, he developed this instrument that accommodated the new technique"
A member of the guitar family, a Chapman Stick typically has 10–12 individually-tuned strings and is used to play bass lines, melody lines, chords or textures. Designed as a fully polyphonic chordal instrument, it covers several of these musical parts simultaneously.
The Chapman Stick resembles a wide version of the fretboard of an electric guitar. However, unlike the electric guitar, it is usually played by tapping or fretting the strings rather than plucking them. The player hammers onto the strings with his or her fingertips the same way that one would strike a piano key. One hand plays the melody on the treble strings while the other hand plays the rhythm on the bass strings.
"So, basically, when you tap, you can play two parts at one time — if not more," Adelson explains.
That level of control and creativity is what drew Adelson to the Chapman Stick in the first place and is also what has sustained his interest in the instrument for the past 37 years.
"Everything on the guitar has been done already," he explains. "So I am either going to copy Wes Montgomery or Django Reinhardt — who is another one of my favorites — but I am never going to be at their level. They are geniuses. They created music that will never be copied again."
Adelson describes the Chapman Stick as a crayon in a color that far fewer people have seen or played with.
"When I was young, I had an eight-count box of crayons," Adelson says. "My friend had 64 crayons with a sharpener. It is like that. There is no limit to this. Plus, it has no history so I have been fortunate to be one of the instructors and I have written method books on how to play it. So I am part of the new history."
Adelson adds that while there are millions of guitar players around the world, Chapman Stick players are a rare breed. This is due to a couple of different reasons. For starters, Chapman's Stick Enterprises is the only company that manufactures the instrument.
"Only one person makes it and he only makes about three or four hundred each year," Adelson explains. "He has made 8,000 instruments in almost 50 years. That is not a lot. They have sold 8,000 guitars this morning alone at Guitar Center."
Moreover, Chapman Sticks are extremely expensive, with prices starting at $2,000.
Exploring the Creative Part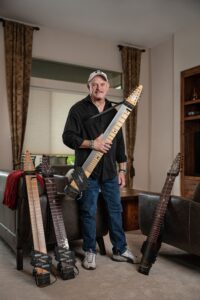 Prior to moving to Arizona two years ago, Adelson owned a guitar school in New York where he taught both the guitar and the Chapman Stick. During a trip to Phoenix, he visited Musical Instrument Museum and was surprised to discover that the Chapman Stick was not represented among its vast collection.
He then helped the museum incorporate the instrument into its collection alongside innovative inventions like Adolph Sax's saxophone and John Philip Sousa's sousaphone. He also invited Chapman himself to join him for a clinic and concert at the museum.
Since then, Adelson has continued working to expose more people — both musicians and audience members — to the Chapman Stick through performances and clinics all around the world. He also offers lessons via Skype from the cozy casita behind his gorgeous Anthem Country Club home.
Noting that his upcoming performances include Oct. 7 at Sacred Ground Jazz Coffeehouse and Nov. 16 at Musical Instrument Museum, Adelson says that being part of the Chapman Stick's evolution and exposure has been one of the greatest gratifications of his entire life.
"It has given me a purpose for my brain," he explains. "We all look for things to do, whether it is traveling or expanding your mind. Some people are content just watching TV. I like to travel and see other parts of the world and other cultures. It makes me a better person. So I do not mind practicing 3–5 hours each day because I am exploring the creative part of me.
"Most people do not have that outlet. I am very fortunate because, while playing the [Chapman] Stick, I have gotten to talk with people in the Czech Republic, Germany and Japan. It is cool to sit with people after a show — maybe just as a tourist — and get a different perspective.
"I find that, whether I am living in New York or here, a lot of people live in their own little environment. I think that you can make better decisions if you are more worldly. So this is giving me an opportunity to — even on Skype — talk to people in Hong Kong and Australia and get a different perspective.
"The playing itself gets my creative mind going. The outreach to other communities and other cultures has made me grow as a person."