Against the Grain
Writer Joseph J. Airdo
Photography by Carl Schultz
When you walk into Lil Miss Butcher, one of the very first things that you see — besides several counters filled with every variety of meat imaginable — is a large mural that reads, "Enter as a stranger, leave as a friend."
It is a message that owner Linsey Tweed takes to heart.
"It is a family business," she explains. "My kids and their significant others work here. It is an intimate place with a personal feel and a connection to customers. I know everybody on a first name basis and that is how I want it to stay. It is an old-fashioned butcher shop and that is exactly what I want it to be."
Tweed admits to being a bit rebellious during her youth, having had two children by the time she turned 18 years old. It is that experience requiring her to find a way to feed two mouths in addition to her own that not only led her down a path that would eventually result in her operating her own business but also nurtured her commitment to customer service.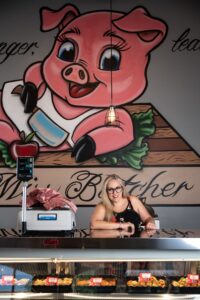 In the mid-90s, Tweed started working for a local supermarket. Assessing the options that would earn her more than minimum wage, she pursued a position in the store's meat department — an avenue that she believed would be the most lucrative in the shortest amount of time.
"I started cutting meat in 1999 or 2000 and spent about seven and a half or eight years with [the store]," says Tweed, noting that another one of her reasons for pursuing a position in the meat department was the fact that, back then, female butchers were almost unheard of — and slicing against the grain was something that always appealed to her. "Even as a kid, I was the only girl in the baseball league at Pima Elementary School."
Tweed later moved around to different supermarkets around town and even spent some time at Hobe Meats in Central Phoenix. However, she held steadfast of her dream to own a business and work for herself — not only for the obvious personal benefits but also for those of customers.
Citing less than savory quality and conditions of the meat departments in supermarkets, Tweed aspired to deliver a more sustainable, healthier and cleaner option to the community. On July 2 of this year, she opened Lil Miss Butcher in Cave Creek, which sources its product from the Midwest — particularly from the Greater Omaha Packing Company.
"It is all Prime-grade product, minimally aged 90 days," Tweed says. "I have all-natural chicken and pork and 13 different varieties of sausage. I have alligator, kangaroo, rabbit, pheasant, frog legs, duck, bison, wild boar and venison.
"The grocery stores have stopped cutting meat and are getting pre-packaged product. Here, you get that old-school feel. If you want a specific cut of meat that you have seen on a cooking show, all you have to do is come in and say what you are looking for and we will get it for you."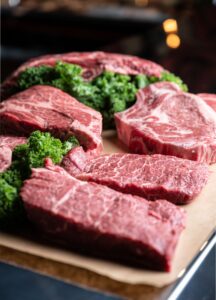 Tweed adds that although most of her customers know about New York strip, rib eye and filet steaks, she encourages them to think outside of the box.
"There is one piece of meat in my counter that is absolutely hands-down the best piece of meat and there is only one on every cow," she explains. "It is called a hanger steak and they are very hard to find. But I carry them all the time. It has a bold beef flavor. It is tender like a filet but cuts like a tri-tip on a 45-degree angle on the bias, against the grain, in thinner slices. And it is absolutely phenomenal."
Meat is only the beginning, though. Lil Miss Butcher stocks several ready-to-go food products that Tweed says seem to fly off the shelves.
"We have got jalapeño poppers, bacon-wrapped asparagus, beef jerky made in-house and smoked lingüiça," she says. "I have got my own line of barbecue sauces, pickled items and seasonings. I sell so many twice-baked potatoes that it is incredible. And I have a stuffed Korean roll that I just cannot seem to keep on the shelf. That is a double-tenderized flank steak stuffed with bell peppers and marinated in my Korean sauce."
Tweed has even developed a plan to ensure that each one of her customers has everything they need in order to make this year's holidays exceptionally special for their families.
"I am going to carry a couple of different varieties of all-fresh, free-range turkeys," says Tweed, noting that she will begin taking orders for Thanksgiving and Christmas on Oct. 1 and Nov. 1, respectively. "I will have hams, pork crown roasts and tenderloin roasts as well as bone-in and boneless prime rib roasts."
But ultimately, the most significant thing that Tweed stocks at Lil Miss Butcher is a commitment to her customers and the entire community. In fact, she will host a free pig roast Oct. 10 that she hopes will become an annual tradition that brings neighbors together to officially kick off the holiday season.
"Opening a business is super challenging," says Tweed, noting she encountered her fair share of obstacles leading up to the opening of Lil Miss Butcher. "It is more challenging than you could even imagine. But, overall, the experience taught me patience — which I had never had before this. I see things differently now. You cannot have everything perfect. You just have to go with the flow and roll with the punches.
"Ultimately, if you have a quality product, a fair price and great customer service, you are going to be successful. I have all three of those things so I can only see that the future is going to be just fine."