Writer Susan Kern-Fleischer
Photography Courtesy of Sonoran Arts League
[dropcap]T[/dropcap]hey are eight artists with very different styles and strong opinions about what defines fine art. So, getting together to work on a collaborative project seemed like a crazy idea at first.
But with the silver anniversary of the Hidden in the Hills Artist Studio Tour approaching, all eight artists wanted to do something special to commemorate the milestone event. After all, they were there from the beginning, in 1997, when there were just 44 artists at 19 studios.
Now, 25 years later, Hidden in the Hills is the premier event of the nonprofit Sonoran Arts League. It is also Arizona's largest and longest-running artist studio tour. Set for the last two weekends of November, this year's free, self-guided tour features 191 artists at 45 private studios throughout the scenic Desert Foothills communities of Cave Creek, Carefree and North Scottsdale.
As one of the Hidden in the Hills original participants, glass artist Carole Perry wanted to do something special to commemorate the tour's 25th anniversary.
She remembered the collaborative piece that was created back in 1994, when she and other Cave Creek Crafts Council artists wanted to raise funds to start the nonprofit Sonoran Arts League. The whimsical piece featured 15 diverse pieces of art woven into a fiber sculpture and sold at auction for $4,500.
"It's unfortunate that we have no records of who worked on it and what it looked like," Perry says. "There were no photos and none of us had cell phones to capture video."
Then the idea sparked. Why not create something similar for this year's event? But this time, the artists would create two sculptural pieces: one to raffle off to raise funds for the Sonoran Arts League and one to be on permanent exhibit at the league's main office and gallery in Stagecoach Village.
Perry began reaching out to some of the original artists from the early years of the tour with the idea of collaborating on the two legacy pieces. Within a few days, seven artists agreed to join her. The artists began to meet weekly in May.
"At first, it was like eight cooks getting together to decide what to make for that night's meal," says ceramist Christopher Heede. "It took some healthy debates, but eventually we got to where we needed to be."
Artists Aging Beautifully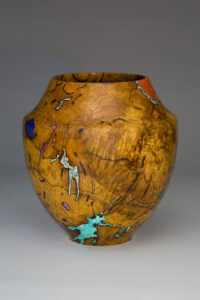 Potter Judy Darbyshire came up with the idea of shadowboxes and presented sketches of what she envisioned for the sculptural pieces.
After some back and forth, the artists decided on one wooden sculptural piece with eight built-in shadowboxes to display each artist's work.
Ceramist/mixed media artist Robin Ray immediately liked the idea — and the challenge to find common ground with such a diverse and independent thinking group.
"Many of us admire Joseph Cornell's work," she says. "He was a well-known assemblagist and collagist who elevated the box to a major art form. What started out as a vague idea quickly became clear to us."
Somehow, the topic of aging came up and Heede jokingly suggested they call the piece "Eight Shades of Gray."
Painter Virginia Brooks thought that the title was wonderful.
"All eight of us have aged beautifully as artists," Brooks explains. "Each one has chosen to grow and change as the years have passed. It is too easy and awfully boring to remain fixed on one style of artistic endeavor. This group has done the opposite. We have evolved. It gives our work a fresh look that easily gains new followers. And each one of us sports a different shade of gray hair."
The artists decided to select eight different shades of gray for the inside backing of each shadowbox, ranging from warm to cool. The collaborative process was moving along, but there was one big problem: the artists needed someone to create the wooden frame that would feature each of the eight shadowboxes.
Fortunately, Perry and pencil artist Dick Mueller had connections to Tom Brooks — a talented craftsman and custom cabinet and furniture shop owner for 25 years that retired to Cave Creek after selling his shop in California.
"Tom turned out to be our best partner," Perry says, noting that he donated the majority of his time and labor. "Without him, we could not have pulled this off."
At Brooks' suggestion, the artists agreed upon the use of Alderwood — a common wood used in Southwest cabinets. Each piece was stained with clear, natural oil finish which produced a rich look.
While the finished frames look simple, Brooks estimates that he worked more than 50 hours to complete the project.
"It was a bit of a brain twist," he says. "I was challenged with creating eight shadowboxes of different sizes and shapes within one big box."
When finished, "Eight Shades of Gray" measured three feet wide by two feet tall with each shadowbox being four inches deep. The collaborative sculpture can be anchored to the wall or set on a pedestal.
A Lot of Harmony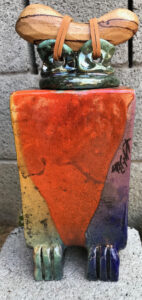 Because there are two collaborative sculptures, each artist created two unique pieces of art for the legacy project.
Virginia Brooks, whose wide body of work includes landscapes of the American West, Tuscany and Provence as well as peaceful atmospheric paintings, chose to include two miniature oil paintings that focused on local Foothills scenes. One is "In the Jewel," depicting Cave Creek at Jewel of the Creek. The other is a desert road meandering back toward the Continental Mountains.
Meanwhile, Judy Darbyshire's work is influenced by her long involvement in Southwestern archaeology and her love for early 20th-century craftsman style. Since the early years of Hidden in the Hills, she has sold whimsical javelinas in many different forms — including javelina heads, ornaments, jewelry and even nativities. So, it was only fitting for her to include her signature javelina clay figurines in each legacy project shadowbox.
One of the challenges faced by woodturner Morrie Elmer, who creates stunning wooden vessels that are inlaid with semi-precious stones, was determining how to mount his unique pieces into each shadowbox. Coming up with the idea of hollowing each vessel then cutting it in half, he created both vessels with olive wood — which is durable, has a distinctive look and provides more areas to inlay precious minerals as it cracks with age.
Christopher Heede, who thrives at pushing the envelope, chose to include two hand-built, Raku-fired abstract covered jars that resemble animals with feet. Each piece features a striking hand-carved Zebrawood wooden handle.
Meanwhile, sculptor Gordon "Gordy" Mischke's diverse architectural creations have included everything from concrete, steel, copper and stone abstract sculptures to wood carvings, etched glass, gates, fences and doors. For the legacy project, he created two whimsical steel lizards from a flat steel sheet, adding brass hardware for ornamentation.
Dick Mueller, who exhibited graphite pencil drawings on paper during the first Hidden in the Hills tour, has since expanded his work to include color pencil drawings of landscapes and wildlife. Passionate about the cowboy life, he chose to include a drawing of a cowboy with a cup of spiked coffee and a drawing of a cowboy with a cat.
Carole Perry, whose signature glass tapestries are in prized glass collections around the globe, chose to create two waterfall pieces. The round bottoms feature white and cloudy-looking glass while the jagged tops feature crushed amber, bronze and carnelian glass.
Finally, Robin Ray, whose vibrant art includes mural paintings, expressive mixed media animal sculptures and Raku pottery, chose to create two similar signature sculptures of cows with a painted landscape of blue skies, purple mountains, forests and fields.
One of the two "Eight Shades of Gray" legacy project sculptures will be raffled in mid-December. Tickets can be purchased online, at the Sonoran Arts League office and at select studios during the Hidden in the Hills tour. The league hopes to raise at least $10,000 through the raffle. The second sculpture will be on permanent display at the Sonoran Arts League in January.
Heede, who spent some time helping Tom Brooks complete the collaborative pieces, is exceptionally pleased with the result.
"Tom is a good craftsman," Heede says. "He has a terrific work ethic, and he did a really nice job. I really enjoyed the process of seeing it all come together. I am proud of it … it has a lot of harmony."
25th Annual Hidden in the Hills Artist Studio Tour
Nov. 19–21 and Nov. 26–28 // 10 a.m.–5 p.m. // See website for locations // Free // 480-575-6624 // hiddeninthehills.org