Writer Susan Kern-Fleischer
It could have been exceptionally easy for Jan and Rick Griggs' lives to never intersect.
Jan — a soulful, abstract fine art painter — grew up in Spokane, Washington, while Rick — an accomplished woodworker and photographer — was born on a United States Naval base in Canada and spent much of his childhood living in different states.
Four decades ago, they met at a party, and it was love at first sight.
"Rick asked me to marry him on our second date," Jan says. "We got married six months later."
Attracted by Arizona's warmth and sunshine, the couple in 2012 moved to Scottsdale, where they continued their individual artistic paths and became members of the nonprofit Sonoran Arts League — whose signature Hidden in the Hills Artist Studio Tour is set to take place during the last two weekends of this month.
Jan and Rick are two of 164 artists at 41 studios throughout Cave Creek, Carefree and North Scottsdale that will be participating in the popular event, which — now in its 27th year — is the largest and longest-running artist studio tour in Arizona.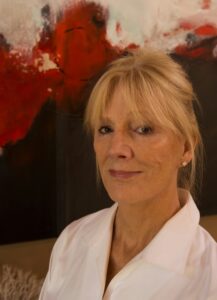 A Need To Paint & Explore
Jan has always been passionate about art. She has fond childhood memories of playing the scribble game with her father, and she credits an older cousin for inspiring her to explore her creativity.
"My cousin was a talented artist who taught art in high school," she says. "I was in awe of him, and he had a definite influence on me."
Early in her career, Jan created wildlife illustrations for a company that produced giftware for the Alaskan cruise industry. She also painted pet portraits in pastels and took a few watercolor classes.
Calling herself a "late bloomer," Jan discovered her passion for abstract art not long after she and Rick moved to Scottsdale. She took a special week-long mentoring session with renowned artist Gwen Fox in Taos, New Mexico that challenged her to be intuitive and spontaneous as she painted. That was 13 years ago and, since then, she has been laser-focused on creating abstract art.
"Abstract painting is freeing and complicated at the same time," she explains. "There are no limits or rules as to what you can or can't do. The workshop in Taos opened a direction I wanted to pursue, but didn't know how to do it."
Now, Jan has more confidence in her work and believes that painting abstracts is her calling.
"I find that I actually need to paint and explore, so my style is constantly changing," she says.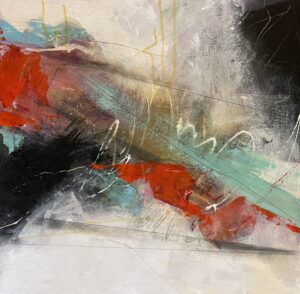 While much of her work is inspired by the beauty of the desert, Jan continues to be influenced by the cool grays, blues and greens of the Puget Sound area, where she and Rick spend their summers.
"When I paint in Washington, my colors tend towards cool blues and grays," she says. "Inspiration comes from the water, mountains, sky and clouds. In Arizona, I'm influenced by the desert, warm neutrals, and desert plants."
Energy, color, light and intuition are the elements that characterize her paintings. She works with acrylics on canvas or heavy watercolor paper, with a variety of tools to move and manipulate the paint.
"I like water media because it dries fast, and I can work quickly," Jan says. "I prefer to paint on large canvases. It's much easier to use large brushes and movements."
Her artistic process is intuitive and spontaneous.
"My work is a collection of places, feelings of color, light and dark, movement and stillness that I translate into abstracted forms," she says. "When I begin a painting, I'll decide first if I'm painting an abstract floral or landscape or pure abstraction. I don't use reference photos as I paint, instead drawing from my memory."
As she paints, she arranges and re-arranges colors and shapes to create the feelings and emotions coming from within her.
"My parameters are the color palette I choose and the shape and size of the surface I am painting on," Jan says. "I have a very basic idea of what I want to create and let the flow of color and paint guide me. Sometimes I listen to upbeat, energetic music while I paint. Other times, I get in a zone and silence helps me."
Sometimes she chooses to take the painting in a different direction.
"I end up painting over pieces that aren't working, or I cut them apart and use them in my deconstructed abstract series," Jan explains. "One of my favorite pieces is called 'Into the Desert,' because that's where it went, with a long garden hose and a power spray nozzle. I sprayed and washed off layers of paint and was left with an interesting, gritty texture that was the base for the new painting."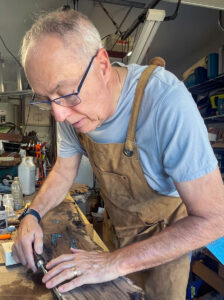 Alive With Patterning & Color
Rick Griggs started his career in radio. While he enjoyed woodworking as a hobby, he didn't pursue his passion for creating natural edge wood creations until later in life.
Growing up, Rick was surrounded by creative family members. His mother painted and created crafts. He credits his grandfather and his uncle, both talented wood carvers, with teaching him some of the basics of woodworking.
"The calmness and serenity my grandfather had when he was whittling was mesmerizing," Rick says. "I could watch him endlessly. My uncle was more of a sculptor. The intrigue with him was his ability to create things out of a piece of wood. Later, I was inspired by acclaimed woodworker and architect, George Nakashima. The sleekness of his work with flowing lines and angles is amazing."
Early in his broadcast management career, Rick worked for Barry Ackerley, who owned radio stations and the Seattle SuperSonics.
"Jeff Smulyan had just started an all-sports station, WFAN, in New York," Rick recalls. "I was intrigued by it and convinced Mr. Ackerley that we should take KJR to all-sports. We were one of the first stations to do sports. It was exciting but challenging because there was no blueprint for it."
Once the concept took off, Rick kept getting inquiries from people who wanted to replicate the format. That prompted him to start his own sports radio consulting firm, which he still has today.
"I have been fortunate to work with so many great people," Rick says. "My clients were across the country and internationally, including ESPN and Fox Sports. During that time, I began doing more woodworking, but nothing like the tables and wall pieces I create today until about eight years ago. I also did photography, showing my work in several galleries and at the Lishui International Photo Festival in China."
About nine years ago, Rick began doing turning, which evolved into live edge slabs as tables and wall art. Live edge wood is the original shape of the tree along at least two of the edges.
"Like everything, the more you do something, the more you learn and the better your work becomes because you challenge yourself to grow," Rick explains, "Putting the pieces together is like a puzzle that has multiple answers. There is no right or wrong way. There are options that create different experiences and points of view."
Rick's studio is in his garage, where he uses basic tools to create his furniture — including chisels, sanding blocks, a jigsaw and table saw and a rotex sander, which he says is invaluable.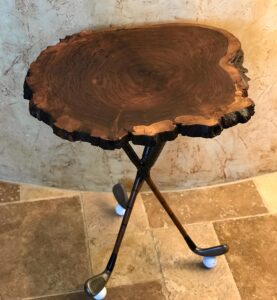 "One of the instructors I had in a woodworking class had the best advice I have ever heard when using equipment," Rick notes. "He said, 'Become one with whatever you are working with.' The equipment is an extension of you, making it easier to focus and concentrate on your work."
That's exactly what fuels Rick's passion for woodworking.
"Working with wood is therapeutic for me," he says. "Plus, after years of creating content in radio that essentially disappears into the air, it was rewarding to see the results in a tangible product. Each piece of wood is a life form and, like people, each has unique characteristics. I really love that aspect."
Many of Rick's pieces include precious stone inlay that enhances the wood's natural beauty.
"I use all types of stone and stone powder in the voids of the wood," he says. "Chrysocolla is one of my favorites because the array of color is spectacular. Azurite, jaspers and turquoise are all great as well. I also like to use copper inlay."
He often counts on the wood to guide him in a certain direction.
"I enjoy working with all woods, but I especially love working with burls," Rick says. "They are so unique, with rich character in the patterning and color of the wood. I also love odd-shaped pieces and putting them together as a unique artwork."
Depending on the type of wood, the hardness can be a challenge. A lot of wood from tropical areas is very dense and sometimes oily, making it difficult to work with.
"Here in Arizona, because it is so dry, I have to make sure the wood has a moisture content of around 6%," Rick adds. "Otherwise, it can crack or split when I'm cutting or sanding it."
Rick finishes his pieces with a natural tung oil because it seeps into the wood and helps bring out the natural beauty.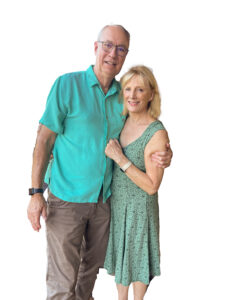 Trading Insight & Perspective
Guests to Hidden in the Hills will find Jan with her abstract paintings, abstract florals and deconstructed abstracts at Kathi Turner's High Desert Creations Studio No. 15 in Scottsdale. Meanwhile, Rick will showcase his live edge wood tables and wall pieces at Toni Perrin's Studio No. 10 in Carefree.
Jan says that, after 41 years of marriage, she appreciates being able to tap into Rick's creative insight.
"We value each other's opinion and often ask each other for advice and critiques," the painter explains.
Rick agrees, adding that it is good to have another perspective that he trusts.
"Jan offers a lot of good insight and points out things I may not have thought of," he says.
jangriggsfineart.com
naturalwoodedge.com
27th Annual Hidden in the Hills Artist Studio Tour
Nov. 17–19 and Nov. 24–26 // 10 a.m.–5 p.m. // See website for participating studios // Free // hiddeninthehills.org