Writer Joseph J. Airdo // Photography by Mark Laverman
It may be difficult to imagine it now, but there was a time when the ability to take a fantastic photograph was reserved for only the most elite members of society. And before that, the concept of being able to capture a visual memory that one could share with others and cherish through generations was merely the subject of science fiction.
In 1827, French inventor Nicéphore Niépce used a sheet of metal with a film of chemicals spread on it to create "View from the Window at Le Gras" — a heliographic image that is believed to be the oldest surviving photograph in the world. It took Niépce eight hours to record the image, which depicts parts of the buildings and surrounding countryside of the inventor's Saint-Loup-de-Varennes estate, as seen from a high window.
Over the next century, photography developed — pun intended — to the point at which cameras were widely available in a variety of forms… for those who could afford them.
In 1932, Floyd Getsinger founded Phoenix Pictorialists, a group of 30 people who shared an appreciation for the beauty of Arizona and the art form of photography. Fifteen years later, the club was officially renamed Phoenix Camera Club.
Despite major advancements in technology over the years, one thing has not changed for the club, which is celebrating its 90th anniversary this year.
"It is still a group of like-minded people who appreciate the beauty of Arizona and other places around the world, want to explore them and enjoy sharing their photography with others," says Mark Laverman, current president of Phoenix Camera Club.
35 Millimeters, Infinite Memories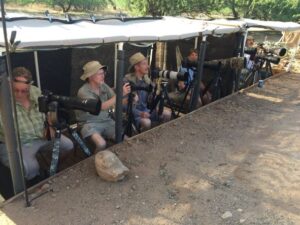 Born in Sheboygan, Wisconsin, Laverman spent much of his childhood in suburban Chicago, Illinois. He discovered a passion for photography during second grade, at which time he began attending camera club meetings with his father.
"He was a dad who did not worry about me using his camera equipment," Laverman says. "So even when I was a little kid, he let me use his 35-millimeter camera — which was quite exotic back in the 70s."
Surrounded by forest preserves, Laverman began exploring and photographing nature. He quickly fell in love with the hobby and art form. He even joined his high school's yearbook club and eventually got to travel, camera in-hand, while in college.
Laverman's parents moved to Arizona in 1985, which introduced him to the state's photogenic beauty.
"I was like a kid in a candy shop," he says. "I fell in love with Arizona. Being someone who loves nature and the outdoors, I could not believe all of the diversity in this state and how much there was to see and do."
Laverman moved to Arizona full-time in 1988. One decade later, he attended an informal meeting of photographers and met a gentleman who suggested he look into joining Phoenix Camera Club. He did and, eventually, became its president.
In fact, Laverman even raised his two sons through the club — just as his father did before him.
"I gave them cameras when they were 9 and 11," Laverman says. "They joined the club and started competing and printing. My oldest son ended up finding a love for film more than still photography and ended up getting into University of Southern California School of Cinematic Arts."
Adjusting Focus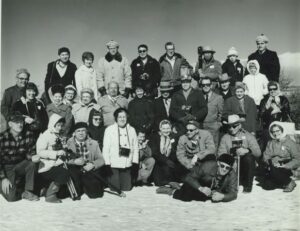 Laverman cannot imagine what it must has been like for Phoenix Camera Club's founding members nine decades ago when cameras were considered to be an exotic technology and Arizona's population was just 426,000 — a far cry from the more than 7 million people who call the state home today.
The Phoenix Camera Club president says that much has changed with respect to the medium of photography over even the last 20 years.
"Once you clicked the shutter, that was it," Laverman says. "You could not do any Photoshop work. You could not change the color. You could not brighten the image. You had to make sure that you chose the right exposure, film and filters to get the effect that you wanted. Now, about 50% of the work is done after you click the shutter. All of your post-processing work is where you start to get more creative."
Of course, printers were also far less common than they are today so the majority of photographers — at least those without their own darkrooms — would have to pay a lab in order to produce their prints. Now, prints are available at the push of a button, much to the delight of photography enthusiasts like those in Phoenix Camera Club.
"Experience level varies," says Laverman, noting that the organization welcomes beginning to advanced photographers, individuals of all ages and people from countless geographical locations. "One of the biggest benefits of our club is just getting to interact with and learn from other photographers."
Monthly meetings consist of a program and competition. Programs cover a variety of photography-related subjects — everything from architectural photography, underwater photography and bird photography to the psychology of photography, printing techniques and even travelogues.
Competition is held with both print and projected images, with several categories for each. A different theme is selected each month and there are separate competition classes for beginners and advanced photographers.
Phoenix Camera Club members also embark on monthly field trips to a variety of locations around Arizona — everywhere from Tempe Town Lake to the Grand Canyon, Monument Valley and, of course, Sedona. The organization also occasionally hosts out-of-state field trips to places like Montana's Glacier National Park and the Palouse area of eastern Washington.
Photo Finish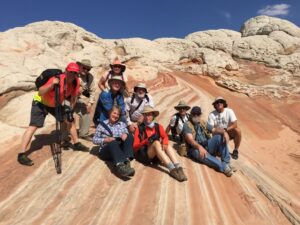 Laverman believes that the glue that has held Phoenix Camera Club together for the past 90 years is the members' common love for the beauty of Arizona.
"There is so much diversity in this state," he explains. "This is just a way to get out, explore and celebrate that. I especially enjoy the camaraderie and the richness of the discussions. I also enjoy the competition. I learn so much from them."
Laverman adds that having one's work judged by others helps a photographer hone his or her skills and increase their ability to produce an impactful image with great composition, color and lighting, especially in an age when we are all inundated with an infinite number of images each day on the internet and social media — things that were relatively new just 20 years ago and unfathomable nine decades ago.
Therefore, it will be interesting to see what the next 90 years have in store for the medium.
"I think that the most obvious thing that is going to happen is that smartphone photography will overtake camera photography," Laverman theorizes. "They always say that the best camera is the one that you have with you. Smartphones are getting so incredibly good and have all of these algorithms built into them to instantaneously make images look fantastic."
The Phoenix Camera Club president believes that is ultimately a wonderful thing as the sheer number of photographers will increase. Moreover, it will force photographers to become more creative to remain competitive.
"The biggest change has been the accessibility of equipment so that anybody can take a great picture," he explains. "So it is less the equipment and more the creativity of the photographer that differentiates people. If the technology is more of a level playing field, then it comes down to who went to the right place at the right time, got the right angle and did something really clever with the image in general versus who had a $10,000 camera setup."