Writer Joseph J. Airdo
Photo Courtesy of El Berraco
[dropcap]A[/dropcap]rizona is like one great, big "Choose Your Own Adventure" book, boasting picturesque destinations in every direction you may decide to travel. If you were to dust off an old paper map, close your eyes, randomly point your finger anywhere on it and drive there, chances are you would find several sights that take your breath away.
No road trip is complete without enjoying a bite to eat that is every bit as existenially transformative as the views themselves, though. In fact, some may argue that food is often the best part of the trip. This is especially true here in Arizona, where our stunning scenery is frequently integrated into unique dining concepts to create absolutely extraordinary eating experiences.
For example, you can enjoy a meal 210 feet below the surface while taking in the most amazing views of a world formed more than 65 million years ago at Grand Canyon Caverns' Grotto in Peach Springs. Or dine in style and complete relaxation aboard The Dolly Steamboat's twilight dinner cruise and observe Canyon Lake wildlife — such as bighorn sheep and bald eagles — as they settle in for the evening.
Rather than selecting a restaurant based on the destination, switch things up and select the destination based on the restaurant. Your stomach will thank you and the nearby activities, attractions and adventures will fall perfectly into place.
Hand-Held in Strawberry
Less than two hours north of Phoenix, the community of Strawberry hugs the scenic Mogollon Rim between Payson and Camp Verde. In addition to several notable historic buildings and hiking trails, its nearby attractions include Tonto Natural Bridge — one of the world's only natural travertine bridges — and Fossil Creek — a river that gushes 20,000 gallons per minute out of a series of springs at the bottom of a 1,600-foot-deep canyon.
The community is also home to PIEbar, a restaurant that serves mouthwatering, incredibly delicious, hand-made empanadas in both sweet and savory varieties. Owner Kimberly Brennan and her staff take tremendous pride in the "magic dough" — which took her years to perfect — and many homemade fillings that make each hand-pie so scrumptiously special.
"They are little pockets of pure delight," says Brennan, noting that some of her favorite fillings include Mountain Mamma — spinach, mushrooms, sautéed onions, garlic, bacon, parmesan and red pepper — and Mountain Man — chorizo, potato, gravy and cheese. There are also several breakfast varieties; a molten chocolate option with hints of espresso and hazelnut; and, of course, strawberry and cream in honor of the community's name.
Although Brennan has always loved empanadas, she believes that her real obsession with them began many years ago while she was living in Puerto Vallarta.
"I came across a little tienda that sold them early in the morning each day," Brennan says. "The old woman who prepared them made only two trays. So if you did not get there by 6:30 a.m., you were out of luck. There was always a line for her empanadas."
Now, that line is at PIEbar. It is not unusual for folks to be lined up outside the door of the 329-square-foot building that Brennan thought would be the perfect spot for her business. But the owner assures that the wait is usually brief and always worth it.
"We opened in the middle of a pandemic, quickly became a go-to spot for a special day-trip and have not looked back," Brennan says. "Thankfully, people love empanadas. Locals are our mainstay but our visitors are making us almost famous."
And rightfully so. With fillings such as chicken pot pie, green chile pork and lemon bar, not only are PIEbar's empanadas delicious but they are also the perfectly portable meal to enjoy outdoors.
"PIEbar's gorgeous mountain town setting is hugged on all sides by lush green hills and is always 20 degrees cooler than Phoenix," says Brennan, noting that outdoor seating is available in the sunshine, under the pines or below the nearby massive double oak tree.
They can also be taken to go and enjoyed while embarking on one of those aforementioned adventures for which the Strawberry area has come to be known.
"Strawberry seems to be fast becoming one of Arizona's premier vacation/staycation/second home destinations," Brennan says. "With easy access to Tonto Natural Bridge, Fossil Creek and the laid-back atmosphere of Pine Country, Pine and Strawberry offer a quick and relaxing respite from city life."
PIEbar
5096 AZ-87, Strawberry
602-882-1442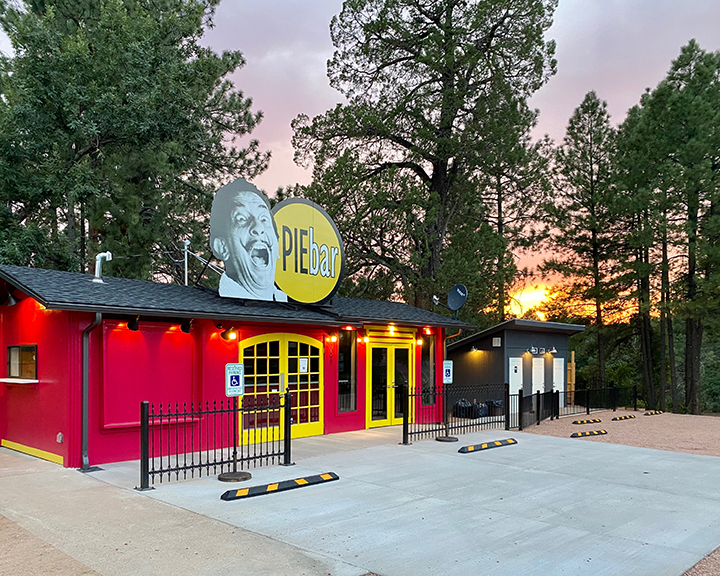 Otherworldly in Jerome
Also less than two hours north of Phoenix, Jerome is a historic copper mining town that is nestled on top of Cleopatra Hill overlooking the Verde Valley. Once known as the wickedest town in the west, Jerome is now known for its vibrant art scene and quirky boutique store fronts.
It is also home to Audrey Headframe Park, where visitors can stand on glass above a 1,900-foot shaft; Jerome Historical Society's Mine Museum, which displays everything from old mining equipment to remains of gambling in saloons; and several spooky spots that have given Jerome a reputation of being haunted. One of those spots is The Haunted Hamburger, which offers not only breathtaking views but also an eerie atmosphere.
Eric Jurisin, owner of The Haunted Group, notes that The Haunted Hamburger is not just a name, as the restaurant's employees and guests have reported countless occurrences and oddities throughout its 27 years in business.
"Guests flock from all over for the chance at an encounter with one of our spirits, but they stay for our hauntingly-good burgers and the stunning views from our large outdoor patio," Jurisin says. "It is the perfect spot to catch the sun setting over the Verde Valley before the spirits come out to play in the darkness of Jerome nights."
It all started when Jurisin was taking a road trip through Jerome and fell in love with the town.
"We purchased the building that would later become the restaurant and began renovating," he explains. "From the very beginning, strange things happened. In particular, we could not keep track of our hammers. One hammer, then two, then three disappeared, and they would show up later in the oddest of spots."
One day during construction, as Jurisin went upstairs to finish a project, a nearby door spontaneously slammed shut as soon as he reached the top floor.
"I had just sealed up all of the windows, so I knew it was not a cross-breeze," Jurisin assures. "After that day, I was convinced we were not alone here."
As he neared the end of renovations, he ran into a friend who asked, "How is that haunted hamburger place you are working on?" The name stuck.
"Over the years, we have experienced so many oddities here," Jurisin adds. "You would be hard-pressed to find an employee who does not believe the restaurant is haunted. Cans flying off shelves, the hot water being turned on in the middle of the night, distinct smells in the stairwell and even photographs guests have taken capturing the vague image of a woman — all have happened here."
From skeletons scaling the exterior of the building to spooky decor, The Haunted Hamburger wholeheartedly embraces its theme. But its creepy concept is just the beginning, as its menu features burgers that range from classic to ornate — with the haunted burger and Southwest sourdough burger being two of the restaurant's most popular options.
However, two other menu items are also responsible for placing The Haunted Hamburger — and Jerome — on the map: "boo-zy" shakes and chocolate cake.
"Imagine the milkshake of your dreams, handspun with premium vanilla ice cream and rich whipped cream on top," Jurisin says. "Then, add your favorite liquor and premium toppings. Flavors on the menu include orange creamsicle, salted caramel copper miner, bourbon and bacon, chocolate devil and mudslide.
"Finish your meal with our house-made, ooey, gooey, layered chocolate cake. Eight inches high, this cake features alternating layers of decadent chocolate cake and rich, fudge frosting. It is a showstopper. They are best enjoyed on our outdoor patio while taking in views of the Verde Valley."
The Haunted Hamburger
410 Clark Street, Jerome
928-634-0554
Submerged in Tucson
Heading in the opposite direction, Tucson is located less than two hours southeast of Phoenix and boasts numerous ecological attractions — including Tohono Chul, Tucson Botanical Gardens, Arizona-Sonora Desert Museum, Seven Falls at Sabino Canyon, Saguaro National Park, Mt. Lemmon, Colossal Cave Mountain Park and Kartchner Caverns State Park. The city is also home to Kitt Peak National Observatory and the Fred Lawrence Whipple Observatory.
In addition to land and space exploration, you may be surprised to learn that Tucson also offers its visitors an opportunity go under the sea via El Berraco — a restaurant that is based on the concept of a submarine.
El Berraco's shiny silver exterior only hints at the sheer enchantment diners experience upon entry. The interior atmosphere gives diners the impression that they are inside of a submarine while video, audio and lighting systems are utilized to emulate not only the appearance but also the feeling of being underwater.
The truly transcendent ambiance is only the tip of the iceberg, though. The food is where El Berraco really shines, with each dish created by chef Claudia Lopez Burquez as delectable as it is Instagramable.
Owner Benjamin Galaz says that one can think of El Berraco as a submarine that has traveled along the Pacific Coast, tasting local dishes from Peru, Columbia and Panama and recreating them as fantastically flavorful works of art for diners in Tucson.
"History, experience and flavor has been mixed to create a fusion of Latin seafood dishes that will delight every customer," Galaz says. "That is why our restaurant is in the shape of a submarine. Through the decoration and facilities we use, the customer feels as if they are actually inside a submarine and thus enjoy the atmosphere and our variety of seafood dishes."
The restaurant offers a wide variety of dishes made from fresh, high-quality ingredients to provide diners with an experience that is authentic as possible.
"At El Berraco, we have a firewood oven that we brought from Spain," Galaz adds. "In that oven, we cook grilled octopus, quesos fundidos, grilled oysters and our famous fish El Zarandeado. Each of these dishes is grilled to perfection and, in every bite, you can taste the flavor of the mesquite firewood in which it was cooked."
The restaurant also offers a variety of tacos and tostadas that combine different seafood recipes and are served with a wide variety of homemade sauces and dressings.
Regardless where in Arizona you roam this summer, you are guaranteed to find breathtaking views and mouthwatering meals.
El Berraco
2960 N. First Ave., Tucson
520-620-9828