Writer Joseph J. Airdo
Photography by Michael Brosilow
[dropcap]I[/dropcap]magine, if you will, looking up to see the wave-like clouds and twinkling stars of Vincent van Gogh's "Starry Night" swirling above you. Shifting your gaze downward, you see 50-foot-tall sunflowers swaying back and forth. As you spin completely around, you behold the individual elements of the sunny landscapes, night scenes, portraits and still life paintings Van Gogh gifted this world come to life.
Moving images highlight each brushstroke, detail and color. Each piece morphs from one element into another as the organic landscapes of Van Gogh's imagination are animated on an astonishing scale on every inch of 500,000 cubic feet of space.
This one-of-a-kind journey through Van Gogh's brilliance and madness is no fever dream. It is a spectacular new way to experience the artist's work; an illumination of his artistic genius through a medium that few audiences in the United States have yet to witness.
"This is a completely new way of encountering art and a completely new medium of art," says Corey Ross, producer of Immersive Van Gogh — which will make its way to Phoenix July 26–Sept. 26.
The installation was designed and conceived by Massimiliano Siccardi — an Italian immersive installation artist whose show in Paris has wowed more than 2 million visitors.
"Massimiliano Siccardi is the Steven Spielberg of this genre," Ross says. "He deconstructs the works then reconstructs them into a new piece that is choreographed to an incredible soundtrack [by Luca Longobardi] and becomes loosely narrative. He is the visual equivalent of a DJ."
Organizers licensed 400 images of Van Gogh's artwork from some of the greatest museums around the world for the installation. Those images have become the raw material from which Siccardi built Immersive Van Gogh.
"Massimiliano Siccardi's concept for the show was to imagine what might have flashed before Van Gogh's eyes in the moments before he passed away," Ross explains. "From that, comes this stream of consciousness. He takes you inside of the psychology of Van Gogh and, at the same time, embraces Van Gogh's life experience as a visual artist."
The result is an amalgamation of two artists — Van Gogh and Siccardi. Or, more precisely, it is a view of Van Gogh through Siccardi's unique lens, with the Dutch post-impressionist painter's artwork being refracted and reflected upon by the Italian immersive installation artist.
"It is an extraordinarily immersive piece that is very participatory for the audience because you are actually physically moving through the art," says Ross, noting that American audiences may recognize Siccardi's work from the fifth episode of the Netflix series "Emily in Paris." "It really is a completely new medium. The public rarely experiences that. And because it is new, it is going to attract new people — and more people — to art."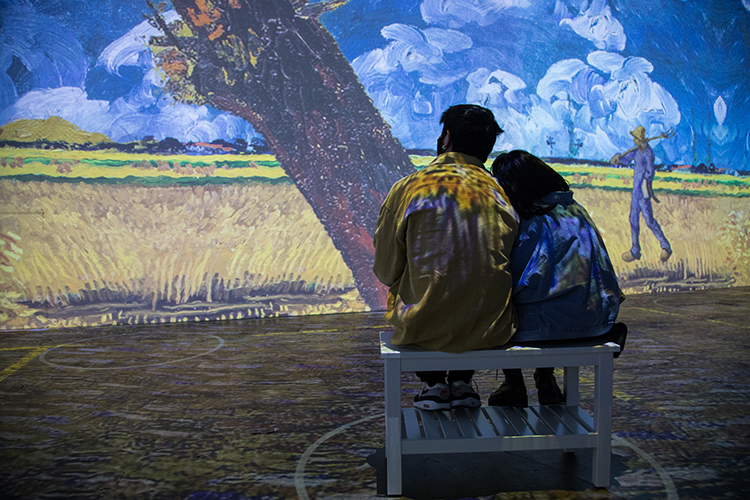 The exact location of the installation had yet to be announced at Images Arizona's press time, with ticket-holders set to be the first to learn about the specific architecture that will be transformed. Ross says event organizers work diligently to ensure that the space selected in each city aligns with Siccardi's creative vision.
"Massimiliano Siccardi works with the architecture of the building and video maps right to the walls, the brickwork, the columns and the floors," Ross explains. "Everything that is in the space becomes part of the show."
Ross adds that during the installation's North American tour thus far, Immersive Van Gogh has had the privilege of utilizing several very interesting spaces — an old printing press room inside of the Toronto Star Building in Toronto, the historic headquarters of the Germania Club in Chicago and a historic music venue called the Fillmore Club in San Fransisco.
"Everything around you is projected on," Ross says. "The angular geometric shapes of the architecture become completely transformed by the organic shapes of Van Gogh's art. And because the projections are so massive, you are seeing Van Gogh's art on a scale that you have never seen it before. The brush strokes, the art speckles and the details of his work have all been magnified."
Siccardi has created similar installations in Europe for a number of different artists. Ross is hopeful that interest from U.S. audiences will be high enough to warrant additional installations on different artists and topics but believes that Van Gogh was the perfect starting point.
"Van Gogh was Massimiliano Siccardi's choice," Ross says. "He had been very successful with Van Gogh in Europe but he wanted to create something new for the U.S.; something edgier and more psychological. I do not think that there could have been a better artist to be doing during this time."
Ross adds that the fact that the installation utilizes the work of Van Gogh — one of the most famous and influential figures in the history of Western art — has contributed to its popularity. Immersive Van Gogh has sold more than 1.25 million tickets thus far in the U.S. and more than 2 million tickets across North America. The Phoenix installation is selling just as strongly, with tickets for a number of weeks already depleted.
But beyond popularity alone, Ross notes that there is also poignant relevancy of Van Gogh's artwork to our current experience that may not only be fueling interest but also hitting a nerve.
"Van Gogh had a very difficult life," Ross explains. "He was depressed, he was struggling with mental illness and he spent a lot of time in isolation. Coming through the pandemic, we can all in one way or another, relate to Van Gogh's experience.
"Despite the difficult experience that Van Gogh had, his work is still with us 130 years after he died. The transcendence of his work really speaks to people right now. It is very cathartic to say that there is something transcendent that can come out of difficult times and isolation. So I really think that this installation is resonating with the public — specifically at this time."
Immersive Van Gogh
July 26–Sept. 26 | See website for location | $39.99+