Writer Shannon Severson // Photography Courtesy of Verde Valley Wine Festival
There is a lot to celebrate in the world of Arizona wines, not the least of which is that the state's Verde Valley has been officially declared an American Viticultural Area as of the end of 2021. This identifies the region as a distinct, federally recognized grape-growing region characterized by unique climate, soil and elevation. The coveted designation allows wineries to label their bottles as estate wines.
At this year's Verde Valley Wine Festival — which benefits the Arizona Vignerons Alliance and the Arizona Wine Growers Association — wine enthusiasts can taste the best of what the region has to offer.
Festival director Debbie Hunseder says that the recent designation is a huge accomplishment for the Verde Valley Wine Consortium on behalf of local grape growers and winemakers.
"What better way to celebrate this achievement than with Northern Arizona's foremost wine and culinary festival of the year," Hunseder queries. "Having this designation boosts awareness of our region and the characteristics of wines made here."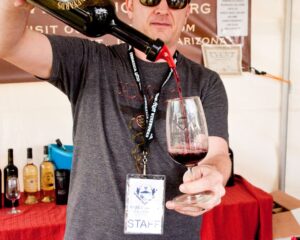 The festival kicks off Friday, April 29 with a VIP platinum winemaker dinner at the beautifully restored Old Town Cottonwood Clubhouse. Attendees will enjoy premium wines and a meal prepared by Merkin Vineyards Tasting Room and Osteria's executive chef Chris "Smithers" Smith, music performed by the What's The Big Idea jazz trio and an energetic live auction featuring travel packages, local goods and exclusive experiences.
"There are many surprises in store for our guests," Hunseder says.
Then, on Saturday, April 30, more than 3,000 attendees are expected at Cottonwood's Old Town Activity Park — the site of this fifth year of celebration which features a growing list of 20 Arizona wineries and multiple Arizona brewers and distillers along with culinary offerings to delight the tastebuds, craft vendors to satisfy the shopping bug and live music throughout the day from three local bands.
For winemakers like Barbara Pierce, who is co-owner of Bodega Pierce Winery, this year is a return to tradition and the chance to showcase her own acclaimed wines made from 18 different Arizona varietals. Pierce says that her wines are designed to express the high desert terroir of the Willcox Bench, which is another designated American Viticultural Area.
"Bodega Pierce is operated by two generations of award-winning Pierce family winemakers with decades of international experience and accomplishments since 2010," Pierce says. "We have participated in the Verde Valley Wine festival since 2016 and see it as a venue to expose, showcase and educate the public about our wine, our path into the industry and the excitement we see for the future of Arizona wines."
As an established winery with a rich history of celebrated vintages, Pierce says that the festival helps to raise the overall profile of all Verde Valley wines. Bodega Pierce has made donations to the VIP platinum dinner silent auction and will also have a booth at the Saturday event.
"We want to make the public aware that Arizona wine continues to improve," Pierce says. "It helps raise all ships with the tide."
That tide has been boosted by the advocacy of the area organizations supporting the festival.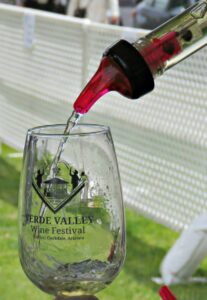 Kris Pothier, president of the Arizona Wine Growers Association and co-owner of the charmingly avant-garde Chateau Tumbleweed Winery in Clarkdale, says the AWGA represents more than 100 vineyard owners, grape growers, winemakers and supporting businesses. The organization works with lobbyists and lawmakers on a grassroots level to establish enduring relationships and further modernize Arizona wine laws.
Pothier says that it is a great feeling to be able to share wine with large groups of happy people, such as those at the Verde Valley Wine Festival.
"Because we have such spread-out wine-growing regions, it is great to get three different areas to one location," Pothier adds. "Consumers can try [many] brands all at once. The cacophony of love for Arizona wine — with the sum being greater than the parts — is just a palpable energy we have missed. This festival has always been a fun and successful one. Getting in front of a diverse crowd is so important and this is what we all look forward to."
Kelly Bostock, a wine worker at Dos Cabezas WineWorks, says that the festival's two-year hiatus took a toll on the organization's ability to work to its potential, but the return of the festival gets the ball rolling again in a big way.
"It's always fun to see the familiar faces who attend every year," says Bostock, who also represents the Arizona Vignerons Alliance, which lobbies at the state level for winegrower representation and works with growers throughout the entire state of Arizona to bring a focus on education and information gathering — including outreach to media, wine critics and experts — to help promote the growing regions. "[It's] equally exciting to meet new folks and introduce them to our wines and our region."
Experience
VIP Platinum Winemaker Dinner // Friday, April 29 // 6–9 p.m. // Cottonwood Community Club House // 805 N. Main St., Cottonwood // $99+ // verdevalleywinefestival.com
Experience
Verde Valley Wine Festival // Saturday, April 30 // Noon–5 p.m. // Old Town Activity Park // 187 E. Pima St., Cottonwood // $35+ // verdevalleywinefestival.com