Writer Joseph J. Airdo
Photography by James Green
[dropcap]T[/dropcap]ry to accurately describe our astonishing Arizona terrain to someone who has never visited much less spent four full seasons in our great state and you will likely be met with some obstacles. Of course, we are well aware of its colorful charisma, but outsiders often believe our geography is limited to a banal brown.
However, the hues and tones represented in the Sonoran Desert are far more vast — especially in the spring, when our landscape lights up like no other place on the planet. The most comely of all its colors is arguably green, which is present in everything from our stunning saguaro cactuses to our pulchritudinous palo verde trees.
A strong symbol of tranquility, luck and health, green is the quintessential color of nature and the natural world. Arizona's spring scenery is most certainly alive with depictions of nature that elicit emotions of envy and jealousy (feelings that are also associated with the color green) in those who reside in other regions that may not experience our emerald environment.
Describing our desert landscape as "lush," James Green has enjoyed capturing Arizona's attractive vistas on camera since he arrived in Anthem nearly seven years ago. Upon first glance, the gorgeous green that glosses across the photographer's expansive artwork is by far the most identifiable and resonant. But a closer examination reveals just how rich our state's topography is with every color God created.
By showcasing Green's awe-inspiring work — much of which was captured right here in the North Valley and all of which illustrates the lush greenery that exists in our state — it is our hope that Images Arizona's March photo essay evokes in you all of the advantageous associations of the color green. May this spring bring you total tranquility, lots of luck and harmonious health.

Destiny in the Desert
Prior to moving to Arizona nearly seven years ago, landscape photographer James Green and his wife Jean lived in Colorado and had a second home in Las Vegas where their granddaughters resided. When the girls moved to Arizona with their families, the couple was quick to follow them.
"We got to Wickenburg and started heading toward northern Phoenix on Arizona State Route 74," says Green, noting that he had visited the Valley before for work but his travels were contained to the urban areas. "It was late March or early April and, as we were driving along, we were stunned by the lushness of the desert.
"We were shocked. We did not know that there was so much greenery in the Sonoran Desert. We were so excited as we drove along and saw all of the cacti, palo verde and everything else. We were so happy. The Mojave Desert around Las Vegas is bare. We thought that we were just moving from one bare desert area to another. But this desert is lush."
Having dabbled in photography throughout his entire life, Green's hobby took on a new significance and strength once he arrived in Arizona. It encouraged him to explore the art form further than ever before.
Over the past several years, Green has photographed Grand Teton National Park, Yellowstone National Park and the Pacific Northwest — and he has plans to visit and capture the beauty of many more geographic regions in the future. But Arizona will always be his favorite place to photograph.
"The variety of cacti here in the Sonoran Desert is pretty amazing," Green says. "The saguaros alone are so dramatic, so iconic. I love Arizona. It is one of the most unique places in the world."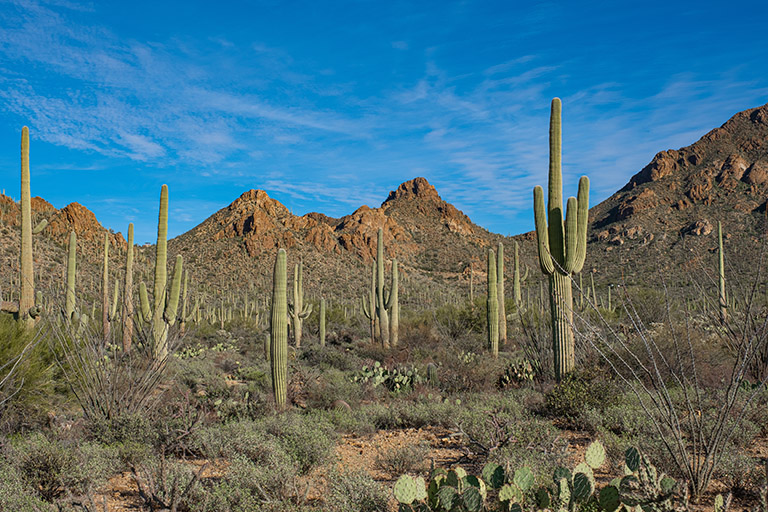 About the Photographer
James Green has always loved everything about the outdoors. Having been born and lived in Ohio for his first 26 years of life, he savored the opportunity to move to Colorado where he spent a great deal hiking the many amazing mountain ranges.
It was only natural that he would eventually pick up a camera to capture their magnificence. After all, he had discovered photography earlier in life when he was serving as part of the United States Marine Corps in Vietnam.
"I am sad to say that, like a lot of people's baseball card collections, somehow all of those shots that I took in Vietnam are gone now," he says.
For several years, Green enjoyed exploring Colorado's spectacular scenery through his camera lens. Then he and his wife Jean moved to Arizona where, awestruck, he became much more serious about the art form.
Green has never had any formal training and instead studies the work of other landscape photographers. He is committed to learning their techniques while maintaining his own personal vision.
"My friends tell me that I have a unique eye and that I see things differently than most people," Green explains. "That may or may not be true but I just really love everything about photography and the outdoors. I try to keep my photos as close to 'the way that God made it' as I possibly can."
The 75-year-old Anthem resident's work can be viewed and purchased at Sedona Artist Market, 2081 W. State Route 89A, No. 11, Sedona.