Writer Joseph J. Airdo // Photography Courtesy of Scottsdale Philharmonic
Ten years ago, Joy Patridge and Carl R. Reiter decided to jointly branch out from the small community orchestra with which they had been performing and create something significant for the city of Scottsdale and its surrounding communities — a professional symphony orchestra that would be committed to providing free concerts to anyone and everyone who wanted to attend.
Partridge, a certified public accountant, handled the administrative and business side of things while Reiter, a professional musician and teacher, took care of the creative side — especially the music.
"So, in 2012, we formed the nonprofit and founded Scottsdale Philharmonic," Partridge says. "We performed our first concert in October of 2012 at Scottsdale Center for the Performing Arts and played for an audience of more than 550 people. It was thrilling."
The incredible interest from the community astounded Partridge, Scottsdale Philharmonic's board president and CEO, as she had been repeatedly told that people were "just not into classical music." As if the attendance for the group's first concert did not already prove naysayers wrong, its second concert blew their hypothesis right out of the water — and then some.
"We had to turn away 300 people," says Partridge, noting Scottsdale Center for the Performing Arts seats 853 audience members. "I felt so bad out there turning people away but it was a packed house. That is when Scottsdale Center for the Performing Arts told us that they could not handle that kind of activity. We were told that we had almost created a fire hazard."
Remaining steadfast in its commitment to provide concerts free of charge, Scottsdale Philharmonic turned to churches that could safely accommodate its audience, which usually consisted of 1,200–1,800 people.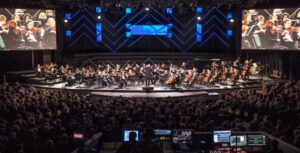 "My greatest pride was when we had 2,400 people show up to our [concert featuring] Beethoven's Ninth Symphony," says Partridge, noting the performance included 100 choral singers, four soloists and a full orchestra. "It was a packed house. We just knew that this was our calling."
Despite a few bumps in the road — namely the COVID-19 pandemic — Scottsdale Philharmonic has become one of the city's greatest sources of pride over the past decade.
Celebrating its 10th anniversary season, the nonprofit organization has now officially partnered with Scottsdale Arts, ensuring its sustainability and success for years to come. Part of that partnership sees the symphony orchestra's concerts return to Scottsdale Center for the Performing Arts — with one caveat.
"We are now requiring a $15 donation — which is the absolute bare minimum we could charge — because everyone needs to have an assigned seat," says Patridge, noting that the new ticketing model prevents the group from running into overflow issues again while further ensuring its longevity.
However, Scottsdale Philharmonic has still not given up on its initial mission to provide free concerts to all members of the community. After all, its vision is "to enhance the cultural environment of the city of Scottsdale with an orchestra of professional musicians where everyone can attend classical symphony concerts."
A complimentary livestream of each concert is available on the group's website and Facebook page the evening of each performance. So although in-person attendance is limited, virtual attendance is potentially infinite as the symphony orchestra's concerts can now be experienced by audiences around the world — far beyond just Scottsdale and its surrounding communities.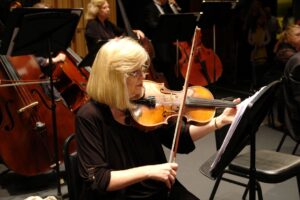 That is a dream come true for Patridge, who has been playing the violin since she was 13 years old. Likewise, Partridge's Scottsdale Philharmonic co-founder Reiter — the group's music director and trustee — enjoyed his first professional engagement as a violinist and violist at the age of 11.
"All of the musicians play for us for free because they love the performance of these great masterpieces," Partridge says. "And they are all magnificent."
Partridge adds that Scottsdale Philharmonic is often looking for new musicians and says that those who believe that they are at a professional performance level can contact Reiter to inquire about joining the symphony orchestra via the group's website. She also encourages community members who are interested in becoming benefactors or active members of the nonprofit organization's working board to reach out to her.
"We have done fairly well over the past 10 years because a lot of people have believed in us," Patridge says. "And we have always been very active, very consistent and very professional."
Scottsdale Philharmonic's relationship with Scottsdale Arts will only cement that activity, consistency and professionalism.
"It is a very expensive proposition to put together something like this," says Partridge, noting that she has witnessed many other performing arts organizations struggle. "But we think that we have found the formula.
"I just feel that Scottsdale deserves a symphony. Scottsdale is a sophisticated city and I think that it should always have a symphony. I believe that we are a fantastic art form for this city."
Scottsdale Philharmonic Concert
Sunday, Feb. 13 // 4 p.m. // Scottsdale Center for the Performing Arts // 7380 E. Second St., Scottsdale // $15 donation // 480-499-8587 // scottsdalephilharmonic.com