Writer Shannon Severson
Growing up in the Bay Area, my local movie theater sat on the same property as the home of Sarah Lockwood Pardee Winchester — which stands in Victorian splendor as a historic landmark in San Jose, California. The 24,000-square-foot, 160-room architectural wonder is better known as The Winchester Mystery House. The "mystery," however, is the result of a damaging lie about Winchester, concocted for profit, that has persisted for more than 100 years.
It's a lie that I and all of my friends and family believed as truth — until I met award-winning Desert Foothills Theater playwright in residence Andrea Markowitz. Backed by extensive research, Markowitz's "Fair Game: Or The Importance of Being Honest" is a musical production that sets the record straight in an informative, entertaining and contemporaneously relevant manner. The show makes its long-anticipated stage debut Feb. 11–13 at Desert Foothills Theater.
"One of our missions has always been to invigorate and seek out local talent — on stage and behind the scenes with directors and, in this case, playwrights," says Terry Temple, Desert Foothills Theater's managing director. "Andrea has such talent, experience and creativity, and she brings immense passion and openness to the project. She cares about the project much more than her own ego and that's rare. She is a benefit to the community and her work lends credibility to Desert Foothills Theater."
With multiple delays due to the pandemic, Temple says that he's thrilled to finally bring "Fair Game" to life and to correct the wrongs done to Sarah Winchester with satirical humor, witty dialogue and a clever musical score.
"I think it's short-sighted to only produce shows that have been on Broadway," Temple says. "'Fair Game' is a beautiful, compassionate work that's wrapped into this quirky, fun, relevant-to-today story."
A Bit of Backstory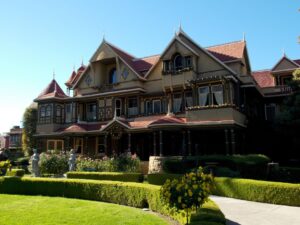 Many in the audience may take their seats believing the old legends that I once did. As the false story goes — and there are many iterations — Winchester's home, which originally had nearly 250 rooms before a partial collapse in the 1906 earthquake, was built to fool evil spirits with stairs to nowhere, doors that opened to sheer drops and rooms of unusual configuration.
The reclusive Sarah Winchester was the widowed heiress to the fortune of her husband, William Wirt Winchester, whose father founded the Winchester Repeating Arms Company. With approximately $530 million in today's money, she was one of the richest women in the world.
After the heartbreaking loss of several family members, including an infant child and her husband, she left New Haven, Connecticut in 1886, moved out west and purchased the original farmhouse. It is said that she consulted a medium, who told her that the disembodied spirits of all those killed by Winchester rifles were responsible for the death of her child and the only way to keep from dying herself was to continuously add on to the property.
Markowitz explains that Victorian ladies were not supposed to "bother their silly little heads with complicated subjects," such as homebuilding and finance.
"Sarah was a genius at both, and her contemporaries resorted to explaining her unladylike behavior by insinuating she was crazy and haunted by spirits," Markowitz says. "In the era that spawned 'yellow journalism' — intentionally sensationalized stories designed to increase readership — Sarah's true story was too good not to be faked."
Sarah had grown up in her father's workshop; he was a sought-after carpenter for the ornate Victorian homes of the time and she certainly must have caught the building bug during those early years.
In her adult years, she was a generous benefactor to numerous charities, paid her constructions crews handsomely and many elements of the home were ahead of their time. She even invented the "annunciator," a master board in the servant's quarters that announced where Sarah was in the house with the push of a button. A card would drop onto the master board, informing the staff of her location so that they could answer her call.
Where Did the Lies Begin?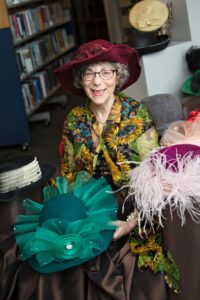 Rumors swirled in the press beginning in the late 1800s and Sarah refused to dignify them with a response. Suffering from crippling arthritis, she kept to herself, continued her independent life and work on her beloved "hobby house" until her passing in 1922.
That's where "Fair Game" picks up the story of John Hamilton and Mayme Brown, a married couple with a background in amusement park rides. The Browns took over the mansion, still damaged from that fateful day in 1906, and decided to open it as a haunted house tourist attraction in 1923.
As the original tour guide, Mayme used rumors and her own imagination to weave scary tales, many of which were already accepted as truth and have now been cemented in time, repeatedly regaled to the 41 million visitors to the home over the course of nearly 100 years.
"There are more than 160,000 websites that will tell you about Sarah Winchester and 99% of them are lies," says Markowitz, who spent years researching the true story and even contacted one of Sarah's descendants, who confirmed that the ghostly narrative was a complete fabrication.
Accessories to the Browns' falsehoods also appear in "Fair Game" — three reporters who added to the libel, along with the "conscience" of the show, embodied by famed Austrian psychoanalyst, Sigmund Freud.
Freud's appearance is a nod to Sarah's era when the psychoanalyst was very popular and the average person figured they could play armchair psychologist upon a whim — as was done with Sarah.
While this may all sound like heavy stuff, Markowitz's musical takes a serious subject and makes it lighthearted with some unexpected twists.
"At first, this wasn't a musical," Markowitz says. "I was struggling with the fact that some of the people in the audience would already have heard of Sarah and others wouldn't. How could I do the balancing act of introducing her to some and keeping interest in Winchester's alleged backstory to those already familiar with the subject? I thought, 'This could be a musical!'
"The beginning is the Browns' backstory and then it is Sarah's story. I try not to be too linear in my writing. I like to build something up and then have a surprise."
Enjoying the Process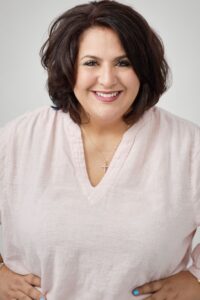 Stage director Sallyann A. Martinez says that she was fascinated by the story and could immediately share Markowitz's vision.
"I love the idea that these were all real people and Andrea has done so much backstory on them," she says. "I find it very fascinating. A new production without any preconceived notions seems to be just as exciting to our cast and I look forward to the character development and energy towards this show."
Martinez and Markowitz have worked closely with musical director Kent Campbell, who Martinez says was able to pick up the score from the first readthrough, play every song and sing every part as though he had practiced it numerous times.
"I feel blessed to have him as the musical director for the show with its complicated and different styles that will highlight the actors' talent and the message that Andrea has created," Martinez adds.
Campbell concurs that Markowitz's show is something special. While he has worked with Temple and Desert Foothills Theater for several years, this is his first time working with Martinez and with an original playwright like Markowitz. Moreover, he says that he's enjoying the process.
"Andrea has done a nice job of articulating the eccentricities of her characters in the story," Campbell says. "Several of the songs remind me of Gilbert and Sullivan, in the way the songs tell the story of Sarah Winchester and the other characters.
"It's such a fun project. It's my hope that the audience will enjoy delving into [these] quirky characters and listening to them tell their stories in song. The tunes are catchy — I can't get some of them out of my head!"
Markowitz says the songs are a combination of backstory and social commentary and include titles like "Liars Polka," "Innuendo Mambo" and "Paranoia Waltz."
"Even though it's a serious subject, I made light of certain areas and the audience can walk away having had fun, but also with something to chew on," Markowitz explains.
A Dream Years in the Making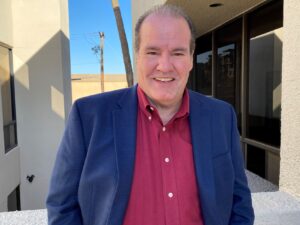 Markowitz was intrepid in her research and work writing the show and also had to be determinedly optimistic after two years of delays. Having everything come together is a dream years in the making.
"I'd like to say how generous it is for Terry Temple and Desert Foothills Theater to offer a play by a local playwright," Markowitz says. "I love working with Sallyann and Kent. They understand the premise and the characters. Whatever they bring to 'Fair Game' with their own perspectives, I trust their judgment completely.
"Competition for theater space these days is fierce. It's not uncommon for more than 1,000 playwrights to compete in script submission opportunities at just a few theaters. Desert Foothills Theater is special because it's a community theater that gives local directors and actors a venue where they can showcase their talents and enjoy their passion to be on stage. I'm going to be so excited on 'Fair Game's' opening night."
Fair Game
Feb. 11–13 // See website for times // The Holland Center // 34250 N. 60th St., Scottsdale // $25; youth discounts available // 480-488-1981 // dftheater.org