Writer Joseph J. Airdo // Photography by Mike Benedetto
Kevin Kozacek firmly believes that the arts are an essential part of both every community and every child's education.
"If you go clear back to the Greeks, they believed that the arts were foundational," he explains. "They were part of the core of education. Our society has moved away from that and the arts are now elective."
Therefore when, in 2012, Kozacek was invited to serve as the founding music director for North Valley Symphony Orchestra, he jumped at the opportunity. The nonprofit performing arts organization was created with the intention to provide skilled and aspiring musicians of all ages the opportunity to learn, rehearse and perform exceptional orchestral music while fostering music appreciation and engagement among members of the North Valley community.
"We [at North Valley Symphony Orchestra] strongly believe that the arts should be core to what we learn," Kozacek says. "After all, you learn so much through the arts as far as extended education of history, social interaction, math and science. There is an awful lot that is encompassed in the arts."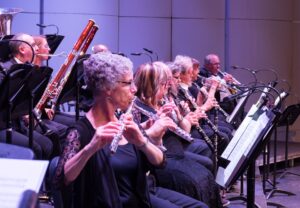 Celebrating its 10th anniversary season this year, North Valley Symphony Orchestra's mission was essentially two-fold.
"North Valley Symphony Orchestra had a vision of being very community-based — having very low ticket prices and building community through concerts that were very attractive to a broader audience base," Kozacek says.
Determined to not let ticket prices be a barrier for those who wanted to attend its concerts, the nonprofit performing arts organization set them at a mere $5 — a tradition that continues to this day.
"That was very foundational to us," Kozacek says. "What that requires is a different philosophy of how we raise money. Therefore our donor and sponsor base is extremely important to us — as are grants — because that is where we get the money for us to be able to succeed."
And succeed it has over the past decade, especially in the way of the other half of its mission.
"We wanted to offer a youth orchestra as a subordinate member of North Valley Symphony Orchestra," Kozacek explains. "And over the past 10 years, that vision of having just one youth orchestra has grown into three youth orchestras."
North Valley Symphony Orchestra has beginner, intermediate and advanced youth ensembles called North Valley Youth Orchestra, North Valley Youth Strings and North Valley Symphonettes, respectively.
"It is very exciting to be able to offer not only concerts with the adults performing for the community but also opportunities for the youth to have three very quality orchestras here in the North Valley," Kozacek says.
Those youth components help with concert attendance as students and their families are always eager to enjoy performances. They also make the North Valley Symphony Orchestra very attractive to granting agencies, as do the nonprofit performing arts organization's low ticket prices.
"Whether they are corporate, city or state agencies, I think that they feel that their money is going toward a really great cause and broad vision of bringing music to everyone and increasing the accessibility of the arts in our community," Kozacek explains.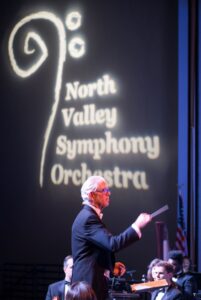 North Valley Symphony Orchestra is celebrating its 10th anniversary with a full season of spectacular concerts, including one in March that features music composed by women and one in May for which Arizona State University's professor emeritus of composition James DeMars wrote a special piece titled "River Run."
The nonprofit performing arts organization will also hold its annual black and white ball Feb. 12 at Sheraton Crescent in Phoenix, during which it will officially commemorate its first 10 years entertaining Arizona audiences. The fundraising gala will include cocktails, dinner, dancing and a silent auction.
"The event is typically for donors and sponsors but this year we are really trying to get more of our own musicians our audience members to attend, as well," says Kozacek, noting that one of the items featured in the silent auction is a hand-crafted violin made by local luthier Jody Summerford. "A number of our students have been awarded one of his violins through competitions and they absolutely love them. Professionals love them, as well."
Looking ahead, North Valley Symphony Orchestra hopes to expand North Valley Symphonettes — which is currently completely comprised of strings — into a full orchestra with winds, brass and percussion.
"Another goal is to continue with our wonderful outreach program," Kozacek adds. "We usually have quartets and quintets that perform in the community. Now that [the COVID-19 pandemic has subsided], we are able to go back out into retirement homes and businesses celebrating grand openings and anniversaries and provide music for them."
Overall, Kozacek is exceptionally proud of what North Valley Symphony Orchestra has accomplished over the past decade.
"I think that our growth into a fully symphonic orchestra is commendable for a community group," the music director explains. "As is the fact that we attract adults of all ages — up to 80 years old — and even have some students who are good enough to play with us. That is a wonderful thing to see such a variety of ages in our adult orchestra.
"Growing from one youth ensemble when we first started to now being able to offer students throughout the North Valley three levels of youth orchestras is also very commendable, especially in only 10 years."
North Valley Symphony Orchestra Black and White Ball
Saturday, Feb. 12 // 5:30 p.m. // Sheraton Crescent // 2620 W. Dunlap Ave., Phoenix // $100 // 623-980-4628 // northvalleysymphony.org