Writer Amanda Christmann
Photography Courtesy of Ryan Sims
[dropcap]A[/dropcap]fter all these years, Ryan Sims is still the same. Though his star is rising to levels he'd only dreamed of a decade ago when we first met, he's still the same humble guy that any girl would be proud to take home to meet their parents.
As his voice has shifted from the raspy tones of rock to the twang of country, this hometown singer-songwriter has a way of creating music that resonates with people from all walks of life.
Over the years, Images Arizona has done a few stories on Sims and his music, from its beginning at Harold's Cave Creek Corral and other area honky-tonks with his band, Easton Ashe, to his natural ease into country and a growing worldwide audience.
At times it has been a rocky road, but never has the world of opportunity been opened as it has now.
With his next big appearance slated at Country Thunder later this month among headliners like Luke Combs, Eric Church and Old Dominion, he's primed for the big stage.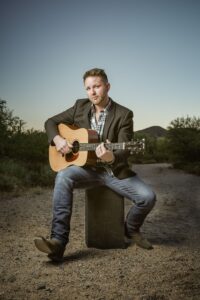 It's been three years since Sims' last release, mainly due to the pandemic. For Sims and many other artists, that period of quiet has meant lots of creative time. With the sleeves of his plaid shirt rolled up and his shirttail hanging loosely over a pair of comfortable jeans, Sims sat down to talk about what's new in his life and in his career.
"These are exciting times," he began. "It's been an odd time to be a musician, not being able to reach fans in person. The good thing is that every artist has had a whole year to put their best stuff together — including me. This next year we'll be hearing the best of everybody."
Sims has used his time away from fans to write and record songs. Some are about love found, and some are about love lost. Still single, he's had his share of both. Other songs are about our country's current state of affairs and the divides they have caused.
"You can only write about what you know," he explained. "Of course, I always write about relationships, but this world that we're living in has definitely got me feeling some kind of way.
"It's like old country singer Harlan Howard used to say, most great songs are made from three chords and the truth."
He and his management team — led by radio titan Steve Smith, Liz Burns of Cave Creek Records, former Entercom vice president of programming and KMLE program director Tim Richards and renowned head of Spotify Country John Marx — began releasing singles last month.
"The music I will be putting out this year will, by far, be the best-produced songs I have ever had the pleasure of recording," he said, adding that just a couple of years ago, getting his music in front of Marx seemed a bit like a pipe dream.
Recorded at Sound Emporium and Benchmark Sound, one of the best studios in Nashville's Music Row, Sims' songs came to life with a studio band, the likes of which he'd never heard before.
"These seven guys went into the studio and would listen to my acoustic version," he explained. "Within three takes, they were not just nailing it; they were making it better than I'd ever imagined it. It blew my mind.
"As a songwriter, you hear it in your head one way. Hearing it come to life like that got me. It tugged at my heart really bad."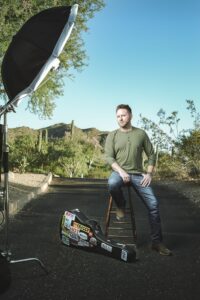 Even for a talented songster like Sims, straddling the traditional music world of live audiences and handshake deals with the contemporary "right now" digital age we're all in can be tough. Spotify, Pandora, Apple Music, Amazon and iHeart Radio are the kings of music platforms, influencing not only what we're listening to, but how we are listening to it.
"In today's music world, it's more about putting out singles instead of the whole album as a work. I like it this way. It's a good way to put out music," he said.
He also would prefer to avoid being pigeon-holed into a genre.
"I would much rather call myself a musician and let people pick what I am to them," he said. "The music Easton Ashe was putting out would probably fit into the country category today. There is so much crossover, it's really a shame that artists have to choose. I think my style is able to reach a lot of people, and I like it that way."
As he has grown through the years, so has his music — but in unexpected ways.
"I have learned to simplify what I used to complicate intentionally," he explained. "I used to focus on the technical aspects and concentrate on doing musical things that were not easy to do. I wasn't allowing a song to be what it was. I've learned to let go of that as a writer, and I like what it has done for my music."
Sims' music has taken him across oceans and through cultural differences. He's played in venues big and small, and been grateful for every chance he's had to share his passion for song.
"My career demands that I go so many places, and the majority of those have been great places," he says. "But there's something about this Sonoran Desert we live in. I remind myself sometimes that people come from all over the world to see this place, and I am blessed to wake up every day and see it out my front door. It's magical and I will always call it home."
As for the future, who knows what it will hold for this hometown musician. Right now, it's looking bright.
"Pinch me," he said with a grin as wide as an Arizona sunset. "Or wait; Don't pinch me. If this is a dream, I don't want to wake up."
Ryan Sims
Oct. 16 and 17 // See website for price and times // Country Thunder "B" Stage // 20585 E. Water Way, Florence // countrythunder.com