Writer Joseph J. Airdo
Photography Courtesy of Lee Perreira and Musical Instrument Museum
[dropcap]S[/dropcap]inger-songwriter Lee Perreira believes that the most significant turning point in his entire life occurred when he began incorporating benevolence into each and every thing that he does.
"We may think to ourselves, 'What can I do to make a difference?'" Perreira says. "Sometimes that may seem like a daunting thing to even think about. I also felt weird and almost insecure about it.
"I have some friends who would always bring their mom out to see me play and, one day, they came out to my show and their mom was not with them. They said that they had to put her in a home. I did not even have to think about it; I brought the show to her. That was the seed. Once I did that, I really started to see and feel how I could make a difference."
Drawing from personal experience, Perreira determinedly set aside that aforementioned insecurity and connected with three Arizona-based charities. Having seen his mother abused, he reached out to Chrysalis; Having lost his grandfather to dementia, he reached out to the Arizona Healthcare Foundation; And having an aunt who had lost a child to cancer, he reached out to the Arizona Cancer Foundation for Children.
"Not only did that give me a purpose, but it also made me present my best self," Perreira says. "When I walk into a hospital and I play for children with cancer or walk into a shelter for women and children who have been abused or walk into an Alzheimer's or dementia home, I have to present my best self.
"I smile at everybody. I feel like I have no choice but to present the best version of myself. Seeing how I can make a difference and seeing instances where my best self was required was truly the turning point in my life."
But performing his inspirational music for the individuals at these facilities was only the beginning of what has become a much bigger and more profound humanitarian effort.
Whiskey Lullaby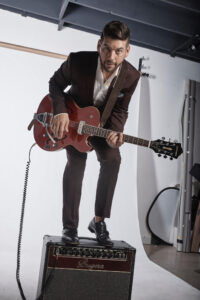 "Even younger than 12, I wanted to play guitar and sing," Perreira says. "Back then, they only had full-sized guitars. I went to a guitar lesson and my arms were not long enough. At some point, my grandparents bought me some cheap little mail-order guitar from a catalog and I kind of messed around with that."
Perreira spent much of his free time as a teenager learning and playing the guitar. At age 17, he linked up with a group of guys who had a band. That path led him to another band called Isle of Essence, with which he stayed and put all of his efforts into for about nine years.
"At a certain point, the lives of the people in the band were no longer parallel," Perreira says. "I ended up going back to school at the age of 26 for music at Phoenix Community College. I studied music there for two years and that was really the launch of me becoming a full-time musician."
By the time he graduated, Perreira had already begun teaching guitar lessons and gigging a few times a week. In fact, for a period of about five years, he was performing on stage nearly six or seven nights out of every week — sometimes even two or three times in a single day. After all, his father always taught him that if there was work available, he should work.
And work he did, averaging more than 300 events per year throughout the United States.
"I have found that real confidence comes from the work," Perriera explains. "I have found that doing the work sharpens your skills and really breeds confidence. When you get to another level, you know that you have earned it."
Today, Perreira can be a bit more selective about when, where and how often he performs — a sign that he has gotten to that other level and has earned it. Acknowledging that it is hard to place him into any particular genre, the singer-songwriter describes his music as blues-infused rock 'n' roll.
"I grew up with the blues," he explains. "I grew up with improv. I play a song and it is not the same way every time. I kind of put my own spin on things. I come from that bluesy, funky rock 'n' roll background."
Although two of his most played and requested songs are "Whiskey Lullaby" and "Like a Train Off Track," Perreira says that the song that provides the most insight about him is the title track off his album "What's That Got to Do with My Dreams?"
"The point of that song is that life is going to throw curveballs at you," Perreira says. "We have to stay focused on our dreams. I think that is an important thing to remember. The day can sometimes take us a little sideways. That is just life. The day is not always going to go the way that we think and expect. But if we constantly work on the things that will improve our future life, I feel like that is the most important thing. And that is what that song is about."
Perreira adds that at least 90% of the songs that he writes come from personal experience.
"You would think that it is the songwriting process or the creation of the song that is the most therapeutic but, for me, I have found that it is the reminder of the song," Perreira says. "I will play a song that is several years old and think, 'Listen to yourself. You wrote some really cool stuff here that maybe you should apply right now.'"
It is that very perceptive insight that led to his success as not only a musical artist but also a philanthropist.
Like a Train Off Track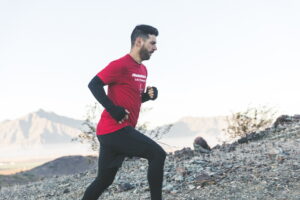 Running has always been an extremely significant part of Perreira's life. At a very young age, he would watch his grandfather run 4–6 miles every other day — regardless of weather conditions or any other factors. His grandfather often spoke of how the activity benefitted both his physical and mental health.
As a child, Perreira hated running. However, by his late teens, he began mirroring his grandfather — a man to whom he says he owes a great deal — by working regular 4- to 6-mile runs into his routine.
As with all musicians, Perreira was constantly on the lookout for his big break. Seeing all of the good that Ellen DeGeneres put out into the world, he contacted the talk show host to share with her everything that he had been doing with the hope of receiving an invitation to appear as a guest on her show.
He even submitted videos to the talk show host's EllenTube website — one of which includes the nucleus of what would eventually become known as 16 X 16, Perreira's nonprofit organization.
"I ain't going to stop till I get there, baby," Perreira says in the video, recorded during one of his 4- to 6-mile runs. "I'll run all the way to LA if I need to. Maybe that's an idea."
So he did.
In 2019, Perreira ran from Phoenix to Burbank, California via a series of 16 marathons in 16 days. More importantly, though, he did so in the name of the three Arizona-based charities with which he had been involved — Chrysalis, the Arizona Healthcare Foundation, the Arizona Cancer Foundation for Children — as well as the Ellen Fund.
It was so successful that Perreira not only vowed to do it again in 2020 but also turn it into a nonprofit organization. Its mission is to assist children and families, help people in need and improve the quality of life in our community — all while inspiring others. Through a number of individual contributions, fundraising events, business sponsorships, ticket sales, donations and more, Perreira raises money for local charities in need.
Of course, true to the significance of his song "What's That Got to Do with My Dreams?" the world had other plans as the COVID-19 pandemic reared its ugly head as he was preparing for his sophomore sprint.
"But the bottom line was kids with cancer, victims of abuse and the elderly do not stop needing our help," Perreira says. "So we pivoted. We did 16 marathons in 16 days in 16 different Arizona cities. And the response was amazing. So many people now had an opportunity to physically support me, to be on the side of the road with signs and cheer me on. It was just a really amazing thing."
He embarked on his third 16 X 16 run this year, opting to up the ante by doing it during Arizona's scorching summer season.
"On the last day this year, I attempted to do 100 miles in one day and I also wanted to try to hit the four main mountains," Perreira says. "I got dropped off at South Mountain and hiked South Mountain. I ran to Camelback Mountain and hiked Camelback Mountain. I ran to Squaw Peak and hiked Squaw Peak."
With hiking North Mountain still ahead of him, Perreira acknowledged that it was starting to get a bit late in the day. In an attempt to beat nightfall, he pivoted his plans and instead ran to State Farm Stadium where he completed several laps before beginning his trek to North Mountain, which would serve as his finish line.
"I started running to Glendale Stadium from Squaw Peak and that was the night of a crazy storm," Perreira says. "The last hour that I ran, I was in a complete torrential downpour with thunder and lightning. I was soaked."
He ultimately came up short of his 100-mile goal but was lovingly reassured by his fiancé, Serenity Risvik, that he had accomplished more than enough and that he could attempt his century run another time — ideally one that does not coincide with the monsoon.
What's That Got to Do with My Dreams?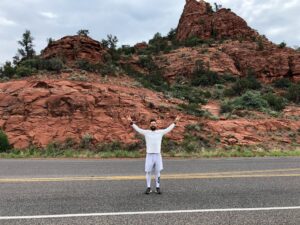 Perreira acknowledges that running 16 marathons in 16 days is incredibly challenging — even for someone who, like his grandfather, runs 4–6 miles every other day.
"Each day is different," he explains. "It really forces me to go into the day without expectations. I have a goal in mind — 26.2 miles. Some days that takes me five hours and 20 minutes. Other days that takes me seven and a half to eight hours. Some days I feel amazing. Other days I feel physically beat up and maybe mentally depleted."
Nonetheless, Perreira is invigorated by his 16 X 16 performance this year, noting that he felt as though he was at his absolute best — physically, mentally and spiritually. It is a feeling that could not be more polar opposite from the one that engulfed him just eight years ago.
"We all have gone through our trials and tribulations," Perreira says. "Late 2013 to early 2014 was a real trying time for me and for my family. I have one brother and he passed away Dec. 19, 2013 from heroin abuse. During that time, I was not handling my life well either. I got three DUIs in six months. I fought my case for three years and, in 2017, the final ruling came down. I lost my case and I had to go to prison."
Cue yet another instance of the significance behind Perreira's song "What's That Got to Do with My Dreams?" as that is where the singer-songwriter ran his very first marathon.
"There is not a lot to do in there," Perreira says. "I ran, I read and I kept to myself. I was not necessarily surrounded by inspiring people so I just kind of did my own thing. I was looking for ways to make the time go by and, as I was increasing my running while I was there, I thought to myself, 'I wonder how many laps it would be around the yard to equal a marathon.'
"It turned out to be a little more than 102 laps. I literally created my own 9- to 10-week plan to ramp up to run a marathon. It was the Sunday before Father's Day in 2017 when I ran a marathon in Florence West and it took me a little more than five hours.
"Something did not necessarily go my way but look what has come out of it. I would never want to go back there but I do not regret it. It has strengthened my relationship with my fiancé and it has made me a better person. I had a lot of time to think, reflect, read uplifting books and run a marathon."
One year later, Perreira released "What's That Got to Do with My Dreams?" He celebrated by running the full Rock 'n' Roll marathon in about four hours and 15 minutes. Less than one hour later, he was performing on-stage immediately after Everclear finished its set.
As for "The Ellen DeGeneres Show," the daytime program's producers initially reached out to Perreira and discussed inviting him onto the show but nothing ever materialized. The singer-songwriter does not mind, though.
"This, to me, is the most beautiful thing," Perreira says. "I would not change anything about it because, honestly, if she answered the door year-one, this probably would have never turned into a nonprofit and I probably would never have done this again.
"I also would not have become the person that I am today. There is so much growth that has occurred in me as a person — not just from me running 48 marathons for charity in the last two and a half years and raising more than $40,000 for these charities."
Perreira says that the response from the community has also led to a positive change within himself.
"So many people were inspired," he explains. "I had a woman come to a show six or nine months after I completed year-one and give me a book that she had spent years just sitting on. After hearing my story, she finished her book. That is the kind of stuff that has encouraged me to continue down this path."