Writer Joseph J. Airdo
Photography Courtesy of Rosie's House
[dropcap]D[/dropcap]uring World War II, Rosie Schurz had just started music lessons when she and her family were forced to evacuate their home in Munich and flee to the German countryside.
"The war took away my childhood," says Schurz, who was only 7 years old at the time. "All of the normal things that children do when they grow up … nothing of that took place for many years."
With her family being displaced for a number of years, Schurz's music lessons — and her general education — were suddenly stripped away from her. She even had to leave her beloved violin behind during her family's journey to safety.
Schurz carried that loss throughout her life and, while working with homeless individuals in downtown Phoenix during the 1980s, she had the tremendous privilege of meeting Mother Teresa. That meeting and her own experience of having her music lessons and education interrupted inspired Schurz to do something that would make a difference in the lives of local children.
Schurz founded Rosie's House in 1996, inviting 15 disadvantaged youth to attend afterschool music classes in a small home in an impoverished downtown Phoenix neighborhood. Schurz aspired to right a wrong in the universe. Whereas music education was taken away from her when she was a child due to WWII, she wanted to make sure that other children who were going through hardships would not have to suffer the same loss.
"It is important for the community that we have such a thing called Rosie's House that gives free lessons and makes it possible for children to enjoy music, to get to learn an instrument and to be a part of the arts," Schurz says.
Now, more than 25 years later, Rosie's House has grown to a full-fledged community music school with 500 students from economically disadvantaged backgrounds enrolled each year. Schurz's story continues to inspire the nonprofit organization's values and mission to provide children everything that she wanted as a child — safety, stability and music.
Serving a Growing Need
Rosie's House's offerings were initially small, concentrating on one-on-one instruction and group classes in wind instruments, string instruments and piano. Since then, the nonprofit organization has incorporated a number of other class opportunities for students — including choir, classical guitar, mariachi and digital music programs.
"We have just expanded and explored all of the opportunities that we feel are relevant and pertinent to our population," explains Becky Ballard, CEO of Rosie's House.
Rosie's House works in partnership with Title 1 schools that refer students who show interest in the arts but do not have the means or opportunity. Recruitment was originally restricted to the downtown Phoenix area but has since expanded to serve all of Maricopa Country.
"There are 18 different Valley cities represented in our student population," says Ballard, noting that Anthem and North Scottsdale are among them. "Kids from more than 200 different schools come to Rosie's House, so our reach is really far and broad. There really is disparity and inequity in every city throughout Maricopa County. Economic disadvantage is on every corner."
In fact, the need is so great that Rosie's House has a waiting list of students wanting to enroll. The nonprofit organization is therefore eager to expand. But its capabilities are dependent on the support of the community.
"We have seen the need increase over the years," Ballard says. "We are hoping to grow our class offerings in the fall to serve the additional need that we have seen come to our doors. That is all made possible through contributions and donations in support of our program."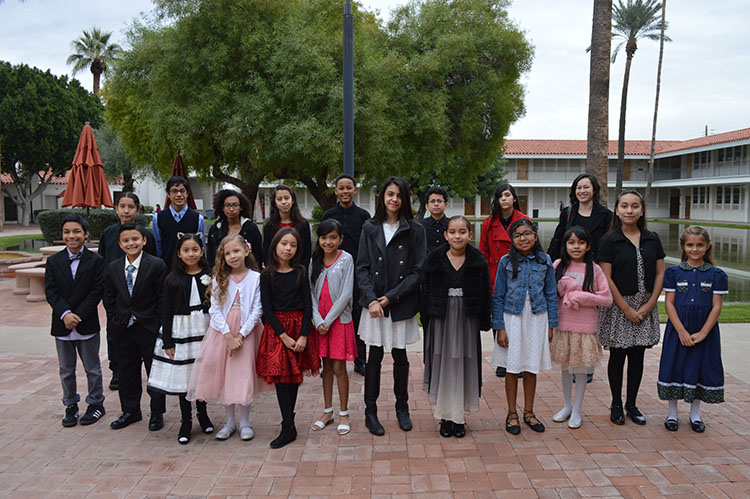 Providing a Lifeline for Kids
Ballard believes that the COVID-19 pandemic has put the inequities experienced by our community's youth into sharper focus.
"We went to a virtual platform and, while just working with families to get them access to the internet and other technology, it has become really clear just how many challenges our families face," she explains. "The digital divide is a real challenge and we have been working to overcome it for our students."
The pandemic has also exposed the significance of arts education on youth.
"We really saw that our students needed us emotionally more than ever," says Ballard, noting the value of connections to mentors, teachers and peers. "It became evident during this time that Rosie's House is a lifeline for kids. It is a place where they can have joy, positivity and creativity while forgetting about some of the other challenges of the school day."
Ballard adds that for many children, music is the thing that keeps them going and helps them thrive — especially during challenging times.
"It keeps them positive, it is the way they create their identity, it is how they express their frustration and it becomes a platform for reflection," she says. "Music is very powerful and it has been proven time and time again with our students that it is an outlet that they have especially needed during this pandemic."
Making Society a Better Place
Bearing in mind the benefit of the arts on children's lives, it may come as no surprise that music is merely a means to an end at Rosie's House. The nonprofit organization uses achievement in music as a bridge to achievement in life.
"Our goal at Rosie's House is to use music as a platform for personal and academic achievement," Ballard says. "The majority of our students go on to careers that are not in music, but they credit the rigor, discipline, confidence and self-efficacy that they learned at Rosie's House for them being able to go to college and be successful."
In addition to providing its students with instruction, loaned instruments, curriculum and performance opportunities, Rosie's House also offers them a college path program — a monthly workshop through which high school sophomores, juniors and seniors learn how to navigate the college application, financial aid and scholarship processes.
"Nearly 95% of our students are first-generation college-bound so this program is an opportunity for us to be a resource for them as they are navigating that system," Ballard says. "It has proven to be very successful. We have had 97% of our graduating seniors go on to college."
Rosie's House also offers a couple of service-learning and leadership development programs to its students. Through the nonprofit organization's Musicians Active in Community program, students provide interactive, uplifting and informative concerts to community populations that have limited access to arts experiences.
Meanwhile, Rosie's House's Musicians Mentoring in Classroom program pairs music students aged 14–18 with one of the nonprofit organization's teachers to aid and assist in the classroom. It is all in an effort to build character in the youth who will one day be the ones making the difference in the lives of others as Rosie's House's teachers are doing today.
"Strength of character, perseverance, kindness, love of community and a deep commitment to one another are the keys to the success of our students," Ballard says. "Rosie's House began as a safe place for young people to be creative and expressive.
"Today, the experience for our students is still a home away from home, and through music they are learning skills that are proven to not only propel their lives to new heights but positively impact everyone in the community."
Ballard adds that since Schurz opened the door of that little house to 15 disadvantaged youth in downtown Phoenix 25 years ago, Rosie's House is still a place that represents the best in all of us.
"We look forward to continue building on that foundation to help these kids flourish," she says. "Our goal is to increase our impact through serving additional students and being a resource within the music education ecosystem to help more students thrive overall. On a broader level, our goal is to be a place where kids can express their creativity and develop creative problem-solving skills and, in turn, help to make society a better place."