Writer Joseph J. Airdo
Photography Courtesy of Daisy Mountain Fire and Medical
[dropcap]A[/dropcap]s Arizona residents turn the page of their calendars from April to May, many feel a tinge of trepidation. Although the state's scorching summer heat certainly ignites some concern, it is something else even hotter that is cause for such alarm.
After the trio of massive wildfires that ravaged North Valley communities last summer, it is only natural that residents are on edge. Daisy Mountain Fire and Medical's public information officer Brent Fenton acknowledges that 2020 was by far one of the worst first seasons he has seen in his 17 years with the agency.
"We had a recipe for disaster," says Fenton, noting that fuel load, weather and land topography are the three things that drive the risk for and the spread of wildfires. "We did not get much fire activity in 2019 so there was already existing fuel that did not burn. We also had a very wet winter which caused a lot of growth into the spring of 2020. Precipitation was down and that new fuel was starting to dry out and cure."
Arizona's wildfire season typically begins late May. Last year, the state started seeing wildfires in late April. Then, on May 17, the East Desert Fire began to burn off Desert Hills Drive in Cave Creek. The wildfire spread rapidly over the course of just a few hours, threatening several homes and eventually burning nearly 1,500 acres.
Two weeks later, the Ocotillo Fire — also in Cave Creek — burned an additional 980 acres and destroyed 20 buildings, including eight homes. Less than one month later, the Aguila Fire destroyed six structures and burned nearly 900 acres in Desert Hills.
"We, unfortunately, lost one home but we felt very fortunate that we did not lose even more," Fenton says. "It was basically a worst-case-scenario fire in a very heavily fueled, dense area being pushed by the wind, very high temperatures and very low humidity."
Although Daisy Mountain Fire and Medical primarily services New River, Desert Hills, Anthem and Black Canyon City, its firefighters responded to all three wildfires — including the two in Cave Creek, which is serviced by Rural Metro Fire Department.
Like Scottsdale Fire Department, Daisy Mountain Fire and Medical is a part of the Regional Metropolitan Phoenix Fire Service Automatic Aid System, which ensures the closest most appropriate unit responds to an emergency regardless of the incident location.
Fenton credits the assistance Daisy Mountain Fire and Medical received from its automatic aid partners, Arizona State Forestry and the United States Forest Service with minimizing the damage incurred on our North Valley communities as a result of the trio of wildfires.
As we step into yet another wildfire season, our communities are hoping and praying that history does not repeat itself. However, Daisy Mountain Fire and Medical is counting on residents to prepare their properties for a worst-case scenario thereby making it possible for firefighters to effectively and efficiently execute life- and land-saving procedures.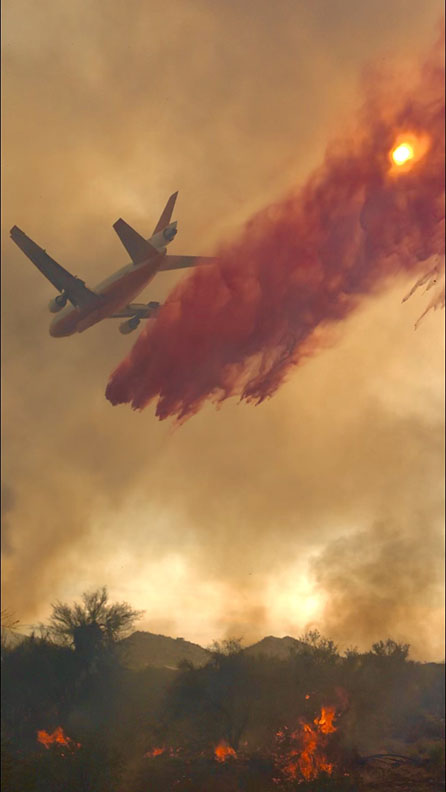 All-Hazard Fire Department
Years ago, the New River, Desert Hills and Black Canyon City communities were serviced by a group of active citizens who were predominately volunteers. The Daisy Mountain Fire Department officially became a full-time, paid agency in 1989, eventually growing from one fire engine staffed with two personnel to five fire stations, five fire engines, a ladder truck, three ambulances and 120 personnel.
"The growth was slow for a bit at the beginning," Fenton says. "In the early 2000s, the area really started to explode as you started to see development moving north. Anthem was built and that dramatically increased the population of the area so the fire department naturally started to grow out of necessity."
In 2019, fire departments across the Valley — and the country — began recognizing that many people did not accurately understand the services that firefighters provide. Following that trend and reflecting its wide range of services, the agency adopted a new name as Daisy Mountain Fire and Medical.
"We are an all-hazard fire department — which means we do fire, emergency medical services, hazardous materials, wildland firefighter response and technical rescue," Fenton explains. "We are trained in all facets of emergency response. Our calls range from somebody who has a bloody nose all the way to somebody who is in cardiac arrest."
Fenton adds that Daisy Mountain Fire and Medical's firefighters endure rigorous training — a necessity considering they are putting their lives on the line while also being responsible for the lives of community members and their fellow firefighters.
"Our number one priority is always life safety," Fenton says. "We will risk a lot up to and including our lives to save a saveable life. We will risk a little to save a saveable property. And we will not risk anything to save something that is already lost."
That said, North Valley communities pose a unique challenge to firefighters with a large portion of the district not having fire hydrants. Daisy Mountain Fire and Medical's firefighters, therefore, bring water with them as they respond to each fire.
"Each one of our fire apparatuses carries 750 gallons of water and we also have large water tenders that hold up to 3,000 gallons," Fenton says. "We have to be mindful that we do not have a never-ending supply of water. We have to be intelligent about each decision we make with respect to how we use our water."
Another unique characteristic of the North Valley is that it is a very diverse community, with single-wide trailers sometimes right next door to multimillion-dollar custom homes.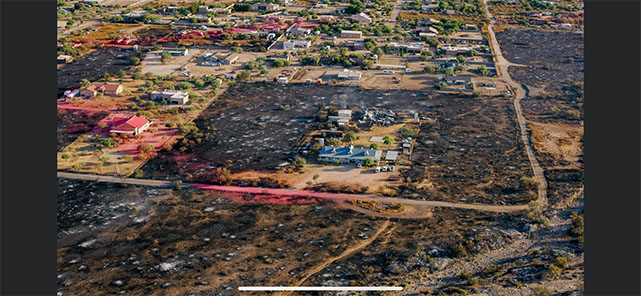 Defensible Space
That diversity and water scarcity make all emergencies particularly challenging for Daisy Mountain Fire and Medical. However, fighting wildfires by far poses the most significant challenge and comes with the greatest risks.
Unfortunately, those challenges and risks will likely be tested once again this summer.
"It is really hard to accurately know exactly how bad this season is or is not going to be," Fenton says. "But I will say that they are projecting this season could be very similar in terms of activity to what we saw last year due to the very little precipitation that we have had even through the winter."
Fenton adds that the bouts of precipitation that our area saw this past spring only further complicate the situation as new growth has since quickly dried up, adding to the fuel load that has been accumulating in the area over the past few years.
"We did not really have a monsoon last year so everything is very dry," Fenton says. "So the biggest thing that homeowners can do to help us in the fire season is to create what we call defensible space on their properties."
Fenton requests that residents clear debris a minimum of 30 feet away from all structures on their property. He adds that 100 feet is ideal but acknowledges that that is not always possible — especially considering Arizona's landscape and terrain.
Additionally, residents should trim any trees that may be near their home, particularly those with branches above or touching the roof. This reduces the possibility of fire that is coming across the ground to be carried up into the canopy of the tree and spread to the roof of your home.
"We are looking for people to clear out debris piles, keep debris off their roof and clear as much space as they can," Fenton says. "That will really help us when responding to these fires, which happen so fast. We do not have the luxury of 10, 20 or 30 minutes to make decisions. It is often just seconds."
Fenton notes that firefighters prioritize getting people out of the area to safety and oftentimes do not have time to protect a home as they sometimes must sacrifice one to save 30 others.
"Having that defensible space really limits the impact of fire on a structure when we have to make those difficult calls," he says.
Speaking of difficult calls, Fenton advises residents to have a plan should an evacuation of their area be necessary.
"Identify that your home is in a wildland urban interface setting, have all of your belongings ready and know your escape route," he says. "Also be aware of any special needs that you may have — whether it is somebody who lives with you with disabilities or if you have large animals. Just have a plan and be prepared."
It really is not too much to ask of residents, especially considering Daisy Mountain Fire and Medical's firefighters are preparing and developing their plan year-round to protect the community.
"Our training continues throughout the year," Fenton explains. "In the off-season, we place an emphasis on improving our skills. We identify those high-risk areas within our district and we re-create the streets, the homes and the hills on a sand table and play out a scenario to determine our best way to attack it.
Knowing how fire moves and progresses as it burns, it is very helpful for us to have a playbook in our minds of things that we can do when we respond to these emergencies. We also keep ourselves physically fit as this is a very physically demanding job — especially in the Arizona heat."