Writer Shannon Severson
Photography Courtesy of Dana Gibbons Photography
[dropcap]A[dropcap]s shadows grow long against a brilliant Arizona sunset, something special is taking shape beneath the cool green leaves of Agritopia Farm's picturesque peach tree orchard.
The tables are set with a natural table runner gathered from the surrounding gardens: bunches of basil and mint, deep purple eggplants, rosy radishes, leafy bok choi and fresh-picked green beans. Printed menus are set atop hammered copper chargers that catch the glint of votive candles and the twinkling string lights that form a canopy overhead. Drinks are poured, a live musician plays and the sound of laughter and clinking glasses are harbingers of the incredible experience to come.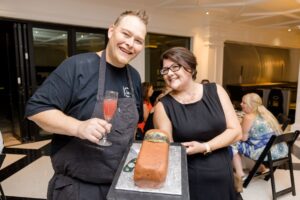 The remarkable repasts of the TLC eXperience are the creation of Tom and Lin Baumbach, owners of Tom and Lin Catering in Phoenix. The TLCX was born at the intersection of adversity and opportunity and the entrepreneurial Baumbachs chose to make lemonade out of lemons — and to make that lemonade especially delicious, served in the prettiest possible glass.
"The TLCX gave us a new creative outlet at a time when so many people were feeling stifled," Lin says. "The pandemic surely affected our catering business, but we were and still are determined to bring amazing food and service to people any way we can.
"The TLCX has also given us a chance to serve people on a regular basis — more like a restaurant. When we cater, that one event is sometimes the only event at which we will serve those people. With the supper club, we now have regulars and are excited to share our food passion with more and more people."
Chef Tom's culinary talents meld perfectly with Lin's natural flair for planning, hostessing and designing stunning environments. Together, they create events to delight all the senses.
"When the pandemic hit, we were bombarded with closures, cancellations and rescheduled events," Tom says. "The calendar for fall 2020 was empty. We were bored and wanted our employees to have some work. So we said, 'If no one's going to throw an event, we're going to do it ourselves.'"
They called Agritopia Farm in Chandler and orchestrated their very first farm dinner.
"We sold tables of eight so guests could control with whom they sat," Tom adds. "Most of our clients used it as an opportunity to show their appreciation to their own clients. We had a whopping 80 people!
"Many of our clients [asked], 'When's the next one?' So we scheduled one at Rhiba Farms for November and one in the Chapel Sistine traveling art exhibit at The Croft Downtown for December. By that time, things were blossoming and we knew we had something special. We decided to make this a regular event and created the TLC eXperience — a modern supper club."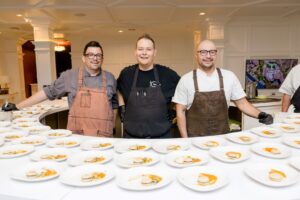 Guests can book ahead as a couple, single or entire table for events that are different each time. The evening begins with appetizers and a signature beverage, time to mingle and explore the location — most often outdoors, but always in a stimulating and unique environment.
"We move to dinner seating about an hour into the event and embark on a four- to five-course journey through the menu — typically centered around a theme of some sort," Lin explains. "One of our favorite dinners was the most recent, where we paid homage to chef Tom's time in Alaska, featuring dishes inspired by guest chefs as well as the amazing seafood, foraged mushrooms and berries that Alaska has to offer."
Many of the TLCX dinner menus draw from specific purveyors, winemakers or farmers. From amuse-bouche to dessert, each plate is meticulously crafted. Chef Tom draws upon inspiration from what is fresh and from his personal experiences in the culinary industry.
"I started working with food as a butcher," he says. "I was constantly being asked what to do with the meat I sold. On a whim, I decided to go to culinary school. A passion I didn't know was there was ignited and I was able to use my creativity in a whole new way. I worked in fine dining around the Phoenix area and branched into catering just a few years after graduating from culinary school."
Launching an independent business venture just happens to be in Tom's DNA.
"I was raised in an entrepreneurial family," he says. "My parents owned Biltmore Jewelry and I grew up seeing the fruit of owning a small business."
Lin says she's always been a hostess at heart.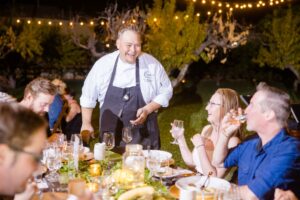 "I loved creating tablescapes and events as a child and young adult," she explains. "I worked in banquets at The Phoenician Resort during college, along with some other local restaurants.
"My early professional career was as a music teacher, but after marrying Tom, I began to grow more and more into my hostess role. We started doing small catering for friends and organizations that were near and dear to our hearts. In 2013, Tom and Lin Catering was officially born and we haven't looked back since."
When the two aren't creating joyful experiences for their clients, they spend time with their 10-year-old daughter, Abigail.
"Abigail is our pride and joy," Lin exclaims. "She is an actress and we are so proud of her. We love watching her perform as well as we all like to go to concerts and festivals — when we can find the time."
As concerts and festivals return to the usual seasonal rhythm, the TLCX is gearing up for some impressive supper club offerings for the holidays and the catering business is rapidly booking private events.
"The calendar is quickly filling up at Tom and Lin Catering," Lin says. "We offer full-service catering and work with many businesses and private residences to show gratitude and appreciation through a holiday party. We ask everyone to stay tuned through social media and our newsletter to hear about any special TLCX dinners in the works."
The future looks bright –– and delicious –– for this talented and dynamic couple.
"We are really loving the momentum we have built with the TLC eXperience and are excited to see how it continues to play out," Tom says. "Who knows what the future holds, but we are committed to providing a personal, inspired experience for all of our clients."
Lin says the principle they hold most dear is right in the name of their business: TLC — tender loving care.
"We want to show a little TLC to everyone we meet," she explains.
Food
New Year's Eve eXperience // See website for time // Friday, Dec. 31 // Agritopia Farm // 3000 E. Ray Road, Gilbert // See website for price // 602-690-4875 // tomandlincatering.com