Writer Shannon Severson
Photography Courtesy of The Craftsman Cocktails + Kitchen
[dropcap]T[dropcap]he headstone of Jason Ebel's beloved grandfather reads simply, "A Craftsman." These two words, and the man who inspired Ebel and chef-partner Chris Nicosia to open The Craftsman Cocktails + Kitchen in North Scottsdale, are the cornerstone of every aspect of this neighborhood gathering spot that recently celebrated its first year anniversary.
"My grandfather was a farmer in Nebraska," Ebel says. "He would cut down a tree and take it all the way to creating a piece of furniture in addition to his farming. I have a background in beer and coffee and developing spirits. Chris reflects that in the kitchen. He creates everything from scratch. It all ties together."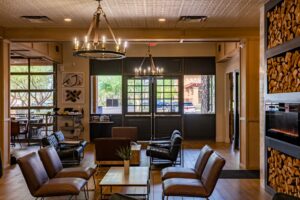 The pair have known each other for years. Both natives of Chicago, Ebel only recently made the move to Phoenix official but has enjoyed Nicosia's culinary mastery from his days as the executive chef at Desert Mountain in 2003 through his years as the renowned, award-winning executive chef of Sassi.
"We always threw it around, 'Wouldn't it be neat if…' says Nicosia, an Arizona Culinary Hall of Fame inductee. "We always kept in touch. Not only is it us creating this concept, in this time of limited staffing, we can seek out other craftsmen who are doing great things around us and bring in their talents, as well."
After the closure of Sassi, Nicosia spent time on the food distribution side, building new relationships and exploring sourcing. His new landscape is replete with new ideas and possibilities.
"I was able to plan the menu around what I know I can get, what is fresh," Nicosia explains. "If there's something special I want, I already know where to go. You don't have the same variety of products now, but you have to be able to adapt."
The environment that Ebel, Nicosia and operating partner and general manager Steve Morin have created is part modern, cozy lodge with a roaring fireplace by which to lounge on the inside, and part open-air, sit-on-the-porch-and-stay-a-while casual.
"We aren't here to turn you over," Ebel says. "We want you to spend some time with us."
The food and drinks are anything but typical. Having an executive chef of Nicosia's caliber has immediately put this hotspot on the map.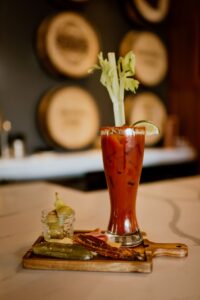 Bourbon to vodka, gin to Amaro (a complex herbal Italian apéritif made with 23 different botanicals and aged in IPA barrels), Ebel has painstakingly created proprietary spirits and beer for The Craftsman Cocktails + Kitchen such that the only way to get the exact quality and flavor of his inventive bar menu is to visit the restaurant in person.
It's not that the drinks are fussy, but they're extremely thoughtful and Nicosia works with mixologist Cody Jones to add his own touches from the kitchen — simple syrups infused with blackberry and basil, jalapeño or ginger, lavender honey or homemade bitters. Drink selections follow the rhythms of the seasons and happy hour noshes rotate monthly.
"Over a career of 25 years, I have a backlog of menus and recipes," Nicosia says. "When it comes time for a seasonal change, I can refer back. I come across things I haven't seen in years."
The restaurant also pairs with exclusive providers for their tequilas and mezcal and has sought out winemakers and other distillers to partner with. One of the signature events at The Craftsman Cocktails + Kitchen is a series of bourbon and winemaker dinners where Nicosia creates exclusive tasting menus to be paired with these unparalleled beverages.
"My specialty side is distilling and brewing," Ebel says, "I knew we wanted to highlight the spirits to go along with the food. I'm always just trying to keep up with Chris. We can kind of push each other and that makes us both want to keep getting better."
Nicosia still has some of his legendary Italian favorites on the menu. Ebel insists that his meatballs are the hands-down best on the planet, but The Craftsman Cocktails + Kitchen has opened the possibilities for the many cuisines that have influenced him over the years.
"I'd been in the Italian box for a long time and I love that box and it was comfortable," Nicosia says with a smile. "It's nice to be able to use good old smoked American bacon and not pancetta. It's familiar but not predictable.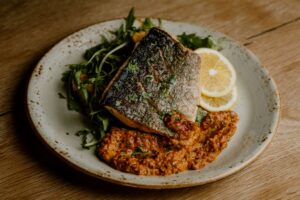 "My menu is made of things that I have really enjoyed over the years. My first restaurant job in college was in Cape Cod. 'Fresh and Chips' is the type of light and crisp breading on the freshest seafood. I couldn't find that style anywhere and now I have the chance to do it. We will always have an artisan pasta. None of it is going to confuse you."
Nicosia recalls traveling extensively throughout Europe and in the United States with his family, then they'd return home and experiment with the ingredients of whatever region in which they'd adventured. A family trip to New Orleans had his mother cooking up Cajun specialties upon return to their Illinois home kitchen.
On the menu now is that New Orleans-inspired muffuletta sandwich on buttery homemade focaccia with perfect crumb; volcano pork, a bone-in shank braised in hatch green chile jus and served with jalapeño slaw, lime queso and warm tortillas is a nod to the glories of Southwest flavors; and the flavors of good old American barbecue drip from the blacksmith barbecue chicken sandwich with coffee liqueur barbecue sauce, confit thighs, crispy onions and arugula on a fluffy brioche bun.
"I used to put on summer clam bakes as a hobby," Nicosia says. "We would hunt and fish around the world. I remember cooking a goose my dad and I shot at 12 years old. I've got my little daughter eating doves that I've shot with foie gras and dried cherry sauce. My wife asked my daughter at just 4 years old if she'd like her sausage cut up. She responded, 'Sausage? I want one of those little birds!" She wasn't afraid of anything. She will order octopus if she sees it on the menu."
Expanding horizons, reintroducing old favorites and involving family and friends in this labor of legacy and love has been a rewarding venture for Ebel and Nicosia and they're pleased to see where it's taking them.
Regulars are plentiful at The Craftsman Cocktails + Kitchen and the pair has big plans for the fall and beyond, including more small-batch products, a second bar for weekend tastings and the return of weekend brunch.
"We are reacting to what our guests want," Nicosia says. "It can be unexpected to see what is popular. We have had good success this year and we're lucky to have the opportunity and I'm looking forward to the evolution to see where we end up."