Writer Joseph J. Airdo // Photography by Renee Ashlock
Starlight Community Theater's artistic director Dan Ashlock fondly recalls the first time he saw Mel Brooks' 1974 comedy "Young Frankenstein."
"I saw it at the midnight movies back in the '80s when I was in high school," says Ashlock, noting that "Young Frankenstein" often played in rotation with other genre classics such as "The Rocky Horror Picture Show" and "An American Werewolf in London." "I went back several times to see it."
In the film, Gene Wilder plays a descendant of the infamous Dr. Victor Von Frankenstein — voiced by Brooks. After being invited to Transylvania, he discovers the process to reanimate a dead body. It was a critical and box office success, grossing $86.2 million on a $2.78 million budget and scoring two nominations at the 1975 Academy Awards.
After the success of his 2001 musical, "The Producers," based on Brooks' earlier film of the same name, the writer-director opted to adapt "Young Frankenstein" into a musical, debuting the show on Broadway in 2007.
Eleven years later, Desert Stages Theatre in Scottsdale produced the show locally, with Ashlock auditioning for and snagging multiple roles — including that of Dr. Victor Von Frankenstein.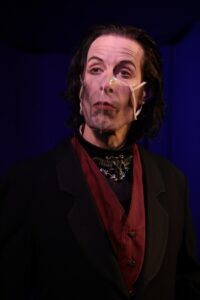 "I had forgotten how funny the lines were," Ashlock says. "It was just such a joy to be in it."
Since then, Ashlock aspired to one day produce the show for Starlight Community Theater, which has brought other genre favorites such as "The Addams Family" and "Dracula" to its stage each October.
"Halloween is something that a lot of people get excited about," the artistic director says. "So it is a no-brainer to encourage them to come to the theater with a Halloween-themed production."
Starlight's patrons have repeatedly asked Ashlock to bring "Young Frankenstein" to life. This season, he will do just that, with the show running Oct. 13–28.
"'Young Frankenstein' is a cult classic when it comes to comedy," Ashlock says. "I think that this show is very underrated. The comedy is just so over the top. And it features a large cast, so there are opportunities for a lot of our actors to be in it."
Those opportunities are a key part of Starlight Community Theater's mission, another being fostering community.
"The arts are really important in the development of children and create community for both the actors and the audience," Ashlock explains. "We have many people who consistently come to opening or closing night of our shows, and have gotten to know one another through that. It may be the only way that many of these people would have even met. The arts connect people so much. We are excited to continue to offer that connection."
One way Starlight Community Theater is doing that this year is by selling season subscriptions that allow patrons to attend multiple shows — or even the same show with friends — at a discounted price. Closing night of "Young Frankenstein" serves as the perfect opportunity for the latter option, as patrons will be encouraged to dress up as their favorite character or other classic horror icon in honor of Halloween.
"I think that there is kind of a cycle when it comes to these things," Ashlock adds. "We go for a year or two with Dracula, then we go for a year or two with more gory types of stories. It is only inevitable that the classics like Frankenstein come back around again. Even though 'Young Frankenstein' is a comedy, it is very similar to the original story — just told from the point of view of the next generation."
'Young Frankenstein'
Oct. 13–28 // See website for times // Starlight Community Theater // 1611 W. Whispering Wind Drive, Suite 9, Phoenix // See website for prices // starlightcommunitytheater.com